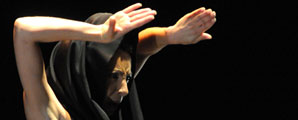 XV FESTIVAL DE JEREZ
Rosario Toledo "Hay fuego en tus ojos"
Rosario La Tremendita, Mohammad Motamedi "Qasida"
Sunday, 6th March, 2011.
Text: Estela Zatania
Photos: Ana Palma
A varied and exotic menu was the special of day on Sunday at the Festival de Jerez.
ROSARIO LA TREMENDITA, MOHAMMAD MOTAMENDI "QASIDA"
Sala Paúl, 7:00pm
"Qasida" is the name of this cultural musical offering brought by young Triana singer Rosario "La Tremendita", with the support of the organization of the Biennale de Holanda where we saw this recital a month and a half ago.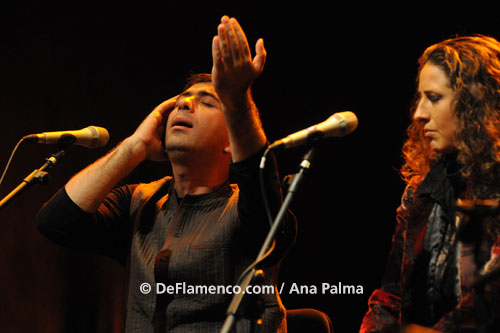 The explicit aim of the project is the search for a common denominator between flamenco and Persian music, as interpreted by singer Mohammad Motamendi and his musicians: Sina Jahanabad on kemanché, a string instrument somewhat similar to a violin and very typical in the music of Iran and Armenia, and Habib Meftar on daf, a percussive instrument from the same area.  These three are more than enough to situate us in that parallel world that resonates through the centuries in Andalusian culture.  Tremendita adds the flamenco part with the wonderful guitar of Salvador Gutiérrez, and the percussion of Luis Amador, Bobote and Oruci.
Beyond that, it's all wide-open, a quest for beauty through the voices of these two interpreters who don't even speak the same language, but are in perfect communication.  You can see the mutual admiration and respect, the genuine pleasure each one takes in displaying his or her specific art.  The sophistication of the Persian music, the in-your-face nature of the flamenco, the mysterious spirituality of both, each in a specific way.
Last night the communication was more intense between Tremendita and Mohammad than it was in Holland.  She sings.  He sings.  The mournful sounds mingle and overlap, taking you to a place that even the singers are only discovering in this instant, and they transmit the feeling to us with all the energy of their psychic innocence.  Salvador Gutiérrez pulls beauty out of the little bit of fingerboard left to him in the seventh position for siguiriyas.  Petenera is an apt choice that contributes to the multicultural cause.  It's all about aesthetics.  When Mohammad's voice sounds, you smell the aroma of his musical world, mystical yet somehow familiar.  Rosario sings, and her hypnotic voice forces us to soul-search.
It's a novel format for presenting cante, not fusing but leaving each genre to its own natural ambience, observing it through a different lens.
ROSARIO TOLEDO "HAY FUEGO EN TUS OJOS"
Teatro Villamarta, 9:00pm
Dance: Rosario Toledo, Joaquín Grilo (guest artist). Cante: Juan José Amador, José Valencia. Guitar: Alfredo Lagos, Miguel Iglesias, Daniel Méndez, Keko Baldomero. Palmas: Bobote. Original idea: Rosario Toledo. Choreography: Marco de Ana, Rosario Toledo.
Another Rosario presented the debut performance of her work "Hay Fuego en tus Ojos" at the Villamarta theater.  Rosario Toledo, fascinating flamenco and classic dancer, is one of the most creative of the current scene.  In fact, this show can definitely be classified as experimental.  And as happens with experiments, there are some successful moments, and others not so successful.
In the top-heavy libretto, José Ma. Piñero explains that this work "is born from the Greek philosophical tradition which conceived the Cosmos as an eternal ongoing cyclical process of generation and destruction…fire, air, water and earth combine through the actions of Love and Turmoil, giving way to the continuous ebb and flow of all existing things…".  It goes on like that for several paragraphs that had me in a cold sweat even before they dimmed the lights.  Lots of words for an art-form whose mode of transmission is visual.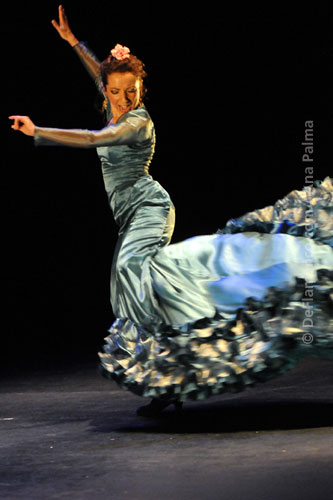 Not only is the approach contemporary, but Rosario makes use of an absolutely and unabashedly modern style, while singers José Valencia and Juan José Amador put the unmistakable flamenco touch on everything.  The presence of four good guitarists, Miguel Iglesias, Daniel Méndez, Keko Baldomero and Alfredo Lagos reflects the dancer's intention to lay out four well-defined atmospheres for siguiriyas, soleá, cantiñas and taranto respectively, and for even more symbolism, the program tells us they represent fire, air, water and earth…also respectively.
For siguiriyas, Rosario dresses in black overalls with a strange headdress that makes it impossible to see the beauty of her neck and shoulders.  Valencia sings his Pinini cantiñas alone and without guitar, bravely powerful as is his style, to prologue Rosario's dance with bata de cola.  When Joaquín Grilo appeared on stage, I confess I had the fleeting thought "let's see if now there's some dancing".  The problem is this work is very demanding of the spectator, it's not for everyone.  There is excellent dancing, no doubt about it, but also many misguidedly "conceptual" moments that take you away from the accustomed landscape of flamenco, to an inhospitable place.
Grilo is in top form in soleá with the a capella singing of Valencia, and no more compás than that which hangs in the air and keeps us all afloat as if by magic.  Alfredo Lagos and Juan José Amador put their own magic touch to a taranto danced by Rosario which ends with abandolao cante.
If you ignore the twisting upon platforms that surely symbolizes something which is beyond my comprehension, there are some moments of genius, but mostly I'm left with the desire to see more collaborations between Joaquín Grilo and Rosario Toledo who complement each other very well.
At midnight, dancer Yésica Brea offered a more conventional sort of dancing at the Peña el Pescaero.
---