XV Edición de los Premios de la Música. Dedicada al Flamenco. Estrella Morente, Carmen Linares...
May 19, 2011
Twittear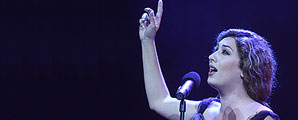 Fifteenth
PREMIOS DE LA MÚSICA
Wednesday, May18th, 2011 - Teatro Arteria - Madrid
Text and photos: Rafael Manjavacas
"Things are going on out there"
"Things are going on out there" said Chano Domínguez when he picked up his prize for the best jazz recording at the Fifteenth Premios de la Música for his work "Piano Ibérico". La Shica exclaimed "Viva la Spanish Revolution" upon collectimg her two prizes for Best Young composer and Best Newcomer. Javier Limón, director of the show also pointed out the importance of what was taking place just a few meters away. In Madrid's Puerta del Sol, at the same moment the presentation was being held, thousands of young people were expressing their indignation at the establishment, and demanding a number of changes. The world of music has always been a spokesman for society, and noteworthy was the support of many artists who participated in the movement in Madrid called 15M and coined "Spanish Revolution" by the foreign press.

Things were also happening in Spain in the world of music: this was the first edition of the awards that focused on flamenco. The "established order" in Spain's music industry, at least with regard to these awards, had traditionally always been to tiptoe around flamenco. However, this occasion dedicated to flamenco, a decision motivated by the naming by UNESCO of the genre as World Cultural Heritage, allowed many flamenco regulars to take the stage at the Arteria Theater to present or receive prizes or to perform.

The gala began with "Cajonada Flamenca" led by Piraña with a group of 20 percussionists. Then, a group of 20 guitarists led by David Cerreduela and accompanied on bass by Alain Pérez for "Entre Dos Aguas" of maestro Paco de Lucía. Another piece was a tribute to Carmen Amaya via a video of her dancing, accompanied by singer Carmen Linares, dancer Belén López and pianist Melón Lewis. Estrella Morente unveiled one of the songs from her upcoming record with the special collaboration of Michael Nyman.

Prizes received that related to flamenco were those of La Shica, for composition and interpretation, best arrangements went to Joan Albert Amargós for his work on Tomatito's "Sonanta Suite", and most notably Best Flamenco Album for the record "Morente + Flamenco" by Enrique Morente, a prize collected by the singer's three children, Estrella, Soleá and Kike, which turned out to be the most moving moment of the evening, along with everyone's tribute from the world of music for the great Enrique Morente.

In addition to the prizes for recordings made last year, Carmen Linares received the Prize for a Lifetime in flamenco, presented by Tomatito, and was overcome with emotion. Gerardo Núñez presented another special prize for Divulgación del Flamenco to journalist Alfonso Eduardo Pérez Orozco. Two of the most important festivals were also honored. The Festival Internacional del Cante de las Minas de la Unión, and the Bienal de Flamenco de Sevilla received prizes for the popularization of this artform.
| | |
| --- | --- |
| | |
| Estrella Morente al final de su actuación | Estrella Morente junto a Michael Nyman |
| | |
| Carmen Linares canta a Carmen Amaya (en video proyección) y a Belén López en vivo. | Belén López, con Carmen Linares y el pianista Iván González al final de su actuación |
| | |
| Estrella, Soleá y Kike Morente, recogen el premio al mejor Albúm de Flamenco MORENTE + FLAMENCO de Enrique Morente. | El momento más emocionante de la gala, el homenaje a Enrique Morente. |
| | |
| La Shica. Autor revelación & Artista revelación por SUPERCOP. | Domingo Ortega, Director de la Bienal de Flamenco de Sevilla y D. Francisco Bernabé Pérez, Alcalde de la Unión y Presidente del Festival Internacional del Cante de las Minas recogen el premios especial a la Difusión de la Música. |
| | |
| --- | --- |
| | |
| Joan Albert Amargos arreglista. | Premio a la divulgación del flamenco a Alfonos Eduardo Pérez Orozco. |
| | |
| --- | --- |
| | |
| Chano Dominguez. Mejor albúm de jazz. "Piano ibérico" | Carmen Linares recoge el premio a toda una vida de la mano de Tomatito |
| | |
| --- | --- |
| | |
| Pepe Habichuela & Josemi Carmona | Cajonada inicial de la gala. |