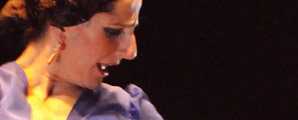 XIII FESTIVAL DE JEREZ 2009
Mercedes Luján / María José Pérez –
Mercedes Ruiz "Mi último secreto"
Soraya Clavijo "Por la carreterita vieja"
Miércoles, 11 de marzo, 2009. Jerez de la Frontera
Special XIII Festival de Jerez 2009. All the information
Photos: Ana Palma Photo gallery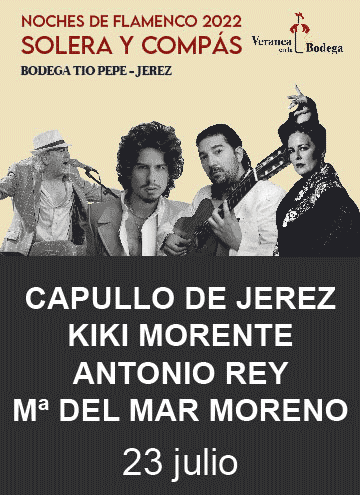 Publicidad DeFlamenco
MERCEDES LUJÁN, Mª JOSÉ PÉREZ
Palacio de Villavicencio, 1900h
Text: Manuel Moraga
1st part: Guitar: Mercedes Luján.
2nd part: Cante: Mª José Pérez; Guitar: Miguel Ochando
This girl must have a lot of personality, not only because she took up guitar, but because you get that feeling in the way she talks to the audience and handles herself on stage.  Mercedes Luján began her recital with soleá, with words for the victims of 11-M.  Her guitar released sounds of Morón, of Melchor and of Jerez.  It is therefore a very classic style this Murcia native cultivates.  She began a little insecurely, but got things under control as her performance progressed with a rumba (short and sweet), fandangos, tangos and bulerías.  Another characteristic of hers is the delicacy of execution and the design of her music.  The cajón was annoying for such a small space, it nearly eclipsed everything.  In any case, this young guitarist needs more opportunities to consolidate her own style and gain needed experience.
| | |
| --- | --- |
| | |
Experience was in great supply with Almería singer María José Pérez, despite her youth. She is a very savvy artist, with a privileged voice and a personal way of expressing flamenco.  She got started with Chacón's granaína and took it to the heights with the media granaína, which was magnificent.  It's in these styles you get the best of this singer.  She knows the cantes well, and isn't content to execute them perfectly with the power of her voice, but rather seeks out risky territory, because when you come down to it, flamenco has to inhabit the limits; limits of the forms, and the outer limits of emotion.  And that's just what she did, for example, in the siguiriya, and especially in the closing cabal. She ended with bulerías, which included some cuplé and a couple of fandangos.  The guitar of Miguel Ochando was splendid.  A wonderful recital to close out the series of concerts at the Palacio de Villavicencio.
Mercedes Ruiz "Mi último secreto"
Teatro Villamarta, 9:00pm

Dance: Mercedes Ruiz, Vanesa Reyes, Carmen Herrera. Cante: David Lagos, Londro. Guitar: Santiago Lara, Javier Ibáñez. Violin: María López. Cello: Juan Díaz. Double bass: Paco Lobo. Percussion: Perico Navarro, Paquito González.  Palmas: Javier Peña.
Text: Estela Zatania
This year at the Festival de Jerez, introspection and autobiography are in fashion.  Yerbabuena, María Pagés and Javier Barón at the Teatro Villamarta, Alfonso Losa, María José Franco and Rosario Toledo in reduced format, and even guitarists Juan Antonio Suárez and Javier Patino…they've all approached their work from the perspective of self-discovery or a reflection upon their respective careers.  It's hard to say whether such Freudian ventures are a result of the economic recession, but last night another show sought inspiration from within.  But don't all artistic endeavors come from within, and aren't the works based on external elements more suspect ?
| | |
| --- | --- |
| | |
In the program notes for "Mi Último Secreto", Mercedes Ruiz states: "This show has given me the opportunity to look within myself and discover those internal, empty and strangely peaceful spaces where I'd never been before".  She's a fine dancer, with good training, technique, knowledge, a hard worker and she possesses that all-important quality of love for the art.  But what we get in this new work is a more aloof, less communicative Mercedes…more professional perhaps?…could be. It's like a pact with the devil: meticulously studied choreographies and highly polished productions lose in warmth what they gain in the visuals.
Jerez has no dance tradition, and the dearth of first-line stars, especially women, confirms this.  Nevertheless, the plague of local chauvinism that nowadays infects every flamenco area, leaves no choice: Mercedes Ruiz must accept the crown as "the female flamenco dance star of Jerez".  Her backup of eight musicians and two dancers contributed to this objective.  In fact, "Mi Último Secreto" is a show that can be presented on the best stages of the world with no problem.  There is good music thanks to Santiago Lara, and the excellent singing of David Lagos and Londro.  Classical string instruments back up the guitar.
The program is varied and interesting: farruca (now fashionable after a long period of disuse), pregones with the two singers, bulería por soleá, granaína and rondeña, all danced, but only in the caracoles (updated and with original verses), did Mercedes Ruiz allow us a glimpse of her magic. Her very slim figure lets her compose fascinatingly beautiful forms.  She manages the bata de cola without tricks or special effects.  She rejects the Jerez over-the-top style, choosing instead the restrained style of Seville, and yet manages to credibly evoke memories of the temperamental Carmen Amaya. An admirable piece of work, if a bit short on warmth.
Soraya Clavijo "Por la carreterita vieja"
Sala la Compañía, 12 midnight
Text: Estela Zatania
At the Sala la Compañía, another Jerez dancer put forth another perspective.  Soraya Clavijo has always demonstrated her admiration for classic flamenco steeped in tradition, and even the title of her discreet show, "By the old back road", evokes images of times past that Soraya can't even have known.
But the presence of veteran singer, Fernando de la Morena, to open and close the show, gave the patina of authenticity Clavijo was aiming for.  Between both points, the dancer who in 2004 won the "Carmen Amaya" prize in Córdoba, rolled out all her warmth and knowledge with a backup of good professionals.  Her Jerez temperament is tamed by the years she lived and studied in Seville where she absorbed the "escuela sevillana", adapting it to her own personality.
Wonderful cantiñas (of Pinini and romeras) are interpreted by María Peña for Soraya in bata de cola with red polkadots and the swagger of  Andalusian women.  Lebrija-style romance without accompaniment, and Soraya dances with the experience of a thousand battles; the absence of guitar gives added depth and weight.  The dancer interprets a taranto dressed in pants and short vest, with the cante of Juan José Amador junior.  A tango dance, with the singing of the three cantaores, María, Juan José and Ezequiel Benítez, then the final cante of Fernando de la Morena, and it all winds down with Soraya sitting in a chair, alone, half dancing to her own compás.
At the Antonio Chacón peña, the fiesta continued until the wee hours with the group Sabor Jerez.
Special XIII Festival de Jerez 2009. All the information
Photos: Ana Palma Photo gallery
---