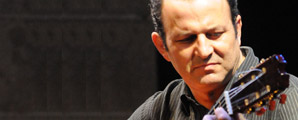 XIII FESTIVAL DE JEREZ 2009
Gerardo Núñez
Anabel Rosado, Macarena de Jerez
José Galván "Maestría"
Monday, March 2nd, 2009. Jerez de la Frontera
Text: Estela Zatania / Photos: Ana Palma Photo gallery
Anabel Rosado, Macarena de Jerez
Palacio Villavicencio, 7:00pm
It's fashionable these days to highlight women, and this year, with a new woman director, the Festival de Jerez is giving the spotlight to a series of interesting female artists, in dance as well as i
n cante and guitar.
In the cozy hall of the Palacio Villavicencio, the venue reserved for unamplified performances, two young but experienced women from Jerez shared the program.  Anabel Rosado is well-known locally for her sweet voice, her elegant beauty and her polished singing style.  With the impressive but much underestimated accompaniment of Antonio Higuero, she sang tientos tangos, "a little sampler of mining cante", fandangos and bulerías.
The surprise was Macarena de Jerez.  It's an open secret that young people in Jerez have virtually lost interest in cante.  The men follow a pseudo rock line, and the women are more interested in Pastori than Pastora.  Macarena de Jerez is young, but has plenty of experience under her belt.  She is charismatic, has the spark of immediacy, obedience to the forms without copying anyone, she's self-assured and has the kind of knowledge that only comes through experience.  With the energetic accompaniment of Manuel Jero junior, she sang tientos tangos with a retro feeling and a delicate delivery heard too little in Jerez.  For malagueña, more of the same, with exquisite taste (here, the guitarist did a long overdue renovation of the accompaniment). Fandangos played 'por medio', and bulerías with the authentic ring of having been through a thousand fiestas.  And as if all that weren't enough, the young lady can dance… not the same repetitious bit that passes for dance in this city, but lively original dance full of personality
Gerardo Núñez
Bodega Los Apóstoles, 2100h
Guitar. Gerardo Núñez. Cante. Jesús Méndez. Sax: Pedro Sambeat. Piano: Mariano Díaz. Drums: Marc Miralta. Double bass: Pablo Martín. Percussion: Cepillo.
It's a tall order talking about geniuses, and no irony is intended.  These are people with astonishing ability, intelligence to match and knowledge as well.  The ones that make it to the top, are first-class professionals, a role model for young people, the pride of the nation and a source of great pleasure for those lucky enough to enjoy the product first-hand.  So it's up to me, and me alone, to explain why I spent and hour and a half at the Bodega Los Apóstoles looking at my watch.
| | |
| --- | --- |
| | |
With the ample venue filled to capacity despite a steady winter rain, Núñez began alone, pulling out those fascinating sounds from his instrument. But the honeymoon was short-lived as pianist, flute, double bass, sax, drums and percussion arrived on stage to interpret a composition in major key that was upbeat and loose.  We had been transported to jazzland, the preferred territory of the maestro to lay out his particular artistic vision.  How I wish he would play at least a short snippet without contemporary harmony, and measures other than non-descript three quarter time… How I wish the musicians would not play lengthy solos while their colleagues smile approvingly with a look of complicity…How I wish the magnificent Carmen Cortés would dance the way she dances, there are so few like her that remain…  How I wish people sitting nearby would not ask me what "palo" is being played, because I don't know what to tell them…
Hold on!  Jesús Méndez will bring us back into flamenco with his bulería por soleá.  No…it's short-lived. A bulería in rondeña key affords a respite from the relentless jazz sound.  Now Jesús rewards us with his tonás, although he has to fight off the trivializing accompaniment of a trumpet.  Carmen dances her soleá, but the musicians are doing their thing, and the lack of spontaneity keeps the goose-bumps from appearing.
I think what I wish above all else, is that Gerardo would return to the flamenco fold.  And yet I understand the genie cannot be forced back into the lamp and we have to share his talent equitably with the rest of the world.
José Galván "Maestría"
Sala la Compañía, 12 midnight
Dance: José Galván, María Távora, Marta, Tamara.  Cante: Javier Rivera, Manolo Sevilla. Guitar: Rafael Rodríguez, Carmelo Picón, Ulrich el Rizos.
The title says it all.  The man capable, not only of fathering, but also of instructing the great dancer Israel Galván, not to mention sister Pastora, is today a respected maestro.  A man of his age and physical condition isn't trying to demonstrate anything, nor does he need to.  His physical and emotional pathways are well-worn, and he has only to lay out the greatness of the most classic and honest sort of flamenco dance, and the command José Galván has of same.
Three star pupils from the maestro's dance school did some group choreographies, the most noteworthy element being the recuperation of the "ida de baile" for alegrías.  This series of steps is a transition from alegrías to bulerías that a half-century ago was considered obligatory, but which fell into disuse shortly after the death of Carmen Amaya.
Among the backup musicians, guitarist Rafael Rodríguez and the promising young singer Javier Rivera were outstanding.  For the rest, it was the admirable dancing of José Galván, a window on a past that is so recent, it continues to be brightly reflected in the present, as well as the future, via the great distillation provided by Israel, and the audience's warm reaction confirmed his relevance.
For insatiable types, still more traditional flamenco was offered at the Pepe Alconchel peña at one o'clock in the morning with La Chiqui's cuadro.
---