Text: Estela Zatania
Photos: Ana Palma
XXI FESTIVAL DE JEREZ
Olga Pericet
"La espina que quiso ser flor, o la flor que soñó con ser bailaora"
Tuesday, February 28th, 2017. 2100h. Teatro Villamarta, Jerez de la Frontera
Special 21 Festival de Jerez – All the information
Dance: Olga Pericet. Cante: Miguel Ortega, Miguel Lavi. Guitar: Antonia Jiménez, Pino Losada. Special collaboration in dance and palmas: Jesús Fernández.Artistic director, choreography and dance: Olga Pericet.
February 28th, Andalucía Day, the much-awarded dancer Olga Pericet presented her new work "La espina que quiso ser flor, o la flor que soñó con ser bailaora" ['the thorn that wanted to be a flower, or the flower that dreamt of being a dancer'].
At the press conference, the star of the show described her creation as a fusion of flamenco and theater.  In my opinion, this is the work Olga Pericet has been searching for all these years, never quite getting it right.  Usually, the words "risk-taking creation" and "novel register" inspire the greatest skepticism, because all too often they cover up a lack of content, and the desire to do something that will be noticed, no matter what.  But Olga Pericet moves effortlessly and credibly through the innovation she delivers with intelligence.
The diehard flamenco fan doesn't need any theatrical framework to enjoy this art-form.  But if it must be, this work is the way to do it, without contradicting the essence of flamenco, in fact, there is definitely a flamenco feel.  And this can largely be attributed to the important role of flamenco singing.  With two top-notch singers, Miguel Ortega and Miguel Lavi, you're not going to lose the flamenco thread, as happens all too often with works that downplay the cante.  Also contributing to the success of this show are the guitars of Pino Losada and Antonia Jiménez, the latter reminding us she's a woman when she pulls out a mirror and lipstick to touch up her make-up before one of the numbers.  There are many such comic touches carried off in a good-natured way.
The versatile Olga Pericet shows her technical capacity with bolero school dancing, that melts into bolero, the Machín kind, she plays soccer all alone, even scoring a goal she celebrates with the accustomed chanting and victory dance.  Tangos without musical accompaniment, tinged with her original personality.  Musical fragments, a fantasy malagueña, bulerías that could only be described as oneiric, tanguillo, alegrías, fandango por soleá inspired in Carmen Amaya's "El Embrujo del Fandango", a fresh lovely guajira where soleá de Carapiera and other musically similar elements are slipped in.  Olga is to dance, what chef Ferrán Adriá is for gourmet cooking; the mixing of familiar elements in ingenious ways.  She also knows the importance of silence, the absence of music as a powerful element.
Special mention for guest dancer, Jesús Fernández, who is pure art, Cádiz-style flamenco power, technical precision, a great talent.
And the final surprise when Olga appears semi-nude, and then in darkness, with strings of lights draped on her form giving the appearance of a dancing spectre as milonga sounds.  Pushing the limits without "damaging" flamenco.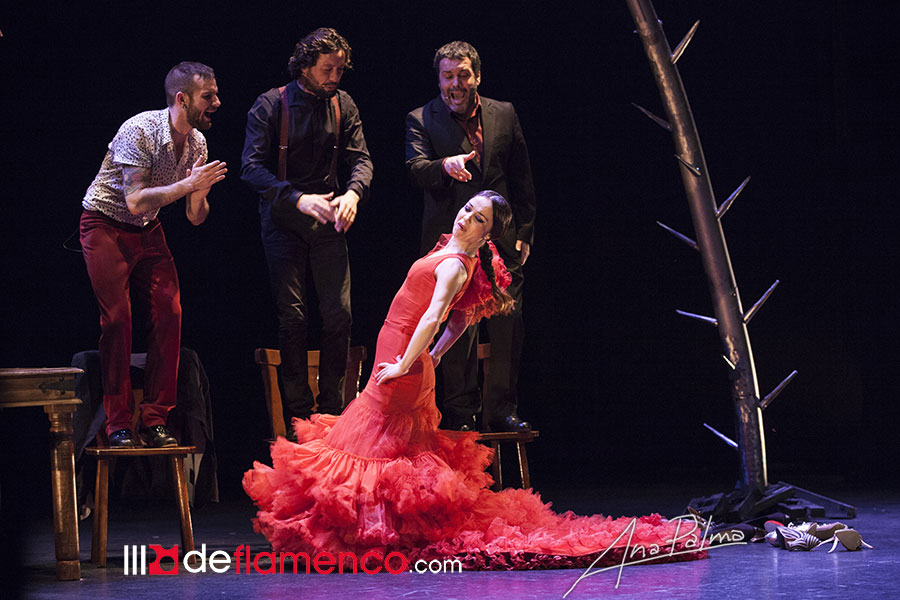 ---