Text: Curro Velázquez-Gaztelu
Photos: Paco Manzano
Pepe Habichuela and his people leave their mark in Pamplona-Iruña with their artistry and good taste.
The well-deserved tribute to Pepe Habichuela for his lifetime achievement and commitment to his family line, opened the program of the second edition of the festival "Flamenco On Fire", being held from August 22nd to 30th.  A tribute the way it's supposed to be done, during the artist's lifetime, so that he can see and feel for himself the importance of his contribution to the world of art, music and flamenco in particular.  A concert in which singing, music, dance, emotion and memories were not missing, to highlight the importance in flamenco of natural transmission, flamenco learned within the warmth of the family circle.
Little by little, step by step, flamenco is finding its niche in the Basque Country and Navarra. There are already various events throughout the year, neophytes and flamenco fans can enjoy the "Concurso de Cante" in Donosti-San Sebastián, "Ciclo BBK", "Festival Flamenco" and "Una Ría con Duende" in Bilbao, "Viernes Flamencos" in Barakaldo, "Ciclo Flamenco Siglo XXI" en Vitoria-Gasteiz, Jornadas "Pensar el Flamenco" at the University of Pamplona in addition to one of the most important events of this genre, the Festival "Flamenco on Fire" in the Navarra capital. Last year we were left with the memory of a fine experience regarding programming and organization. Before the official opening, the festival chose to honor one of the most important musicians and guitarists of the flamenco universe, Pepe Habichuela, universally known thanks to his long career, and for being a member of the one of the most important flamenco families that has ever existed.  Grandchildren, cousins, nieces and nephews, offspring, brothers and sisters, parents, all belonging to the natural school of flamenco.  That flamenco born at home, free of additives and artificial coloring.  The flamenco that resides in the DNA without pretense or theatricality.  The flamenco which still exists and which we must forever coddle. And this is precisely the goal of the organization of "Flamenco on Fire", to show the importance of this artistic gypsy dynasty that straddles Granada and Madrid, to show the world its value and musical adaptability.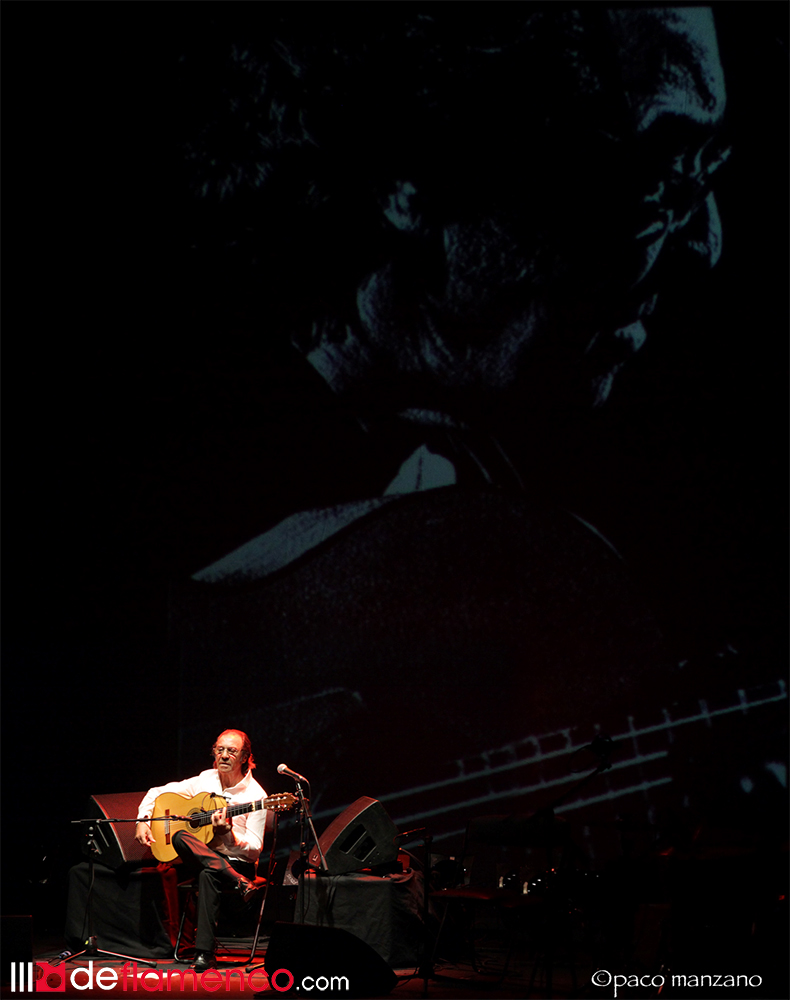 This was carried out in the format of a tribute, at the Teatro Gayarre of Pamplona-Iruña, with a packed house. With spectators from many different latitudes, although the greatest number were from the region of Navarra, the curtain went up, and Pepe Habichuela interpreted a granaína, alone on stage, then launching into his own composition por soleá.  The audience was enthralled from the very first note, since most of those present knew the professional history and commitment that shone through every note of every variation.  Jorge Pardo joined him on stage to accompany the patriarch in tarantas, in which the flute of the man from Madrid stood in for the singer's voice in this mining song.  Projected photographs depicting the life and work of Pepe Habichuela could be viewed behind the musicians, making this well-deserved tribute all the more moving. In the following part of the concert, Bandolero, Juanito Carmona and Josemi Carmona (Pepe's son), accompanied the maestro in fandangos de Huelva with an introduction by Josemi.  Pepe reminded us that years back, around 1982, he was in this same thater with his brother Juan for the tribute to Agustín Castellón Campos, "Sabicas".  And how pleased he was to have been remembered for this tribute.  Everyone present was surprised when Rafita de Madrid came up on stage, as we did not expect to see flamenco artists from outside the most intimate inner circle, much less this powerful singer. With Kike Morente and Pepe Luis Carmona keeping rhythm, Rafita, a diamond in the rough, sang excellent soleá por bulerías with his voice that seems to hark back to better times. You could tell Pepe was feeling good, just like rest of the musicians and the audience.  As he remarked: I enjoy seeing young people on the stage.  Enrique José Morente, Kike Morente, took on the polo.  A majestic form, using his own natural voice, with no falsetto or imitation.  It was impossible not to remember the sound of his father, the maestro Morente. The most dramatic part of the show came from nephew Pepe, son of his brother Luis Carmona, Pepe Luis Carmona.  He sang tonás, with no window-dressing, employing that cave-man voice of his, before launching into Soleá A Mendeli with Bandolero and Josemi. Certainly, Pepe knows how to combine that seemingly easy music with extraordinary results, with music full of harmony that belongs to our most intimate and personal legacy, and wherein he constructs his own private universe.  David Paniagua danced alegrías, with all the young relatives and guests keeping rhythm, then leading into bulerías in fiesta format. There were sound problems, but the emotion on display made us forget the technical flaws. With the entire family onstage, men, women, children and friends, the fiesta finale was tangos de Granada, to remind us where they're from and who they are.  It's so important not to forget your race, your people, your family, your city… Jorge Pardo took out his tenor sax, and all the women danced, including his wife Amparo, full of art and grace.  Paco Suárez, master of ceremonies of the festival, presented Pepe with a painting with mixed technique by the Extremaduran artist Mon Montoya, given to him by his wife Amparo and grandchildren: "Like butterflies drowned in an ink bottle" from Poeta en Nueva York of García Lorca.  The audience offered a sincere ovation in recognition of his work, his artistic personality and career. At the end, Pepe did a little tango dance surrounded by his people, a good man, a good musician and a good gypsy.  And thus, everything was set for his collaboration the next day in the flamenco mass that Paco Suárez is to direct with the Orquesta Filarmónica de Navarra at the Pamplona-Iruña cathedral, and which includes the participation of Pepe Habichuela, Josemi Carmona, Kike Morente, Remedios Amaya, Jorge Pardo and Juan Ramírez, in addition to the dancing of Yoli Muñoz y Selín, quite a program.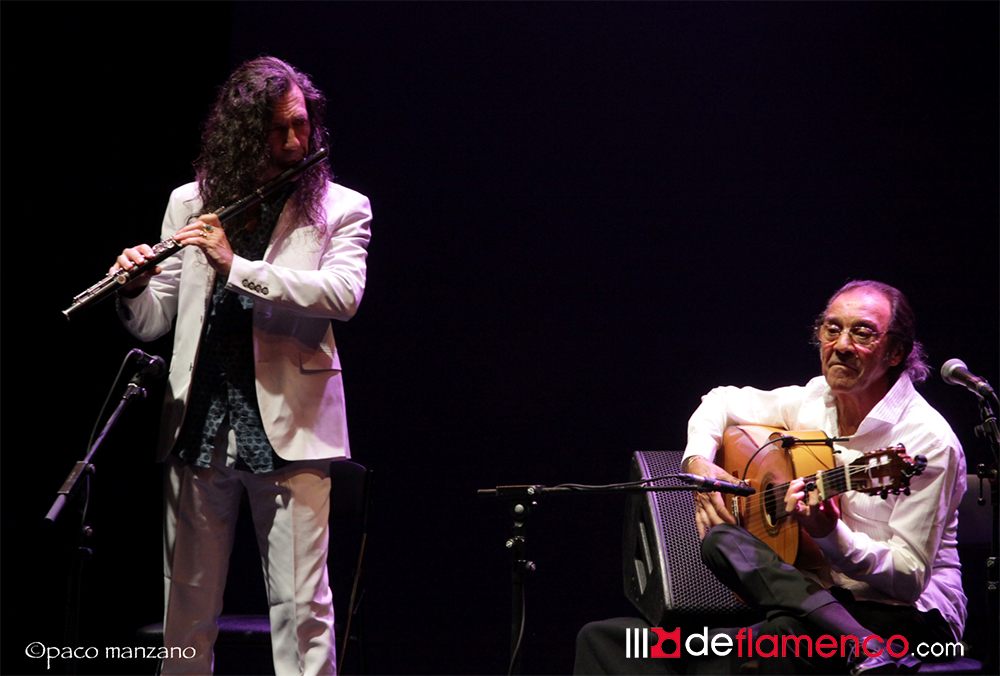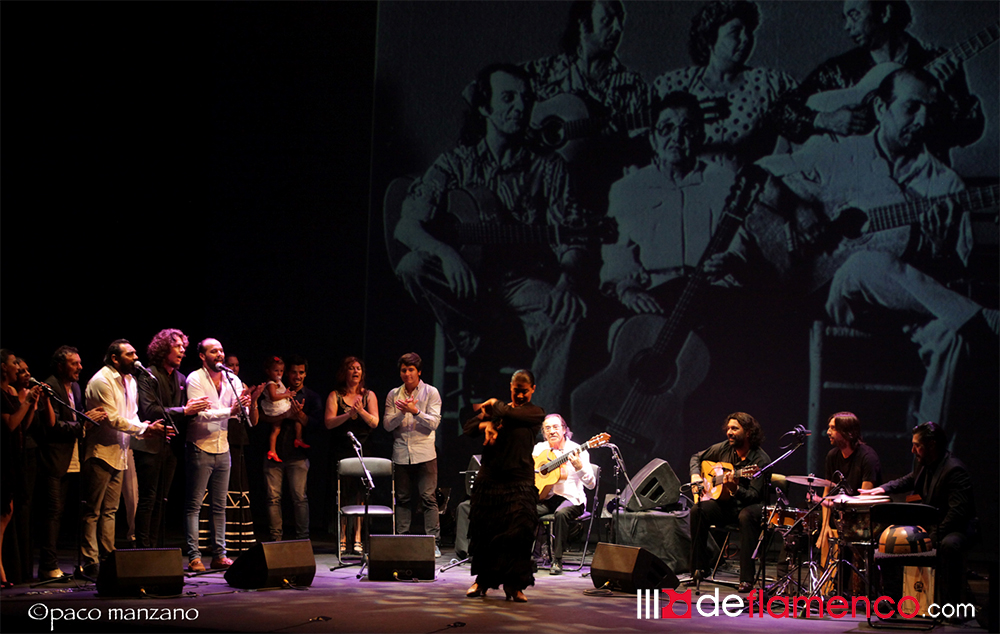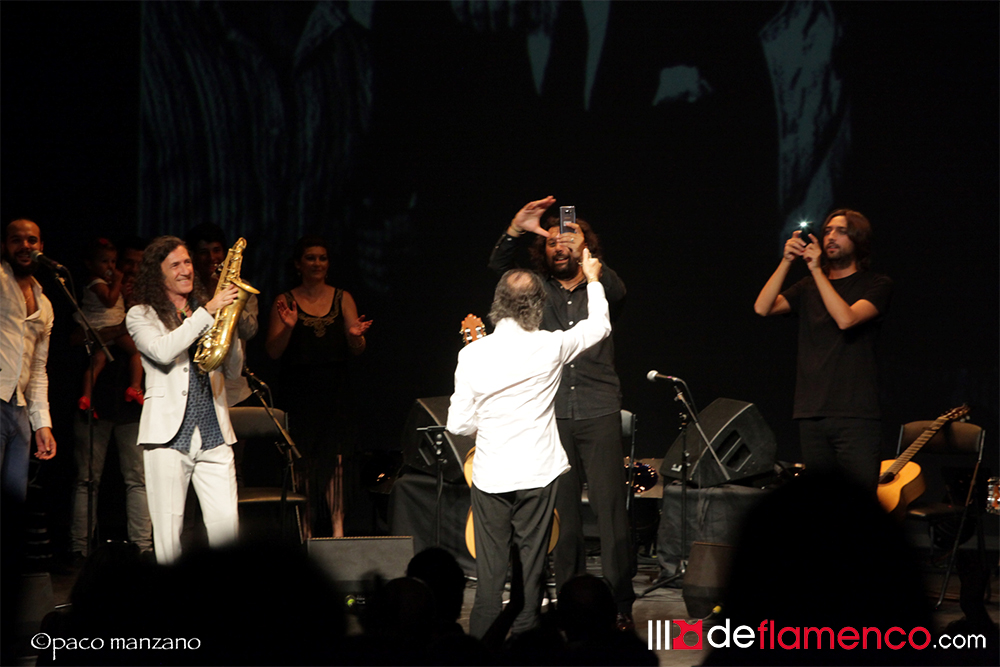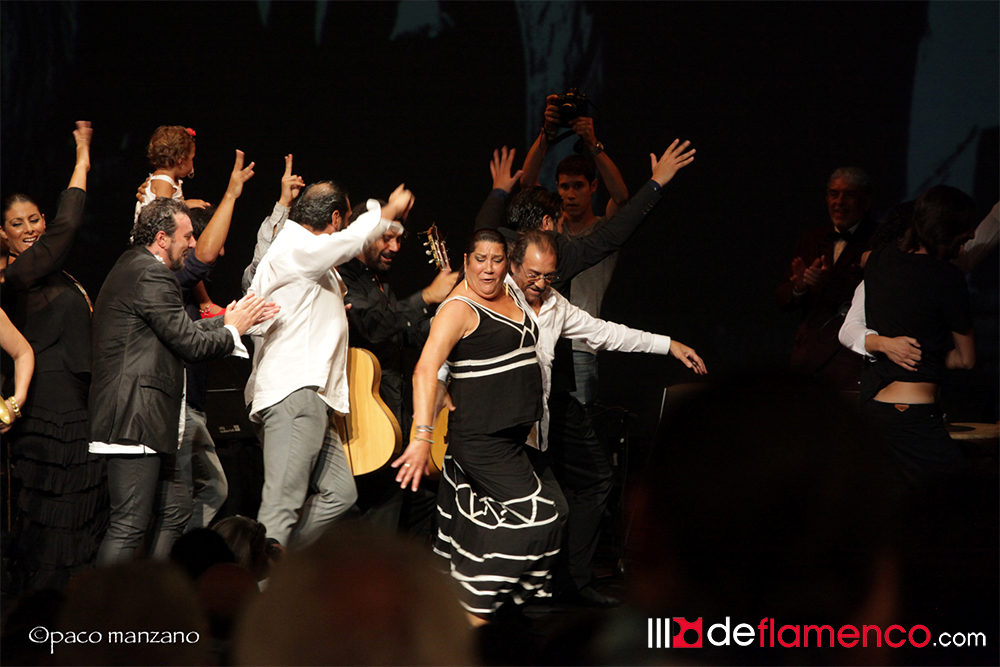 ---