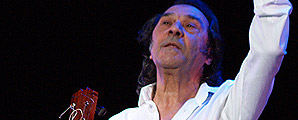 HOMENAJE A MIGUEL CANDELA
Teatros del Canal – Festival SUMA FLAMENCA 2009
May 11th, 2009

Text: Pablo San Nicasio
Photos: Rafael Manjavacas
"El amigo del arte no ha muerto"
To the attention of Don Miguel Aguilera:
Dear Miguel:
As destiny would have it, we never met face to face, and not because yours truly didn't visit your legendary place dozens of times.  It just came out that way, and now you're rubbing elbows with la Perla, Camarón and Carcol, and now I can address you for the first time.
| | | |
| --- | --- | --- |
| Nicolas Dueñas, presentador junto con Eva Armenteros | Antonio Carmona | Enrique Morente |
Just wanted to let you know that yesterday your friends did a fine job at the mega-venues of the Canal.  These theaters that with more money than you can imagine were built for large-scale events, although, really, nothing like your "Candela".
The brothers from Caño Roto showed up.  Yeah, Felipe Maya's sons, and they played jazz with their guitars, remembering Django Reinhardt, but with a special twist on the tangos and granaína…
And Ruibal too, to tweak our tear ducts, and when the Carmonas came on (even the family cat showed up), we forgot we were in a theater, and only the pictures were missing, the posters of the Cumbre Flamenca, and of course you, to know we were in Lavapiés.
| | | |
| --- | --- | --- |
| Carmen Linares | Pepe Habichuela | |
Antonio Carmona dedicated "Uno, Dos y Tres" to him, alongside the new generation, whom you surely know as well.  One of them played for Morente por soleá, and it reminded us of a picture of Ponce.  A work of art.
Enrique dedicated a verse and reminded us that "Miguel Candela, the artist's friend, is not really gone".
The night got interesting early on.  With everyone standing, they asked Carmen Linares to follow in the same line.  And she sang siguiriya with Paco Cortés on guitar, wonderful.
The Carmonas returned, they didn't want to leave, this time with maestro Pepe and his son Josemi.  What fandangos.
We didn't even realice the hours passing.  It was time to visit the bar for a little drink.
| | | |
| --- | --- | --- |
| La Tati | El Güito | |
And Tati, Güito and Manolete danced, terrific.
But since no one was missing last night, at the Cuevas del Candela, at the Canal, there was late-night partying.
Paquete got into bulerías, and Talegón de Córdoba went down the same path, and what a sharp voice he has, being so barrel-chested.
And the Pollito, the one from California.  He got up with his brother Joselito for a rumba.  They say the American still goes up and down Olmo street once in a while.
| | | |
| --- | --- | --- |
| Paquete | Talegón de Cordoba | Eva Armenteros, Pollito de California y Nicolás Dueñas |
They also say the current star of flamenco is Pitingo, that kid who used to stand in the corner and listen to the maestros.  Last night he brought his entire band, and left us awe-struck, mixing bulerías with "Yesterday" and "Georgia on my Mind".
Antonio Carbonell came on with his brother Montoyita, and Bandolero, to sing siguiriyas at the speed of bulerías.
Gran Wyoming read a letter and, presented Poveda, that genius we flamencos now get to enjoy.  Cantiñas with Alfredo Lagos, two maestros.
| | | |
| --- | --- | --- |
| José Aguilera (Candela) | Pollito de California | |
But wait a secone, for maestros, we've always got Jerez.  Half the city came to sing, play and dance with him.  Don Miguel.  With Grilo and Tomasito leading the pack.
By now the theater seemed like the Calderón, or the Bernabeu…depending on your perspective.  What a scene.
Everyone doing bulerías palmas to say goodbye, and a huge ovation to end the night.  Then the silence.  You always reminded us that life is short, so we might as well get used to the idea and let the party go on….
| | | |
| --- | --- | --- |
| Montoyita | Agustín Carbonell | |
| | |
| --- | --- |
| Tomasito, Grilo, Juan Diego… | Raúl Alcóver |
---