Toni el Pelao y La Uchi "Puro Flamenco"
Jueves Flamencos - Cajasol
March 5th 2015 - Seville
March 10, 2015
Text: Sara Arguijo
Photos: Remedios Malvarez
Twittear
Period dancing
Dance, choreography and director: Toni el Pelao and La Uchi. Cante: José Anillo, Pepe el Bocadillo. Guitar: Juan Serrano, Miguel Manzano. Series: Jueves Flamencos de Cajasol Lugar: Sala Chicarreros. Thursday, March 5th. Attendance: Three quarters full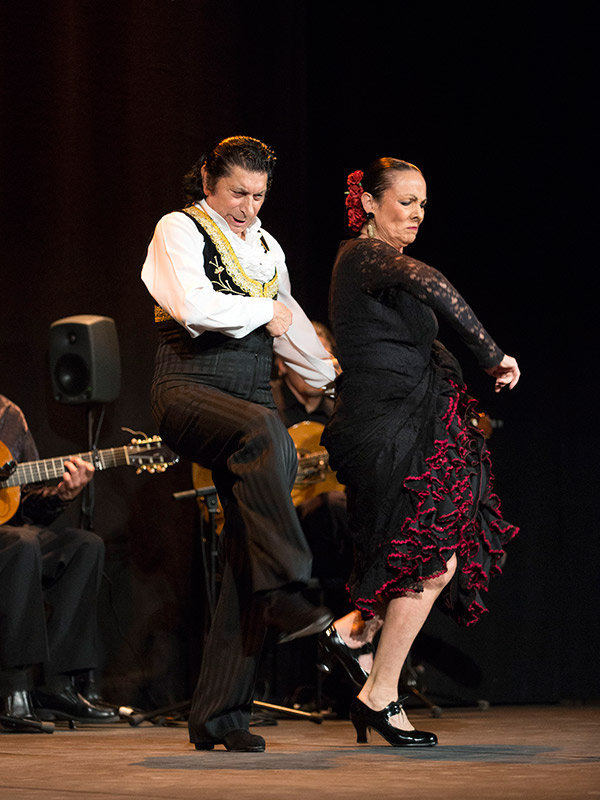 Tense calm. Dancing of their own invention which decided to take its time face to face with a process of industrial wheels turning, although the pieces weren't an exact fit. This is what Toni "El Pelao" and "La Uchi" defended in the Seville series Jueves Flamencos de Cajasol. No more and no less than what they've been doing all their lives, since long before this way of dancing became nearly extinct.

In other words, El Pelao's movements have nothing to do with what we see in current flamenco. His way of understanding "pure flamenco" remains intact in a concept in which the importance of the artist was only in his or her capacity to believe in it, and transmit it to the audience. Always looking for one's personality in the subtleties, and in the attitude.

Far from artifice or master classes in virtuosity, this man from Madrid places his bets on classic flamenco dance, understood as respect for the pose, the portrait. The extreme care taken in the wardrobe, the positioning of the body and the specific treatment required by each form.

His farruca - they say it was invented by his family, and it was his uncle Antonio Manzano Heredia "El Gato" who first taught it to Antonio Gades himself - is an example of how you can dance and express emotion from the waist up. Likewise in La Uchi's alegrías where the audience was taken aback by the drama in each of her movements, and the way she proudly strolled around the stage.

And together as well, this veteran couple takes us back to a past the younger generation did not live through, of suitcases with mothballs for touring throughout the world. A period postcard with face curls included, as surprising as unusual. Perhaps in these frenetic times we've had to give up time, and it's even hard to come to a stop in the static aesthetic of this multi-screen era. But one thing is true, sometimes we need to remember that the essential element in flamenco dance is art.