Text: Estela Zatania
Photos: Antonio Acedo
Cañeta de Málaga, Rancapino, Romerito de Jerez,
Curro de Utrera, Carrete de Málaga, El Peregrino
18th Bienal de Flamenco de Sevilla
Wednesday, October 1st, 2014. 2030h. Teatro Lope de Vega
Four-hundred and sixty years of 'duende'
Cante: Curro de Utrera, Romerito de Jerez, Cañeta de Málaga, Rancapino. Dance: Carrete de Málaga, El Peregrino. Guitar: Miguel Salado, Calderito, Antonio Soto, Perico de la Paula. Singer for dance and festero: Manuel de la Curra. Jaleo and palmas: Quico de Málaga, Rocío de Málaga, Loli de Cañeta, Ostalinda Suárez. Director: Alfonso Queipo de Llano.
After the cante recital of young singer Jeromo Segura, winner of the 2013 Lámpara Minera, at the Espacio Santa Clara, it was time for the veterans to take over the Teatro Lope de Vega with their show "Toda una Vida".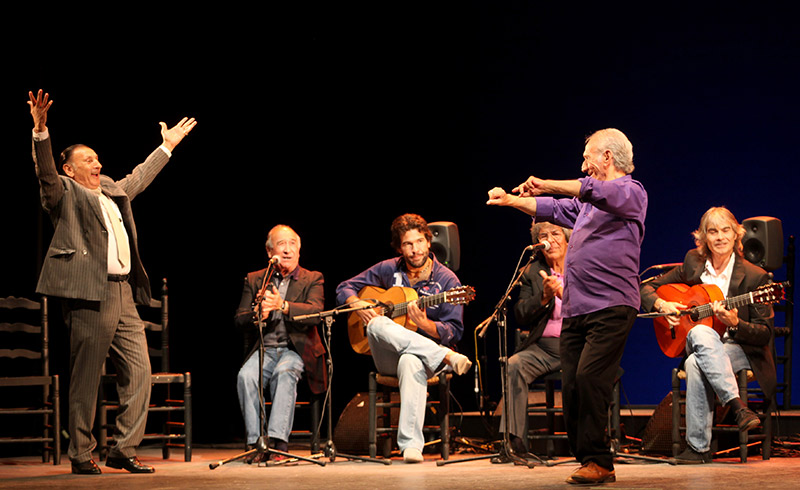 Upon reading "world premiere" on the program, I was unable to repress a bemused smile.  With interpreters whose collective age is 460 years, give or take a few, there wasn't going to be much to discover.  Or what?  Actually, we discovered that flamenco is alive and well, and continues to be capable of stirring emotions through the classic forms at the service of individuals with knowledge and flamenco sensibility.
Rancapino had many of us in tears with his malagueñas and siguiriyas that reflected a life-time of struggle.  Curro de Utrera, who at first appeared somewhat distracted, found his way with a classic caña and some powerful rondeñas.  Romerito de Jerez, with his good-natured countenance and Jerez ways, sang soleá and bulerías with all the enthusiasm of a young man, original dance bit included.
And Cañeta…what can I possibly say at this point about Cañeta?  An artist's artist, she's been stirring up audiences for more than 60 years wherever she goes, and just keeps getting better, more on top of her art and sure of who she is.  Dancing and singing, even a taranto which she normally doesn't include in her repertoire, followed by her signature tangos and bulerías, inspired and impressive, winning over everyone present with her Andalusian house-wife chit-chat.
After intermission, Rancapino and Romerito traded off fandangos, and things just kept getting more exciting with two more veterans, el Peregrino, from Badajoz, dignity personified, and the surprising Carrete de Málaga doing alegrías in his own way, and whipping up the audience with Cañeta towards the end when the fiesta finale spun out of control and needed to be rescued.
This show was a fine antidote to the darkness and coldness of some conceptual works we've seen during the Bienal.  Personality, sparks flying, spontaneity, humor, improvisation, suffering internalized decades ago and turned into art, vitamins for the soul…  What these people have ought to be distilled, made into an elixir and sprinkled throughout the new generations lest anyone forget the power of flamenco.
At eleven o´clock at night at the Teatro Central, Granada dancer Manuel Liñán presented his work "Nómada" which just a couple of days ago was the central piece of the Flamenco Arts Festival in Santa Barbara, California where it was a great success.
---