Text: Estela Zatania
Photos: Antonio Acedo
18th Bienal de Flamenco de Sevilla
Saturday, October 4th, 2014. 830pm. Teatro de la Maestranza
The many faces of flamenco dance in Seville
Dance: Pastora Galván. Cante: Galli de Morón, Cristián Guerrero. Guitar: Ramón Amador, Pedro Sánchez. Interpretation and dance: María del Mar Montero. Guest artists: Juana la del Pipa, Farru. Director: Antonio Canales.
Saturday evening at the Bienal de Flamenco, Pastora Galván debuted her show "&dentidades".  It was also a personal debut for the dancer as principal artist at the Maestranza theater, the festival's most prestigious venue, after having had great success in previous editions at the Lope de Vega and Central theaters.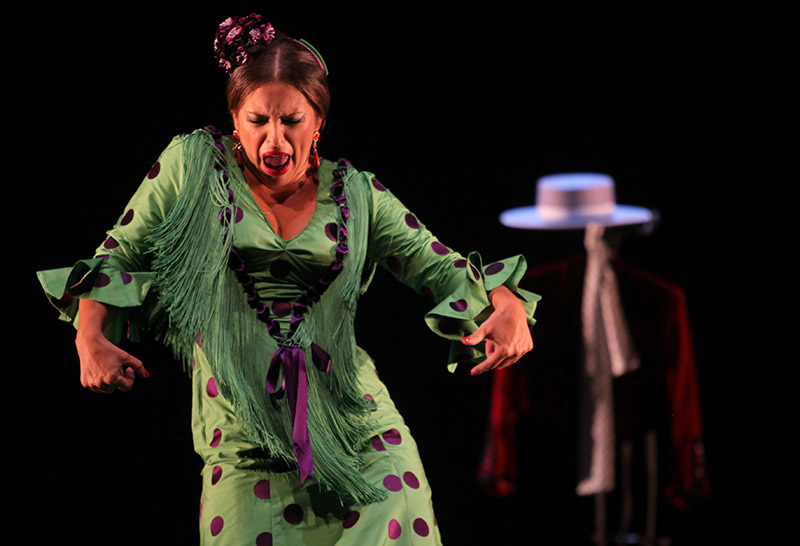 The title of the work presented by the now well-known dancer, is its own concise synopsis.  "&dentidades", identities, aims to pay tribute to some of the most outstanding personalities of the recent history of flamenco dance in Seville.  An anthropological work that Pastora carried out under the direction of Antonio Canales.
Dressed in a white bata de cola with white shawl, the dancer opened with the classic alegrías of Matilde Coral, with cante and guitar fine-tuned to match the era.  Matilde's luminosity was followed by the dark intensity of seguiriyas with castanets in the style of the undervalued veteran, Loli Flores, represented by Pastora now dressed in black.
A taranto without singing paid tribute to another Seville legend, Milagros Mengíbar, and when the atmosphere of Madrid tablaos in the 1970s is suggested via "jaleos" that were in circulation at the time, such as the old standby "Nada Felipe", we feel the presence of Pastora's parents, Eugenia de los Reyes and José Galván, with a caña that makes you wonder why this form has practically fallen into disuse when, in the hands of the right people, it continues to be a worthwhile component of the flamenco repertoire.  On the other hand, the oddity of placing the singers and guitarists with their backs to the audience deprives spectators of much expressive dimension, and for those of us interested in guitar, of seeing the hands and positions of the musicians.
Carmen Ledesma is represented in a dance to the rhythm of "romance", and guest artist Juana la del Pipa sings tientos and tangos.  Dancer Farru caused a sensation with his evocation of the soleá danced by his grandfather Farruco, with hat and cane included, to complete the nostalgic image with Juana's singing.  Also noteworthy was the soleá in which the forms of dancer Manuela Carrasco were clearly reflected, and you don't know whether you're applauding Pastora or the great Manuela.
Missing, was some acknowledgement, however small, of Manuela Vargas without whom the Seville school lacks substance.  On the positive side, the underestimated singers, David el Galli and Cristián Guerrero, and guitarists Ramón Amador and Pedro Sánchez did a fine job.
"&dentidades" recreates the main personalities of Seville flamenco dance, but in the end, the work is a monument to the imagination and creativity of Pastora Galván.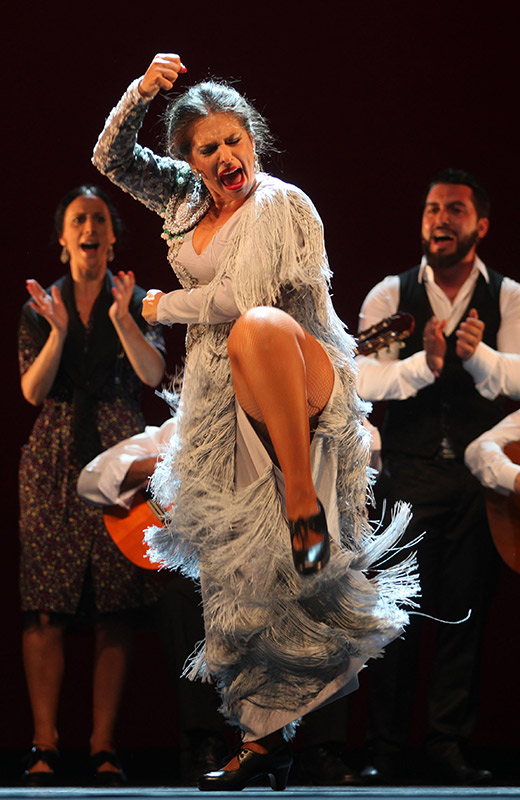 ---