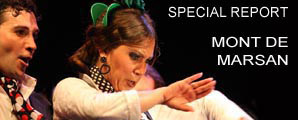 SPECIAL
20º FESTIVAL ARTE FLAMENCO
de Mont de Marsan
July 7-12, 2008. Mont de Marsan (France)

Text: Estela Zatania
Photos: S. Zambon – Photo Gallery
Eva Yerbabuena – Rosario Toledo – La Susi – Niño de Pura & Manolo Franco – Juan de Juan – Lebrijano & José de la Tomasa – Andrés Peña & Pilar Ogalla – De la Mar al Fuego
When the Festival Arte Flamenco was held for the first time in Mont de Marsan in the 1980's, few people could have predicted the exponential growth the genre was about to experience.  Nowadays, more often than not, the word "globalization" comes up in the same sentence with "flamenco" which has become just another kind of world music.
The organizers of Mont de Marsan have responded to this phenomenon year after year with a diverse program for a wide diversity of audiences and tastes, but always with special attention to traditional flamenco.  This year's program, when the festival is celebrating its twentieth anniversary, is full of first-rate shows and the best traditional singers, from Lebrijano and José de la Tomasa, to Luis Zambo, Mariana Cornejo and Nano de Jerez among many others.
We came to this lovely city with the feel of a small town to enjoy the shows, the great ambience among the dozens of artists, journalists and speakers, and, needless to say, the wine, cheese, paté and other French delicacies.
EVA YERBABUENA "A CUATRO VOCES"
Dance, choreography, staging and artistic director: Eva Yerbabuena. Dance: Mercedes de Córdoba, Maria Moreno, Asunción Pérez Choni, Lorena Franco, Mariano Bernal, Juan Manuel Zurano, Eduardo Guerrero, Alejandro Rodríguez.  Cante: Enrique Soto, José Valencia, Jeromo Segura, Pepe de Pura.  Guitar: Paco Jarana, Manuel de la Luz.  Percussion, Raúl Domínguez.  Sax flute: Ignacio Vidoechea.
On Monday July 7th, in the spacious Espace François Mitterand, the festival got spectacularly underway with Eva Yerbabuena, possibly the best flamenco dancer of our time.  But it is precisely her extraordinary capacity that obliges us to be all the more demanding of her, because she has everything, and because she takes full credit not only as choreographer, but as artistic and stage director as well.
"A Cuatro Voces", a veteran work of Yerbabuena's, is yet another show in which the dancer seeks to balance flamenco and modern dance.  "Modern", not as adjective, but as the name of a genre which is over a half century old and which tends to upstage flamenco whenever the two are combined.  Fortunately extraneous elements do not touch Eva's own flamenco dancing in this show, and the pre-show deconstruction and openly contemporary group dances do not diminish the impressive display of talent of this enigmatic woman.
The title of the work refers to four poets, Miguel Hernández, Federico García Lorca, Blas de Otero and Vicente Aleixandre who receive due tribute via their sung verses: what's not clear is whether this adds dimension to the final product.  Flamenco works based on noteworthy verses must be able to stand alone, without depending on the poetry, if only because the amplification and singers' vocalization are rarely up to the task of faithfully transmitting the actual words, but also because the visual and musical message of flamenco has far more impact than the poetic.  Manuel Torre was great, independently of the literary quality of the verses he sang (or lack of same), just as the most extraordinary poetry does not make anyone a singer.
Yerbabuena cultivates a depressive intensity that this observer cannot quite assimilate.  It's true that flamenco was born of, and feeds on suffering.  But the negative forces of life are chewed up, transformed and returned as positive; in flamenco the yin comes face to face with the yang.  I believe that all art, even that which is based on the most tragic references, leads to an invigorating experience.  Furthermore, flamenco, more than other forms, is an art that demands audience complicity which it simultaneously devours and nourishes.  Eva's dancing is fascinating, but her show is depressing and the relentless nether world she creates is not appealing. 
Paco Jarana's lush music is priceless, as is the fine assortment of voices: Enrique Soto, José Valencia, Jeromo Segura and Pepe de Pura.  With such excellent elements, it can't be that hard to find a halfway point between this grim work and the old polkadots and tambourine flamenco.
COMPAÑÍA DE ROSARIO TOLEDO "LOS AIRES DE CÁDIZ"
Dance and choreography: Rosario Toledo. Cante: Juan José Amador, José Valencia. Guitar: Daniel Méndez, Ricardo Rivera. Percussion: Raúl Domínguez
On Tuesday in the relaxed atmosphere of the Café Cantante where you can try paella or gazpacho during the shows, a piece of Cádiz of scarcely a hundred pounds arrived on stage to open doors and eyes for those of us who are hungry for classic flamenco to suit the new millennium.  Rosario Toledo stood out from the rest years ago, and is known among flamenco dance fans, but her performance in this festival had a definitive feel, as if the artist has now truly arrived.
In a recital I would dare to call "perfect", the young dancer interpreted five full dances, free-form malagueña, soleá, siguiriyas, tientos and cantiñas, not counting the fiesta finale, nearly an hour and a half without guitar or cante solos as such – and not a single dull moment.  Rosario has everything: brilliant technique, knowledge and communicative power.  But above all else, she has intelligence and good taste, she knows not only the how, but the where and the when, and never opts for special effects or easy applause. She has personality.  That prime resource that cannot be purchased in dance schools or master classes, and this is why she has earned a privileged place among her peers of flamenco dance.
Rosario Toledo projects a classic feeling which she expresses in the freshest manner, an irresistible formula not dominated by lesser artists who too often get the "fresh" part right, without tending to the classic.  Her extremely fragile figure is her greatest ally, and she makes the most of it.  She uses her slinky long arms as tentacles to create forms that would be impossible for a fuller figure.  She moves with the bearing of a queen of a distant galaxy, and has a subtle sense of humor.  She plays with her center of gravity to strike poses never before seen in flamenco, but which have nothing in common with the hackneyed contractions and raised shoulders of modern dance.  And most surprising of all: she communicates a different feeling in each dance, as is only fitting.
The knock-down-drag-out cantiñas causes the numerous audience to jump to its feet is if propelled by an invisible force, and the success of the performance is what in these cases is described as "resounding".  
LA SUSI
Cante: La Susi. Guitar: Ramón Amador, Manuel de la Luz.  Chorus: Zamara Amador, Carmen Amador. Percussion: Luis Amador. Music director: Diego Amador.
After an intermission during which I tried some French Spanish tortilla with a little paté de foie, the festival offered a different sort of treat which the presenter described as "another historic moment in the history of our festival".
There are artists that leave such an indelible mark on their times, that when the era is no longer current, all that's left is nostalgia, and any attempt at professional resurrection is doomed to failure.  But there are others who manage to avoid this pitfall and periodically reinvent themselves.  Or maybe it's me, who belongs to the Susi generation and has been enamoured of her art ever since seeing her for the first time 34 years ago at a tablao in Ibiza where she was one of the dancers.
I don't know, but I like to believe that this artist is above the Camaronism she cultivates, or her lovely face which came to be one of the flamenco symbols of the nineteen-eighties.  I must still have those cassette tapes somewhere, a mixed bag of pop music and traditional cante, all with the plaintive, sweetly rough voice, so distinctly flamenco of La Susi.
She came to Mont de Marsan with high hopes and a small army of Amadors in tow, her family, to back up the performance.  The Alicante girl had a strong start with cantiñas, with her characteristically bittersweet delivery.  Styles of Pastora Pavón, Pinini, Perla, but always in Susi's unmistakable style.  Her 'canastero' mining cante reveals another sort of purism, and in the soleá, Fernanda de Utrera passed through the prism of Susi, she continued to reserve the right to be herself, no matter how much she draws from the classics.  Tangos, bulerías, then an unexpected intermission, and when she returns, the magic has dissipated and it's hard to find the thread.  A long series of free-form themes, ballads and other songs leads to audience distraction.  Knowing how to sing and being a great artist does not necessarily go along with knowing how to organize a show.  But her ardent followers didn't budge, and it's a sign of just how good the lady really is.
NIÑO DE PURA y MANOLO FRANCO "Compadres"
In the same line of high quality, another extraordinary recital opened the program on Wednesday.  With daylight still filtering into the cavernous space of the market-cum-theater which is the Café Cantante in the Place Saint Roch, Manolo Franco took his seat on-stage.  After two lovely pieces, granaína and taranta, we are all grateful to be here enjoying this masterful guitarist from the generation that smoothed the transition from Paco de Lucía to Gerardo Núñez.  When Niño de Pura comes on, he acts as spokesman for the duo, and explains how well they play together, "our notes have a perfect rapport".  And so it came to pass, with a thousand hand-held fans fluttering to assuage the intense heat, the pair of maestros delivered beautiful arrangements, together and by turns, with the percussion of Agustín Henke and the palmas of Bobote for guajiras, alegrías, fandangos and an absolutely scorching bulería with the clear crystalline singing of Rafael de Utrera who remembered his 'paisano' Enrique Montoya with the latter's most famous song.
COMPAÑÍA DE JUAN DE JUAN "A mi aire"
Cante: José Valencia, El Pulga, La Tana, Lola Molina. Woman dancer: Carmen Lozano. Percussion: José Carrasco. Guitar: Daniel Méndez.
With the atmosphere in the Café Cantante near boiling point after the first part, Morón dancer Juan de Juan arrived on stage.  Galactic.  There is simply no other word.  Speed, compás and more than enough technique to administer both.  Technically a virtuoso, overdoing the machine-gun footwork – a "problem" many a dancer wouldn't mind having to deal with.  His dancing is half-way between crazy and crazed, as if he were being led around stage by a strange force he is helpless to resist.  Along the way he starts relaxing, the excess energy is spent and we finally arrive at the essence of the heart of the crux of the question.  Only then, with his shirt soaked through and his hair dripping, when any non-galactic dancer would bow and take his leave, does Juan de Juan start revealing his true genius, and the subtleties flow freely.  You end up exhausted just watching him, but the free trip, courtesy of Juan de Juan, is most definitely well worth it.
JUAN PEÑA "LEBRIJANO" y JOSÉ DE LA TOMASA
"Las voces de la experiencia"
The following day took us straight back to flamenco paradise once again with an outstanding double program.  Maestro Juan Peña 'Lebrijano', Mairena devotee but with a modern approach, classic cante with knowledge and personality.  The old lion, the blonde from the Negros de Ronda, put his whole heart into the difficult recital with the guitar accompaniment of his nephew Pedro María Peña.  It was not easy, the man is past his physical prime and has had some health problems recently, but he wrestled with the cantes and came out on top.  In fact, his diminished faculties added a pathetic touch to everything he did, and the 'duende' dropped in for a visit.  Cantiñas, soleá and siguiriyas, Lebrija compás, his creation 'galeras'…  The audience demands an encore, just as they always did thirty years ago when Lebrijano closed out festivals at daybreak with his long bulerías and a repertoire that appeared endless.  Another classic singer arrived to run with the ball and maintain the magic.  José de la Tomasa with the guitar of Antonio Carrión followed in the same line, and the French audience not only showed their appreciation, but a surprising degree of knowledge: the "oles" came at the right moments and applause was duly effusive for soleá, taranto, cantiñas and siguiriyas, "my family's cante" as Manuel Torre's great-nephew pointed out.  An emotional embrace of the two singers was the touching end to an unrepeatable recital.
COMPAÑÍA DE ANDRÉS PEÑA Y PILAR OGALLA "A fuego lento"
Guest artist: Luis el Zambo. Cante: Luis Moneo, Inmaculada Rivero, David Lagos. Guitar: Javier Patino, Alfredo Lagos. Palmas: Alfonso Carpio, Carlos Grilo.
When the physical temperature in the Café Cantante finally began to drop, and there was no longer any daylight, Andrés Peña and Pilar Ogalla, Jerez and Cádiz, a young dance team with a decidedly classic style took over the large stage.  Their dancing bespeaks of love for what they do, of many hours in the studio and of great dedication.  Nowadays when flamenco dance by couples is rarely seen, Andrés and Pilar demonstrate its relevance, and are proud of their capacity to pull it off effectively.  Between dances, the warm natural voice of Luis el Zambo is the fine gift the couple provides, and all the while guitarist Alfredo Lagos once again shows he is one of the best in the field. 
The next to last night it was time for the great celebration of the festival's 20th anniversary.  An extensive project directed by Javier Puga and produced by the festival organization in collaboration with the Diputación de Sevilla and the Bienal de Sevilla, put thirty-one artists on the stage of the Espace François Mitterand. With the delightfully unpredictable Tomasito serving as emcee, we were taken on an imaginary trip from Cádiz to Sevilla, the route of cante, the golden triangle or however else you want to call it, via five groups of six artists.  Before the curtain went up, a long list was read of artists who have participated in the festival but are no longer with us, with special words for Gaspar de Utrera, the last one to pass away just a few months ago…"this is dedicated to all of them!"…and a softly moving 'nana' was sung by Pepa de Benito to prologue the marathon.  With young and not-so-young artists, each one representative of his or her town… singers Mariana Cornejo from Cádiz, Luis Zambo from Jerez, El Lebrijano from Lebrija, Pepa de Benito from Utrera and José de la Tomasa from Sevilla, dancers El Junco, Andrés Peña,  Concha Vargas, Carmen Ledesma and Milagros Mengíbar, in addition to guitarists and palmas…we got an extensive overview of the so-called basic flamenco of western Andalusia.  The grand climax brought all the artists on stage for the mother of all fiestas.
After the previous day's presentation, the closing event on the last day was a welcome return to normal scale.  Nano de Jerez sang (no, he didn't do the "Bombero"), as did two Davids, Palomar and Lagos, for the dancing of Junco, Pastora Galván and Andrés Peña with Javier Patino and Keko Baldomero on  guitar.  An "intimate" dinner for one thousand five hundred people, mostly locals, and a "simple" show with some of the most relevant figures of current flamenco.  It all took place in the Hall de Nauques in Mont de Marsan…..and many happy returns…
clic to enlarge
All the information about Mont de Marsan in DeFlamenco.com
---