17 Bienal de Flamenco
Wednesday, September 19th, 2012
Special 17 Bienal de Flamenco de Sevilla – All the information  
Segundo Falcón & Paco Jarana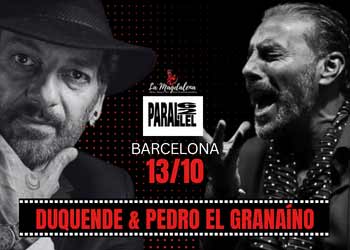 Publicidad DeFlamenco
"Entre el labio y el beso"
Tomás de Perrate "Infundio"
Text: Estela Zatania
Photos: La Bienal
Classic artists in search of a format
On the sixteenth day of the Bienal de Flamenco de Sevilla, having passed the half-way mark of this mega festival, we had the chance to enjoy two classic singers with fresh ideas.
The image of a flamenco singer in his wicker chair with a guitarist next to him, has become so trite that many younger followers of the art find it impossibly outdated. Segundo Falcón and Tomás de Perrate are always looking for new ways to serve what they have to offer without resorting to cliches.
Segundo Falcón from the town of Dos Hermanas, a singer especially admired by Seville flamenco fans, with his regular guitarist Paco Jarana, put together a show "Entre el Labio y el Beso" with percussionist Antonio Coronel, dancers Ursula López and Moisés Navarro, a chorus of three voices (the two Mellis and one unidentified female) and the Bética Orchestra of Sevilla, thirty people on stage for what turned out to be a discreet recital.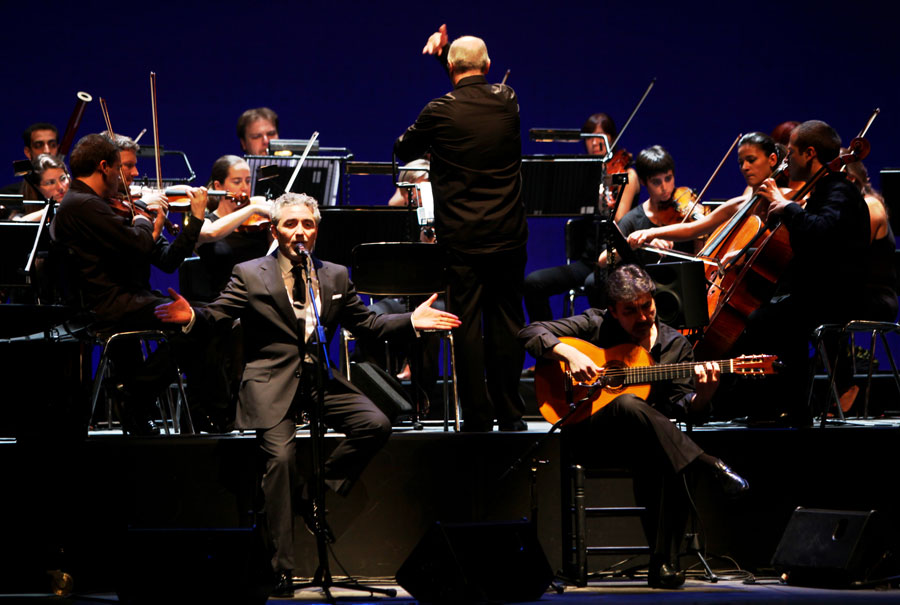 Discreet in the outcome, but ambitious in its goal of remembering the Mexican bolero singer Agustín Lara who died four decades ago. Once again a convoluted libretto, which on this occasion alluded to three key dates in the life of Lara, was mental overload for theatre-goers who attend this kind of show to feel the excitement of music and the human voice. Among other things, we read that the objective was to "establish a harmonious relationship between the two musical genres […] in such a way that each one would maintain its own identity, while enabling communication between the two". I can confirm that each genre kept its identity, but the harmonious relationship never materialized.
Personally, I always enjoy Falcón's expressive voice and Jarana's superb music with no additional elements, but we spent the evening trying to fish out flamenco moments from the sea of silky music provided by the orchestra. On the upside, there were interesting moments such as the chotis to bulerías, some Pastora-style alegrías, jabera (one of the most beautiful melodies in flamenco) with the abandolao of Frasquito with malagueña, and soleá apolá.
The interpretive dancing of Ursula López, choreographed by Eva Yerbabuena, with the dancer's silhouette projected onto the backdrop, held our interest, and a pas de deux with Moisés Navarro also provided some moments of beauty.
Of the (more or less) thirty people on stage, twenty-eight (more or less) could have been dispensed with; Segundo Falcón and Paco Jarana are all that's really needed.
At eleven o'clock in the patio of the Espacio Santa Clara, it was Utrera's turn in the person of Tomás de Perrate who came to the Bienal to present his new recording, "Infundio", with a long list of collaborations…so many in fact, that the two-hour recital turned into a happening of the sort we're more accustomed to seeing at the Hotel Triana.
In addition to guitarist Antonio Moya, main collaborator and regular accompanist of Tomás, the singer surrounded himself with a group made up of Nano Montaño Peña on drums, Emilio Ricart "Chambé" on keyboard, Ricardo Moreno Montiel on acoustic guitar, Rafael Hermoso Trujillo "Poti" on percussion and dancer Carmen Ledesma. Singer Mari Peña also came on stage to sing bulerías, as well as a young guitarist, both from Utrera.
With the charming patio filled to overflowing, Tomás began with the most classic sort of cante, declaring "I have come to sing of Utrera, which is a way of life". The singer put his sincere mellow voice to soleá, Utrera's I.D. card, an assortment of cantiñas, tientos (a cante greatly enhanced by the late Gaspar de Utrera) with the dancing of Ledesma, and tangos del Piyayo, Utrera version.
Bulerías of Utrera with their characteristic compás, less urgent, more laidback, led to a second part in which the singer interpreted songs to instrumental arrangements, and the recital morphed into a fiesta finale crossed with jazz.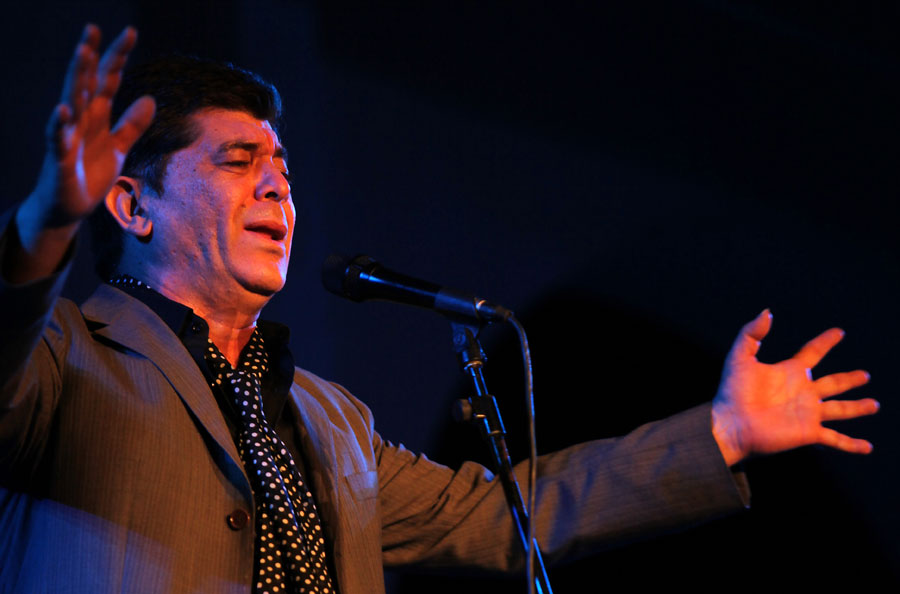 ---