Text: Silvia Cruz Lapeña
photos: Oscar Romero / La Bienal
4 hours of improvisation. Teatro Central. Seville. October 1, 2016
In awe of Molina
The Málaga dancer pulled off four hours of improvisation at the Teatro Central with audience participation and surprise guest artists like Lole and la Chana.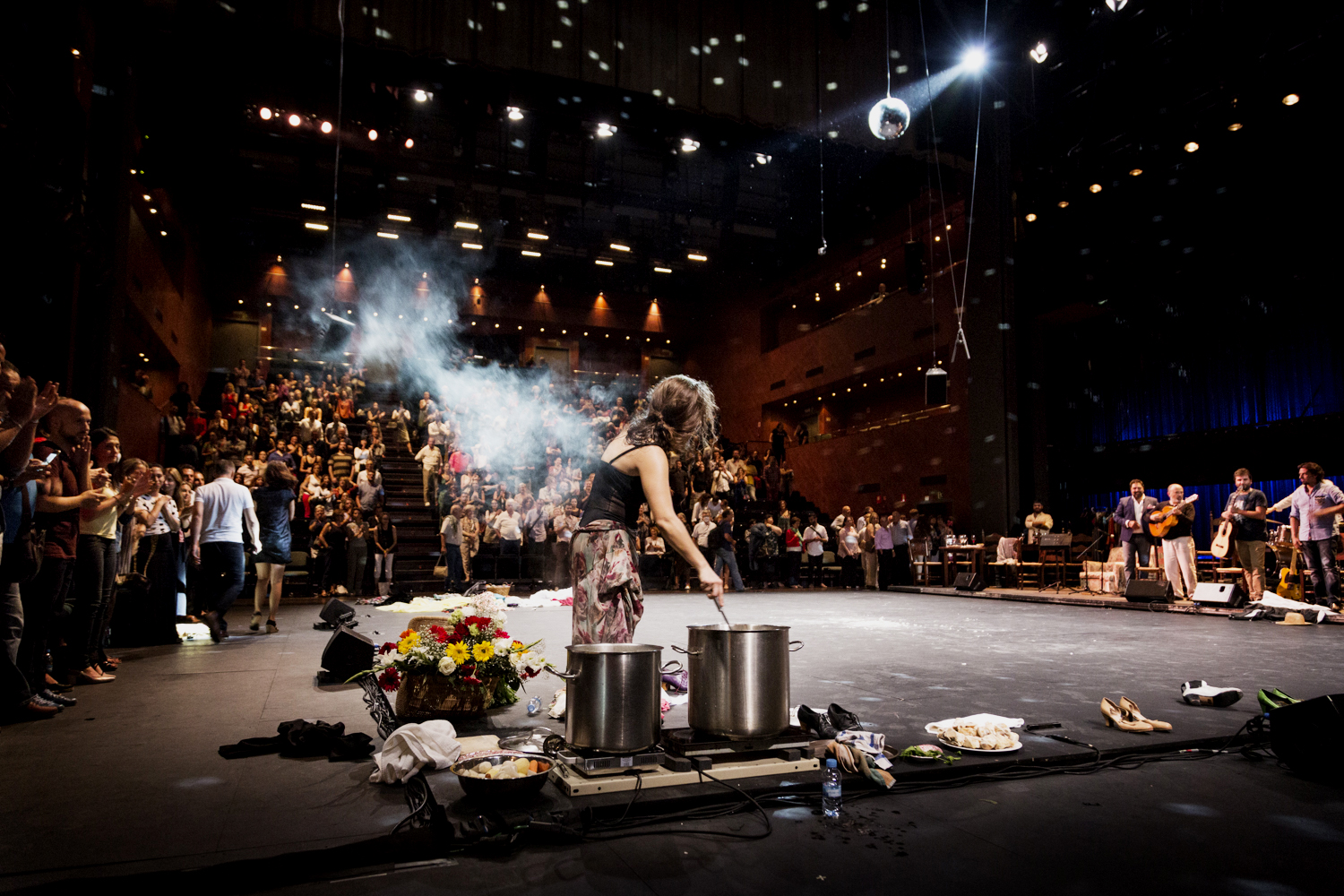 Rocío Molina faced the audience of the Bienal at the Teatro Central in a four-sided venue such as that used by gymnast Simone Biles to show what she's made of, and all her qualities, both inborn and acquired.  But unlike the sportswoman, she was neither athlete nor acrobat.  She was flamenco dancer, ballerina and non-stop artist, without sacrificing that gift and that responsiblity.  She danced everything from the start, and if anyone thought the Málaga woman would skimp in order to last through the promised four hours of improvised performance, they were dead wrong.
Among the audience, many of Molina's peers were enthralled, and there were also some skeptical faces.  Molina started out with syncopation, with that part of her of dance that is most related to contemporary dance.  It was two minutes, a warm-up, and then 20 of tonás in which the dancer offered a repertoire that all the dancers who have performed in the Bienal so far just wish they had.  All of them.  She was flamenco through and through, sharp as a whip, and she knows what she wants.  And what she wants is a quest, not a goal.  Which is why she shines in the improvisation format, because she raises questions, and doesn't care if she finds answers.
Top-notch singing
After that workout of legs, hips and waist, she brought out Rafael Rodríguez "Cabeza" to accompany her, Nene Escalera who sang some fandangos with which she dressed in a short costume and José Sánchez "Ytoli", who sang cantes of Niño Gloria, for Rocío to dance on a table, four steps, just a little, leaving room for two singers who were much applauded by the audience, showing how much Molina likes flamenco singing.
None of the collaborations were announced on the program.  Surprise was on her side, because the people who accompanied her were not back-up artists.  Lole for example,  with her radiant voice and appearance sang as she did decados ago with the guitar of Joselito Acedo, who clutched the guitar that had belonged to Manuel Molina.  And with each one, singer, guitarist and fetish, Rocío danced with fine taste.
In the show, in which Molina didn't let up a single second and demonstrated that her body is an unknown alloy, there were some of her regulars, ready to take care of her.  Eduardo Trassierra, José Ángel El Oruco, Pablo Martín Jones, Pablo Martín Caminero and José Ángel Carmona who sang his heart out.  All were at the ready to guide her, lose her, follow her.  She was at times, an orchestra director, at other times, their inspiration.  There wasn't a single misstep, and during the first two hours hardly a movement was repeated.  Two hours.
Not afraid to get dirty
Molina's repertoire is vast, like the possibilities of her body, which she now makes dance stretched out on the floor.  If her vertical accomplishments are admirable, if her interior train, her resources and her flexibility are unreachable for most of today's dancers, now she also dances in horizontal, dragging herself along without skipping a beat.  Last night she did this dressed in a 'bata de cola', and white no less, because Molina, clearly, has no fear of getting dirty.
Via a screen, Israel Galván sent a petition: to improvise based on a dance boot of his, and the plaster boot that he uses in Fla.co.men.  Rocío looked at it, she put it in the center of the stage and thought about what to do.  And suddenly, staring at the boot, she began to dance like Israel.  A dry blow, a man's leg, no curves and suddenly, Rocío is Israel and even shows his sense of humor.
If anyone was hoping for a breather, Molina brought out La Chana. The woman from Barcelona sat in a chair and recalled the night that she, Molina and Mayte Martín paid tribute to Carmen Amaya at theTeatre Nacional de Catalunya.  Seated in a chair, she did footwork triggering the most intense applause of the night.  The cheers were enthusiastic, and "guapa", beautiful, was the least of it…the most was something la Chana should be told more frequently: "artiste".
Audience participation
The Málaga dancer again danced bulerías with a cane, and the performers who had already participated, conglomerated on a stage full of chairs, table, wine and ham, evoking a tavern, or an artist's house, from where everyone observed incredulously.  What happened last nigt was an improvisation and a celebration, that of a well-established career, and of a future one.  If a few days earlier Pastora Galván reminisced about her own career in a show that made little sense, Molina did the same thing without even trying, and she did it well.  There were fragments of Bosque Ardora, details from Vinática, she paid tribute to herself, not only dancing, but reminding herself of how important music and the musicians are, and how much she knows and loves the singing.
The audience participated in the party choosing songs and taking part in a collective chat, and in the end, they were asked to choose a title for the show.  After three hours, the dancer begged for someone to play a song and give her a kiss.  People immediately began to go down to the stage of the Central, all in a circle for the occasion.  On the computer at the sound table, one spectator chose "Breathless" of Nick Cave and the Bad Seeds, and it couldn't have been more perfect. "Still your hands and still your heart. (…) Still your mind and still your soul." Molina danced following that advice.
Surrender
Exhausted but still in command, she gave herself over to Nani Paños' arms, and then followed the steps of Rafael Estévez in order to begin preparing the ending which would be none other than soleá.  She danced following the thread of José Ángel Carmona, with a bulerías closing with electric bass and drums.  The venue turned into a discotheque, then moved on to neighborhood party in which she went into rumbas, zumbona and sexy, and she ended up clinging onto some members of the audience she herself chose, and who danced among them and with her.
The standard wisdom says improvisation takes place in silence, and is an individual act.  The kind called 'contact', is social as well.  And last night there was a little of everything.  But most of all, there was a flamenco dancer dancing at a level only geniuses reach.  Read that again: geniuses.  Because this time, it's not a word lightly taken.  Rocío demonstrated all that can be done without hardly moving away from the base, and put a number of movements, ideas, rhythms and promises in circulation, that made it impossible to take your eyes off her.
The handbill said that Rocío would be generous.  She was more than that.  Rocío brought everyone into her world, and made four hours seem short.  People were permitted to come and go as they pleased, but if the bar of the theater was hoping to make a killing, they had to guess again.  Some people left for the washroom, or to have a quick drink, but everyone returned.  And they didn't blink.  And those who may have seemed bored at the start, ended up crying.  Not three or four people, but dozens, and no one like skeptics to measure the level of surrender Molina managed last night.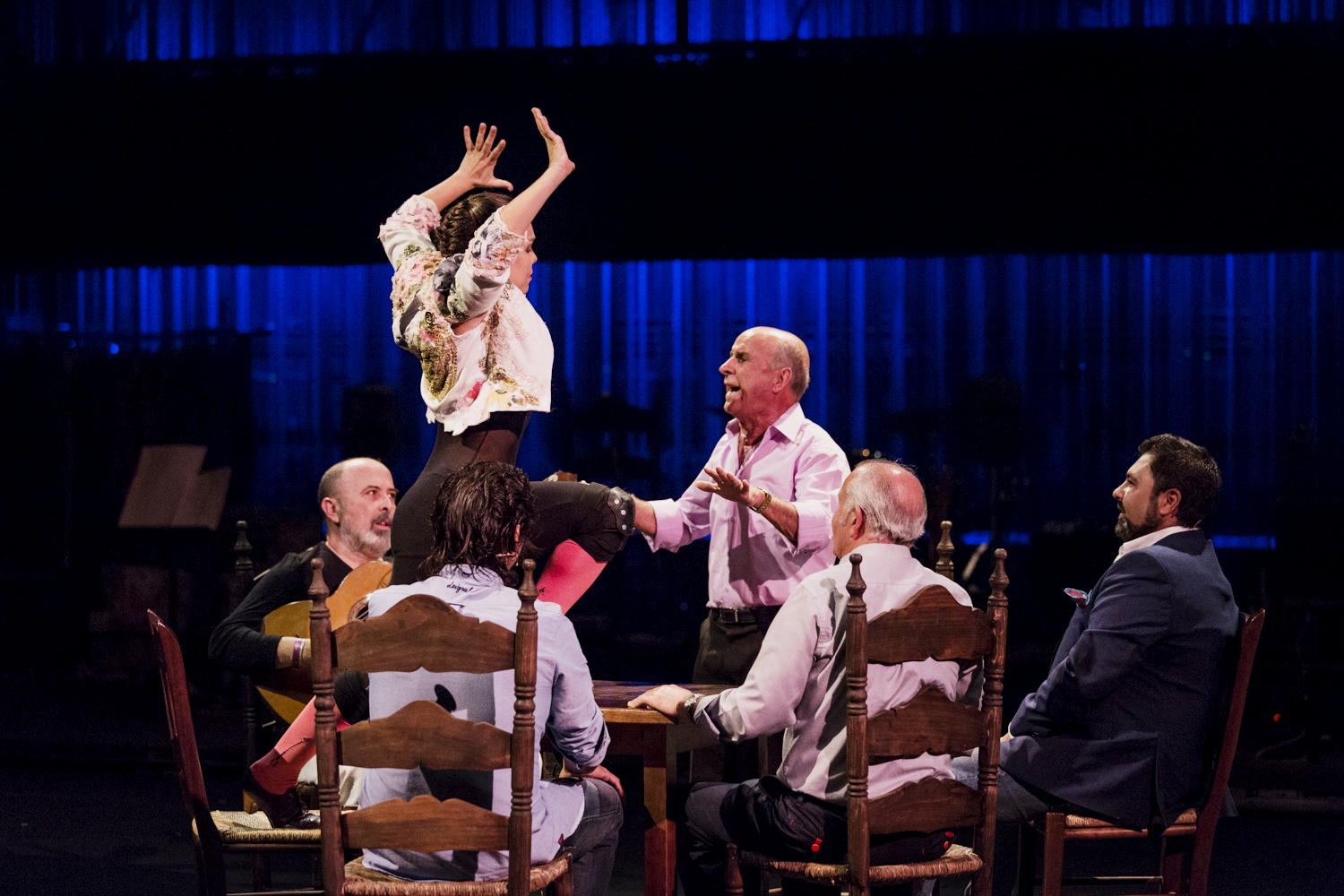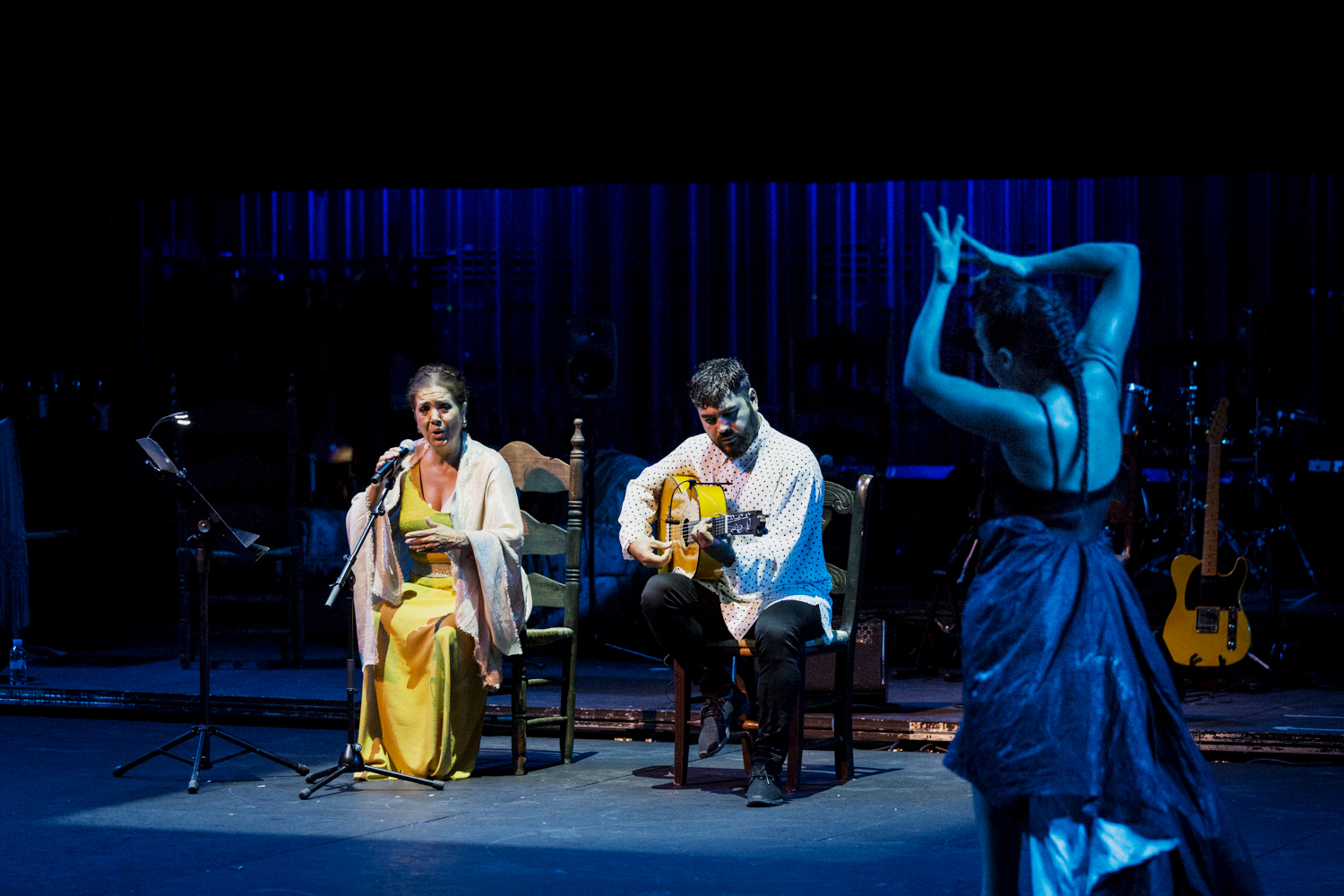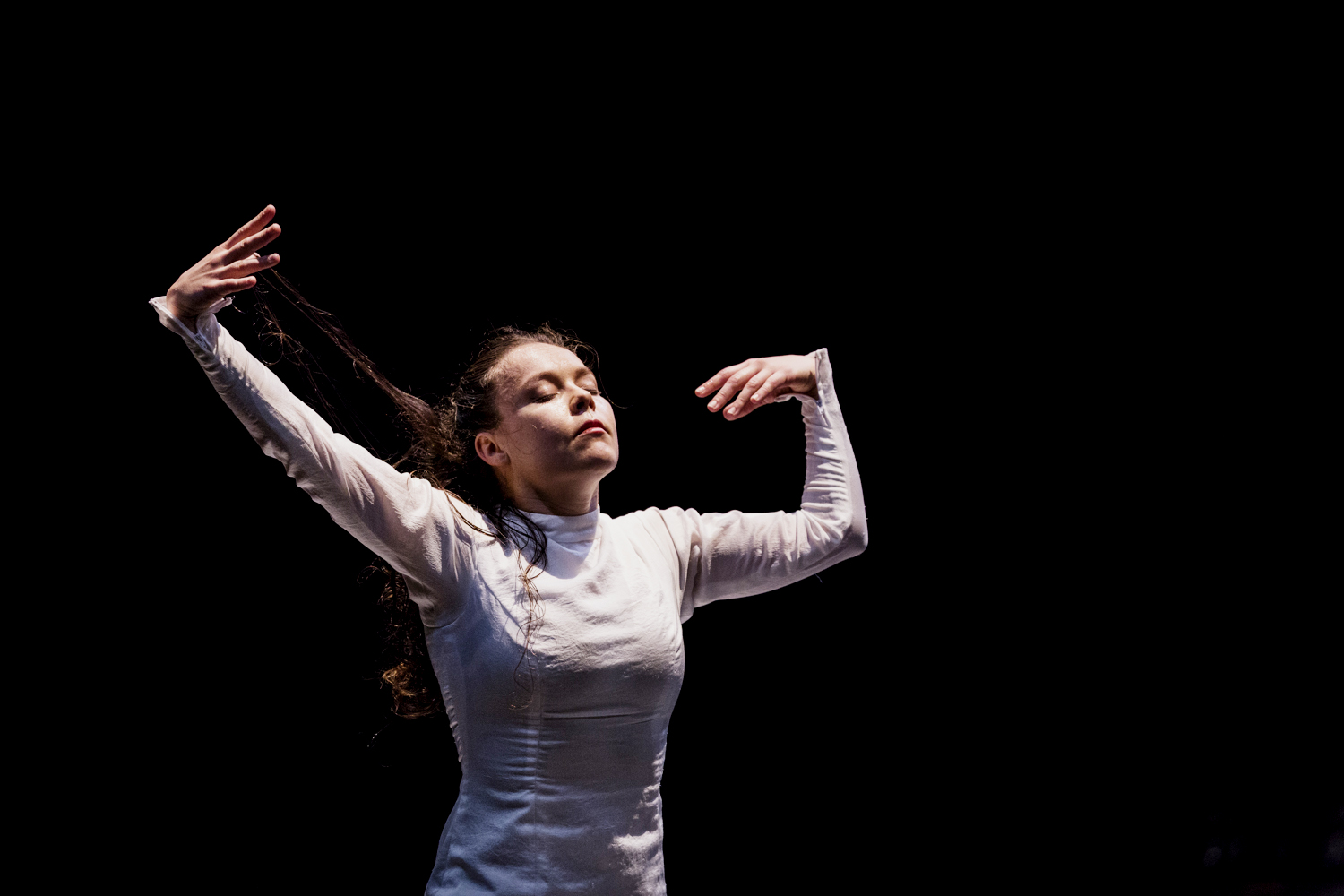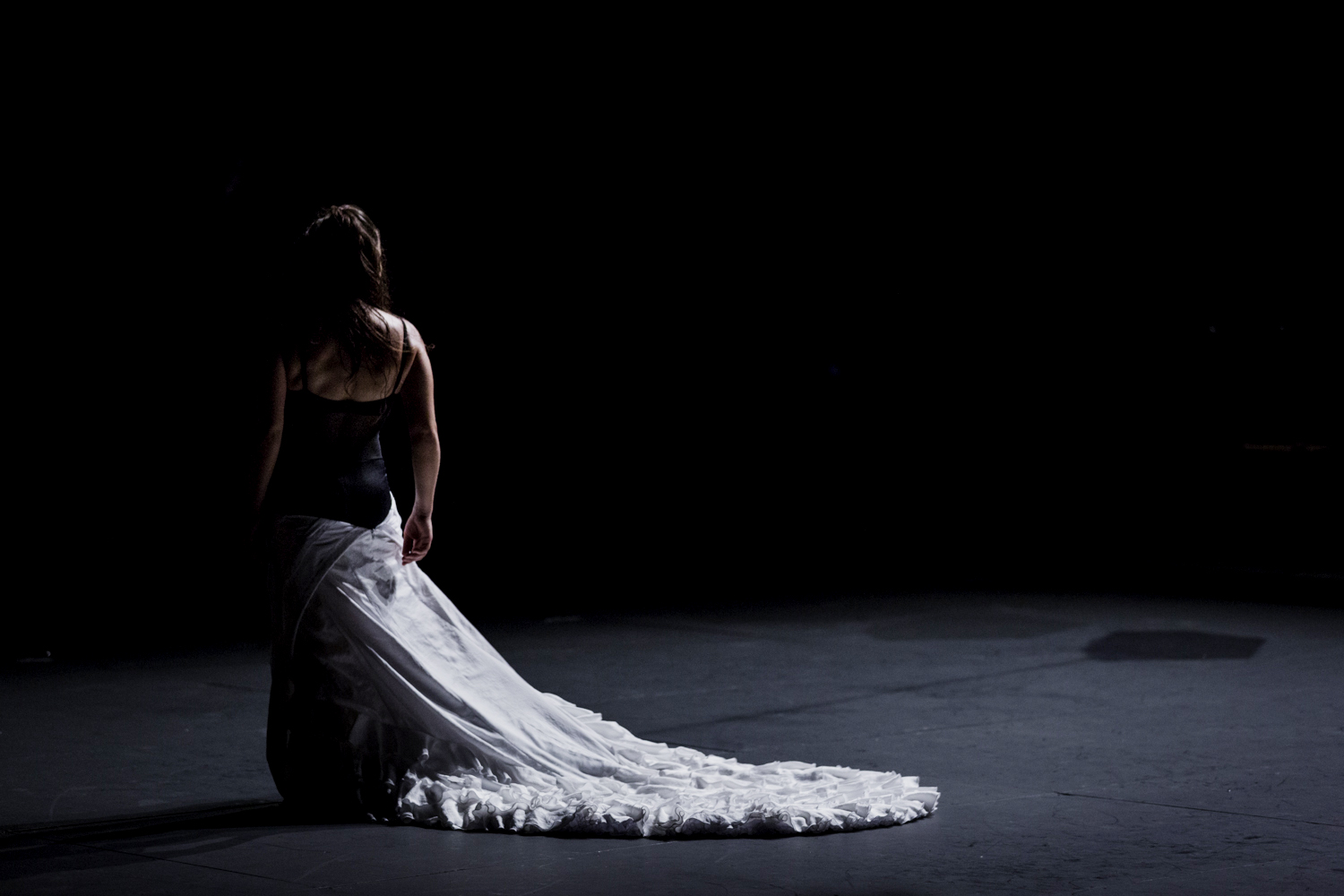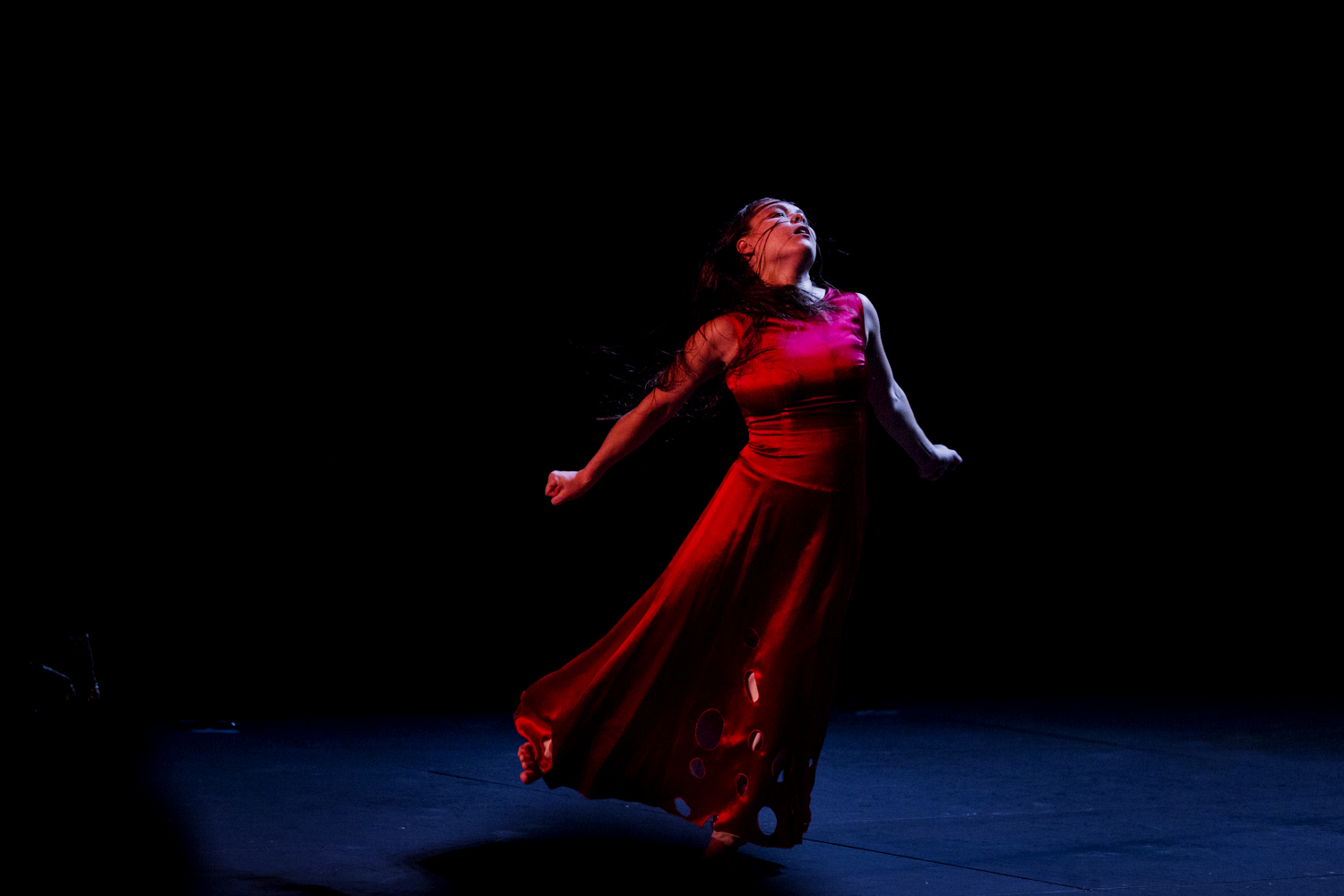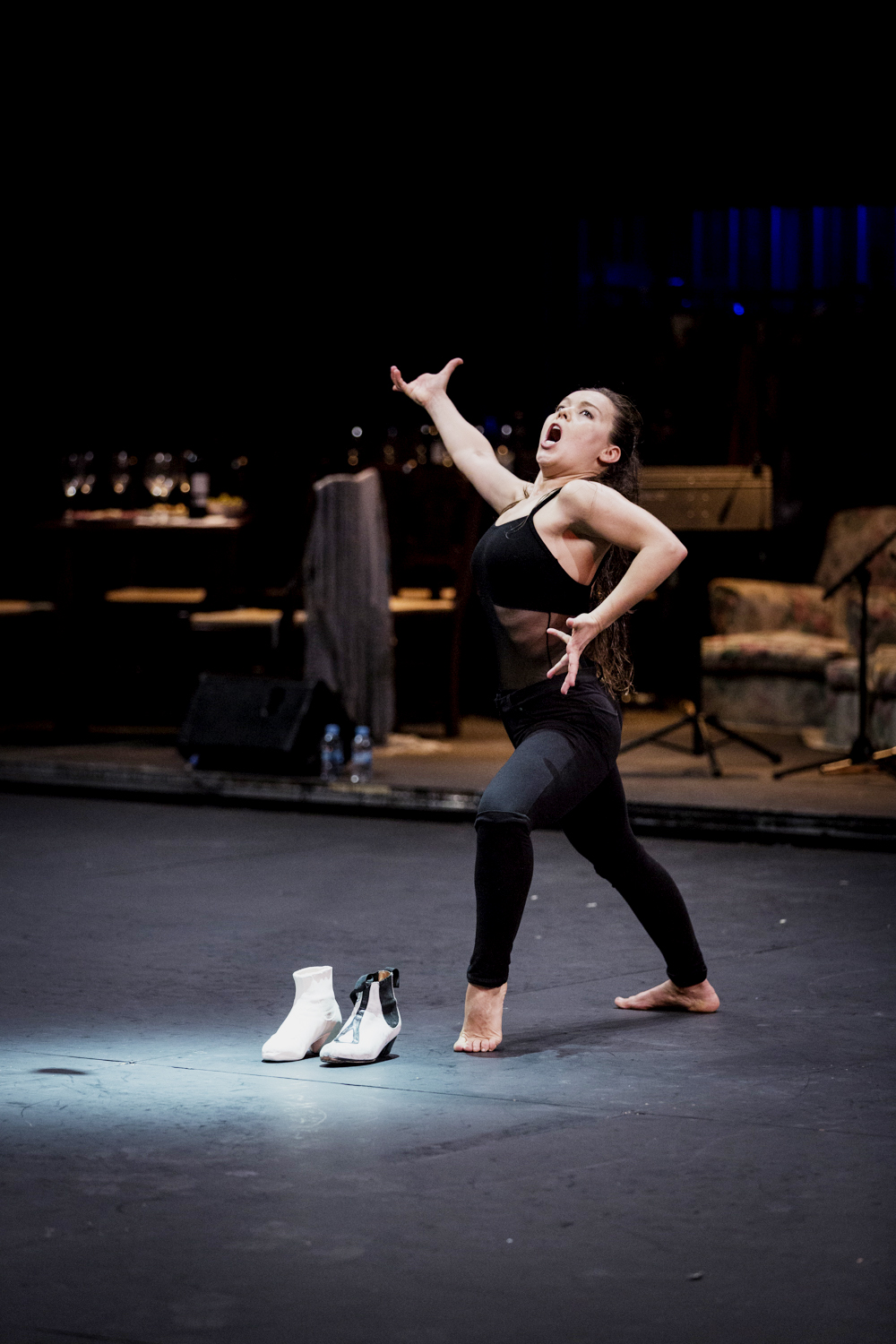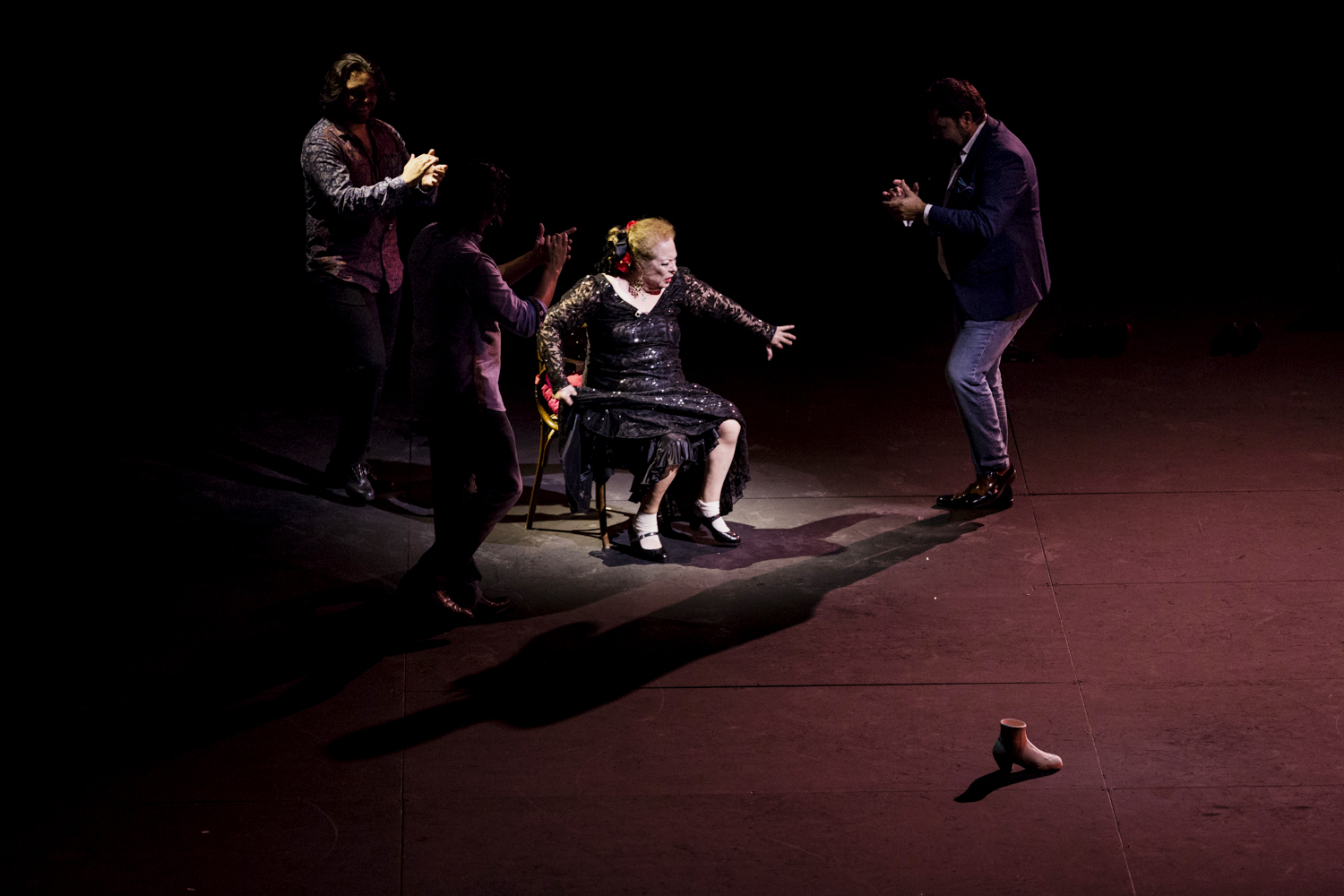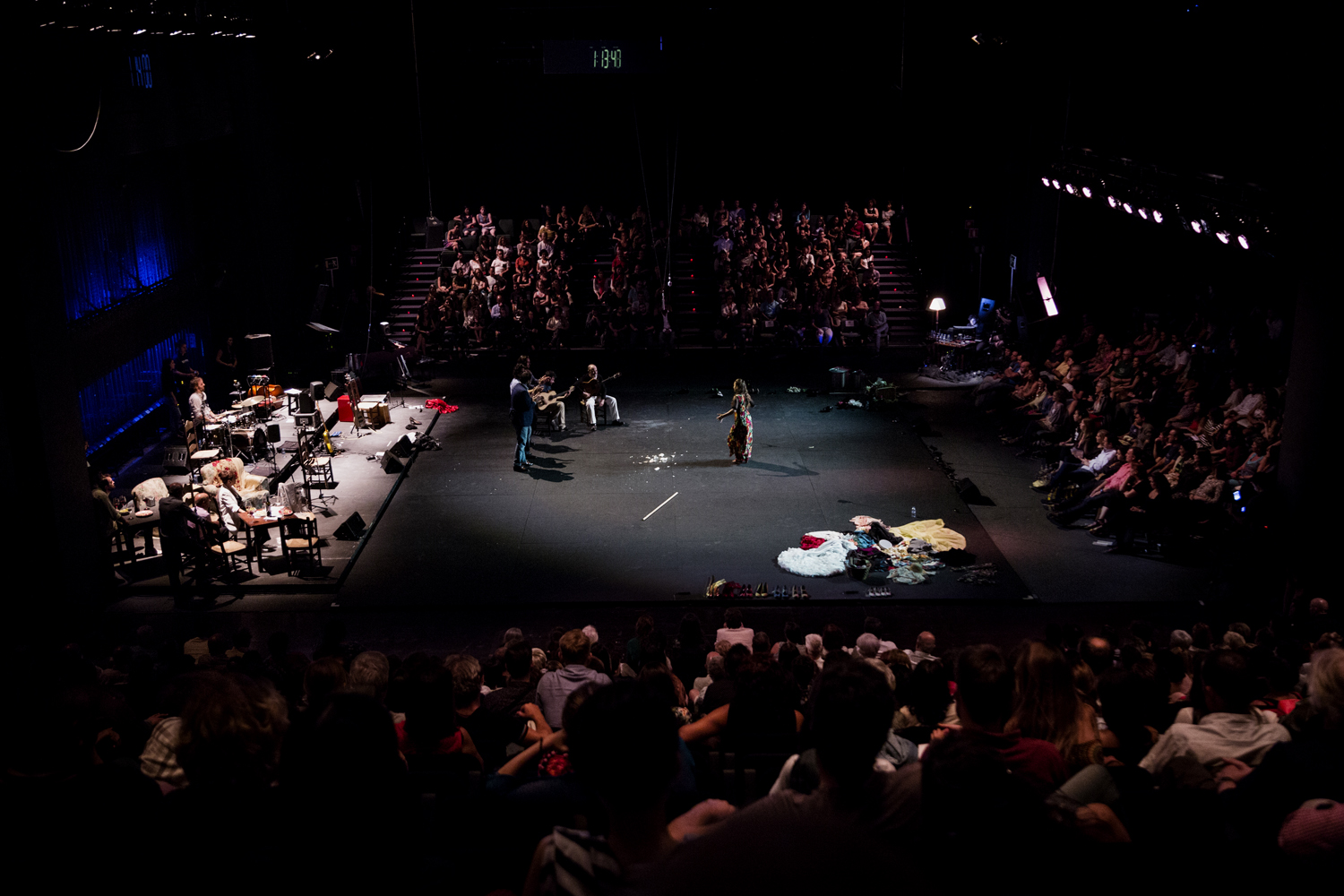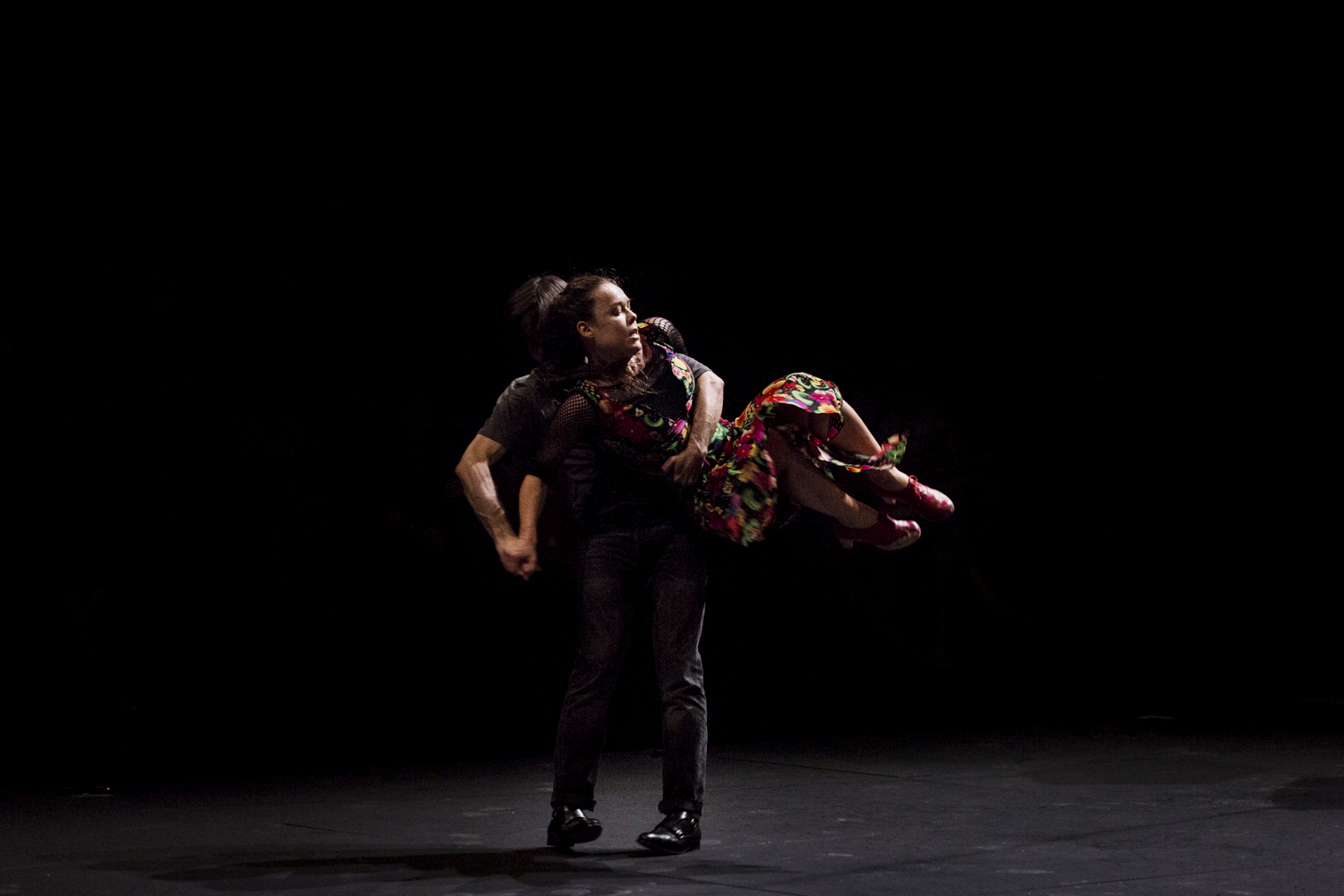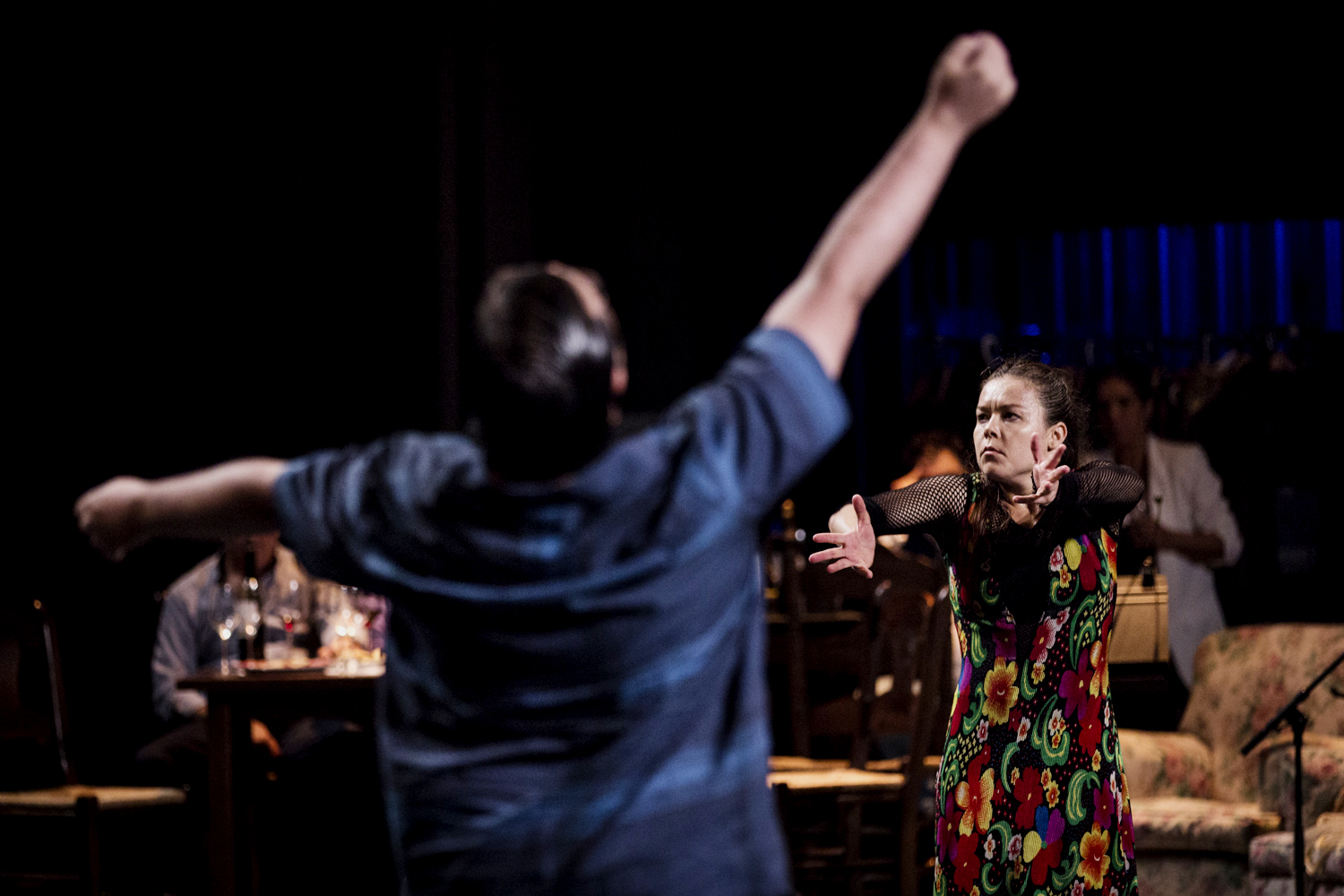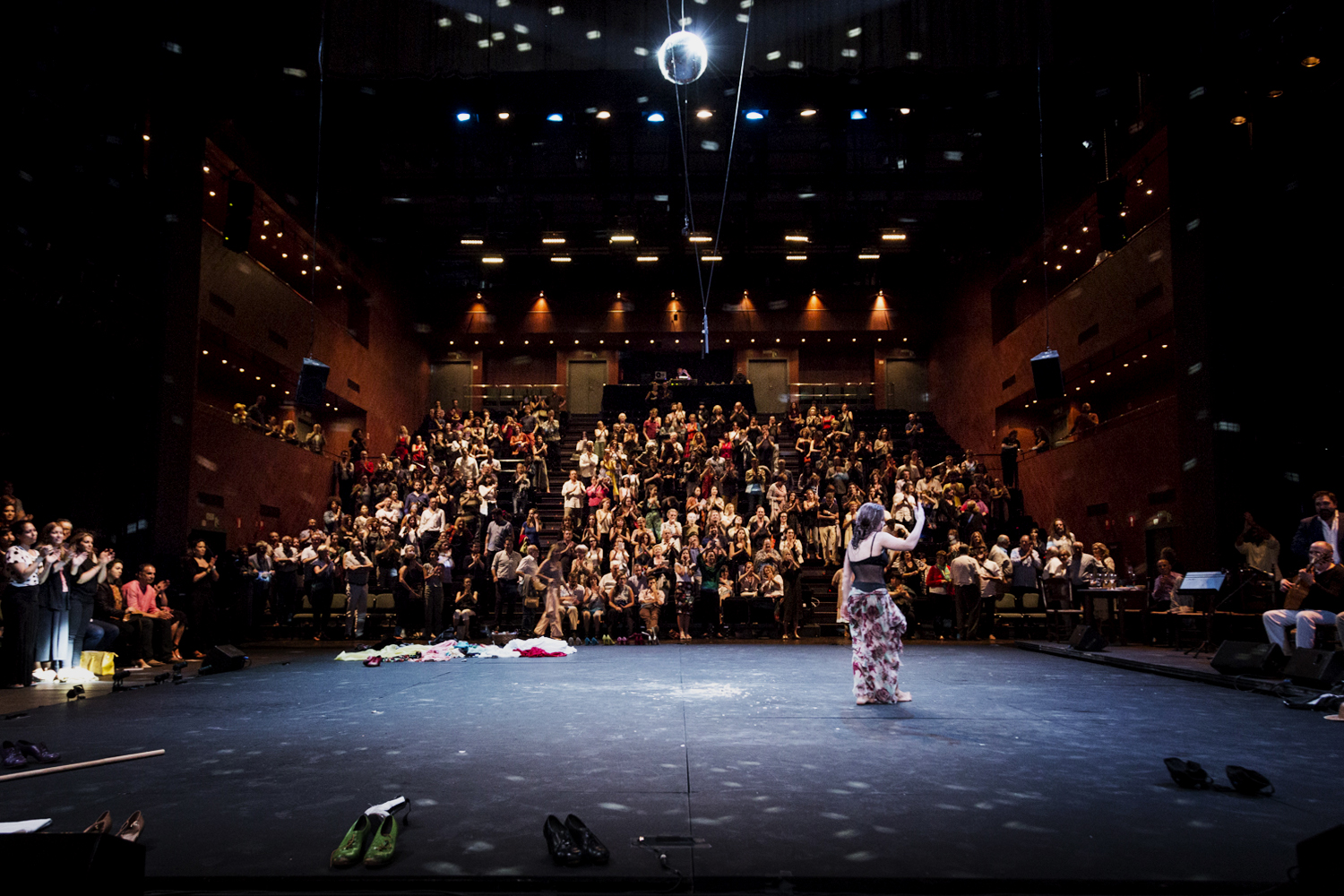 ---