Bienal de Flamenco
Sábado, 22 de septiembre, 2012
Special 17 Bienal de Flamenco de Sevilla – All the information
Pepa Montes & Ricardo Miño
"Una mirada hacia dentro"
Antonio Reyes, Manuela Cordero,
El Junco, Eli Parrilla
"Son de Peñas"
Text: Estela Zatania
Photos: La Bienal
I don't know if the programmers of the Bienal de Flamenco de Sevilla take into account the combination of works and recitals on a given day. Do they try for compatibility among the various presentations, or seek contrasts? Or perhaps neither?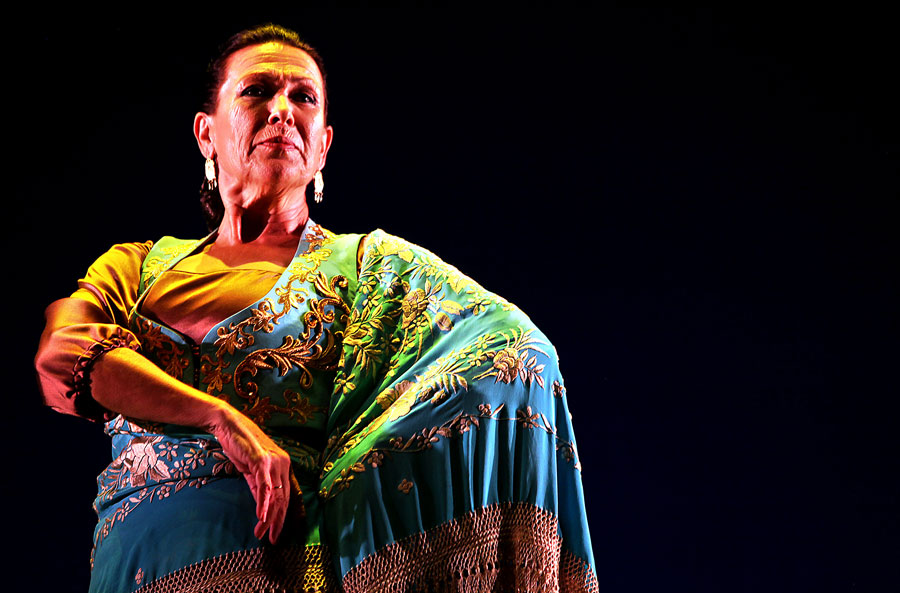 One way or another, Saturday night, intentionally or not, was sort of field work about the permanent dilemma of how to present flamenco to the general public so they can feel its power and understand why it is now considered a world cultural heritage.
Critics often complain about excessive theatricality or contrivances that take over a show leaving our beloved flamenco side-lined, mistreated or even deformed. On this occasion it was possible to compare two current ways of putting traditional cante, dance and guitar on stage without grandiose conceptual pretense.
At half past eight at the Lope de Vega Theater, two veteran artists especially popular in Seville, took on the challenge as best they could. Ricardo Miño, a ground-breaking guitarist in his day, and Pepa Montes, follower of the so-called Sevilla school of dance, keep struggling to maintain their relevance in a flamenco world populated with young hotshots. The result was a show of retro flamenco with high and low points and which was based on dancing from the early seventies when Montes won an important prize at the Córdoba contest. Flamenco dance has evolved dramatically since then, nearly as much as guitar. We're now living in the era of Galván and the Farrucos, and it's hard for the Seville school to defend its minimalist approach in the face of those two dynamic movements. In fact, there are hardly any young people following this path, and the main interpreters who cultivate it are approaching the end of their careers. The globalization of flamenco which is officially sought turned out to be a pact with the devil, and has brought ever greater extravagance and mind-boggling virtuosity.
Pepa Montes and Ricardo Miño did their best, but the overall effect was diminished by poor staging. It was as if the couple could not decide whether to present a work or a recital. Dancers Abel Harana and Manuel Bellido, and singers Vicente Gelo and José Méndez were polished and professional, and if anyone still hasn't discovered the discreet excellence of this particular Méndez, it's because they don't want to. The delightful palmeros, El Oruco and Miguel el Rubio, did their dance bits, there was a strange garrotín without cante as well as a nice alegrías by Montes in a white bata de cola with Miño accompanying in A, a tonality which reinforced the nostalgia.
After the theater we went to the Espacio Santa Clara where the atmosphere is more laid-back, and possibly more suitable for enjoying traditional flamenco. "Son de Peñas" was the title of this sampler of young artists. In the patio of the historic convent where you can sit at small tables and order drinks and tapas, the show began with singer Antonio Reyes from Chiclana with Diego Amaya on guitar. With soleá, tangos and bulerías he demonstrated that he is turning into a mature singer who has a great deal to offer.
Dancer Eli Parrilla did a strange mixture of styles…tanguillo with sombrero melted into an alegrías footwork section, and the same piece also included steps choreographed to one of Diego del Gastor's famous falsetas and the Romance Anónimo was included for good measure with lots of bata de cola kicking and flying. Rota singer Manuela Cordero, who earlier this month won the Mairena cante contest, with Antonio Carrión on guitar, sang cantiñas, siguiriyas and bulerías.
The most noteworthy figure of the evening was Cádiz dance El Junco who closed out the show with an excellent back-up that included Rafael Rodríguez on guitar and singers David el Galli and Juan José Amador. The dancer won over the audience with his soleá, the extreme elegance of his forms, his aplomb and his bulerías singing at the end.
So it turned out the tried and true recipe still works: do what you know best, do it in the least contrived, most honest fashion and give it all your personality.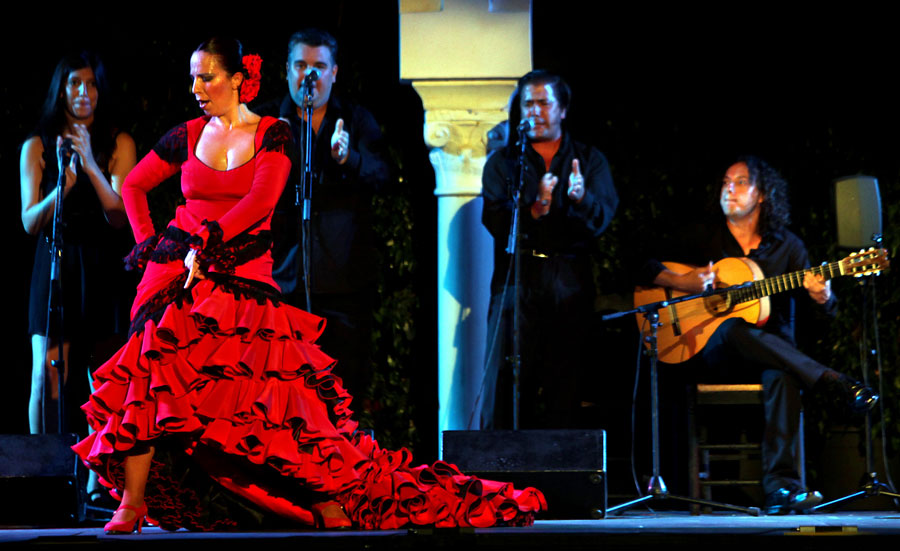 ---