Text: Silvia Cruz Lapeña
Photos: Suma Flamenca
Galli de Morón, Jesús Corbacho: Voice
El Perla, Pedro Sánchez: Guitar
María del Mar Montero «La Canija»: interpretation
Juan de los Reyes: Rhythm
More Pastora, please
If you've seen and enjoyed flamenco recently, the first thing you'll notice about this show of Pastora Galvan's is that the dances end differently. You'll be surprised that neither bulerias, nor tangos, nor  siguiriyas, nor caña are ended by the Seville dancer with a dry stomp, looking out at the audience and extending the arms as if asking for something, such as applause.  It's one of the pleasure of «Identidades», a work presented by Galván at the Suma Flamenca de Madrid, nearly two years after its debut in Seville.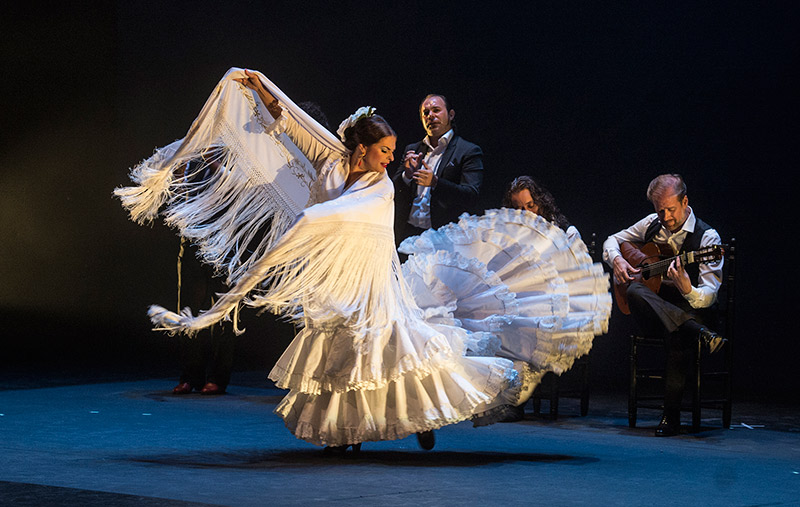 The collection of dancers, all from Seville, honored by Galván's dancing in each one's style, highlights all that has changed in women's flamenco dance in recent times, such as the lack of slowing down, the detail of the hands, and the custom of ending everything with a bang, a crutch everyone used, almost without exception, also by male dancers.  Seeing Pastora stroll around the stage and move her head and hands like Matilde Coral, was a delight.  As it was to see the restraint with which she moved through taranto without verse, in the style of Milagros Mengíbar, and the way, both crazy and clever, in which she took on the romance in the style of Carmen Ledesma.
Pastora also remembered Loli Flores dancing siguiriyas with castanets, and Manuela Carrasco, and needless to say, her own parents, José Galván and Eugenia de los Reyes, when, perhaps thanks to sharing the same genes, we saw the only piece in which you could occasionally see moves that were typical of Pastora.  She paid tribute to her mother and father with a caña, controlled and precise, and she kept her footwork close to the floor, no flourishes, very flamenco.
At Suma, Miguel Ortega and Galli de Morón sang for Pastora, and Pedro Sánchez and El Perla were on guitar in place of Ramón Amador who was on the program.  That change was a great treat for the audience, because the Seville man is fantastic.  Not only in bulerías, which served as a break for Pastora to rest and change costume, but in everything he played, for example the soleá in which Galván represented the great Manuela Carrasco, and in which El Perla had a starring role.
Pastora wrapped up her medley of the female dancers of Seville with tangos, covered in fringe, and looking more like the Pastora we're accustomed to seeing and whom we were missing.  Because Pastora danced her heart out, yes; Pastora was wonderful; but she was hardly Pastora.  Many interpreters go through life trying to build a style of their own, Galván already has one, and she was too long in this show demonstrating how others dance.  It's Pastora we want!  We need her poses, her boldness and the whole neighborhood that inhabits her face and hips.  Pastora is quite a handful, and although the history class of Seville dance was outstanding, it would have been all the more so if between numbers there had been more of herself and her own dancing.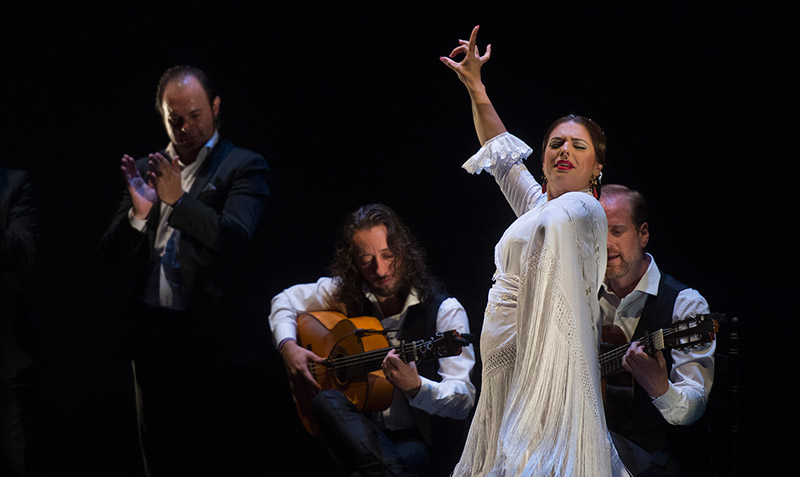 ---