Silvia Cruz Lapeña
Photos: Paco Manzano
Cante, original idea, director: Paco del Pozo
Guitar, original music: Paco Vidal
Cello: Cary Rosa
Percussion: Tino Di Geraldo
Repertoire: Carlos Martín, Paco del Pozo
Dance collaboration, choreographic and directorial assistant: José Barrios
The charm of subtlety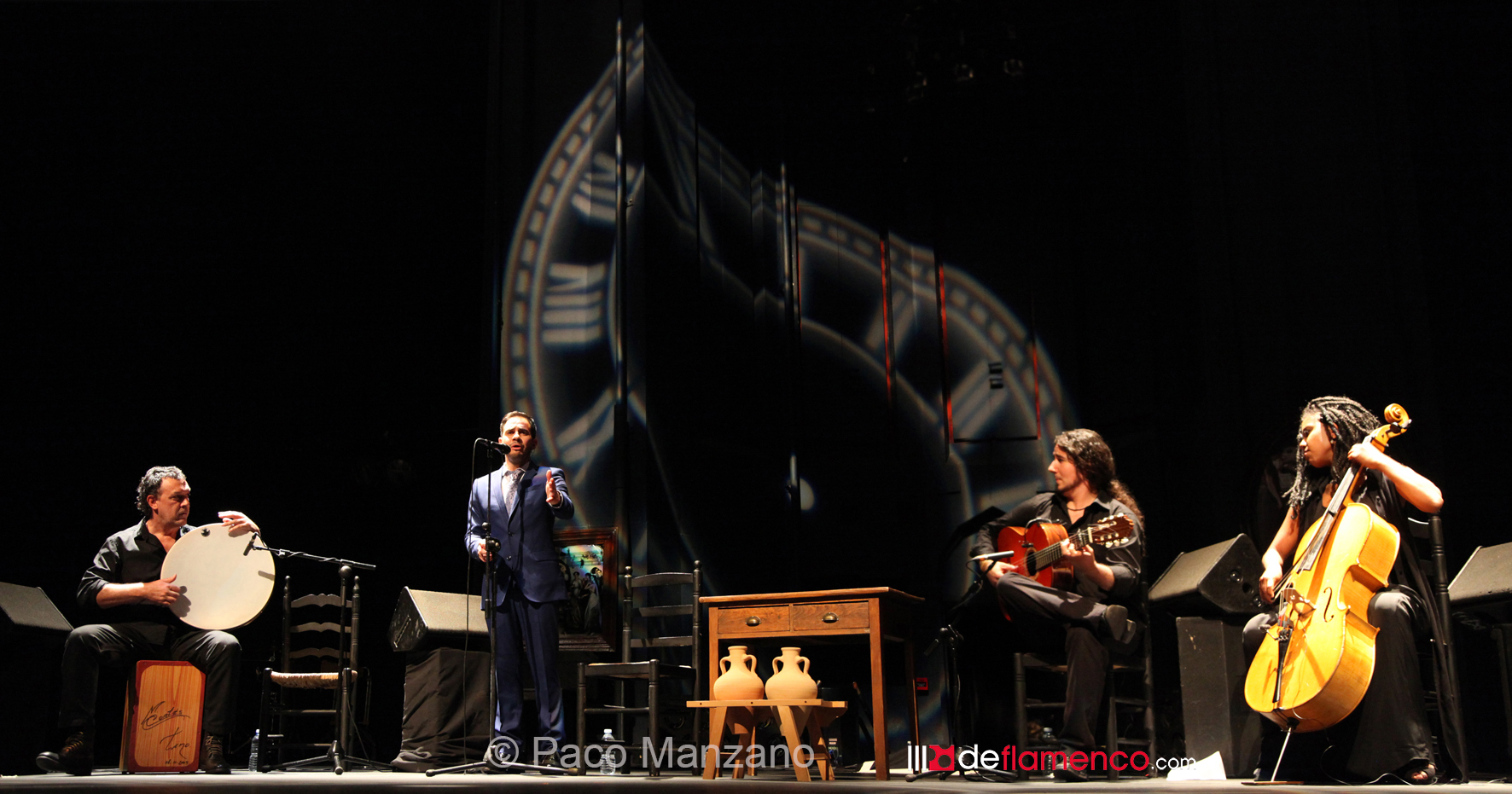 The easiest thing is to attend events without expectations of any kind.  When you're relaxed, without the tension imposed by taking notes as you watch a show, without the angst of fixating on every detail to make sure you don't miss anything, that's when your eyes and ears carry out their function of revealing subtleties.  This happened to me in Suma Flamenca with the performance of Paco del Pozo.
It's clear this man knows how to sing.  What remained to be seen in "Una Copla por Recuerdo" was his stage savvy, his ability to charm the audience, that spark which can't be measured with musical notation.  And those of us present discovered a sober style without flourishes, well assimilated minimalism and extreme rapport with musicians who not only backed Paco splendidly, but who enjoyed hearing him sing and seeing him move around the floor of the Teatro de la Abadía.  Paco was a surprise not because of his voice, as I said, which is already a given.  He was a surprise because of the magic he unleashed in the form of Spanish song adapted to flamenco, and flamenco singing adapted to Spanish song, a round-trip voyage in which you could detect conscientious study and examination of the music and its history, and of those people who interpreted it.  And he managed all this without the airs of a lyrical singer, but clinging to his flamenco identity.
Paco had a high-quality group.  The percussion of Tino di Geraldo, the intense dancing of José Barrios, the highly appropriate and moving cello of Cary Rosa and the guitar of Paco Vidal.  That guitar was a miracle.  The way he enjoys and transmits what he does; this man who has shared the stage with the likes of Rafael Riqueni and Serranito,   turns everything vital.  Seldom do you see a musician so happy with what he is doing, smiling, managing to avoid the negative vibes that, unfortunately, are so often present in flamenco. Such good taste with the six strings.  Vital Vidal never skimps on what he does.
Paco evoked the memory of Manolo Caracol, Juanito Valderrama, Marchena and Pepe Pinto among others.  He brought them to his zone, without imitating them, in a lengthy set.  Paco wasn't going to improvise or sing nicely without digging deeper.  He paid tribute to each of those stars as they deserved, without turning them into something they're not, without trying to make lyrical song a new kind of pop music, and never forgetting that his home base was flamenco. Paco has a way of chewing the verses and getting dangerously close to them. He triggered a reaction from the audience precisely because of his risk-taking.  And he accomplishes this without being showy, without excess or questionable taste, and without pretending to be something he is not.  Paco, despite his repertoire of lyrical song, set a high flamenco standard in this festival.  His ability, and some fine back-up musicians who were on the same wave-length, made this possible.  And the enthralled audience knew how to pay back the artist with effusive applause.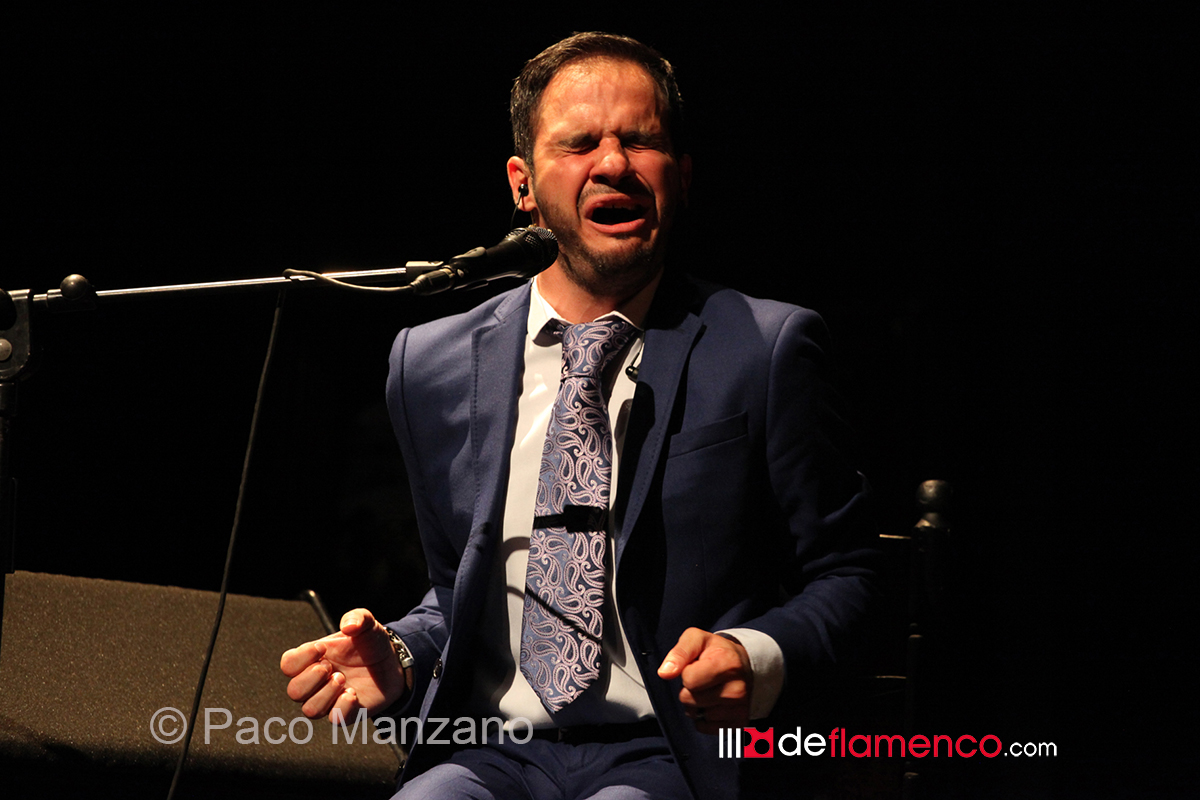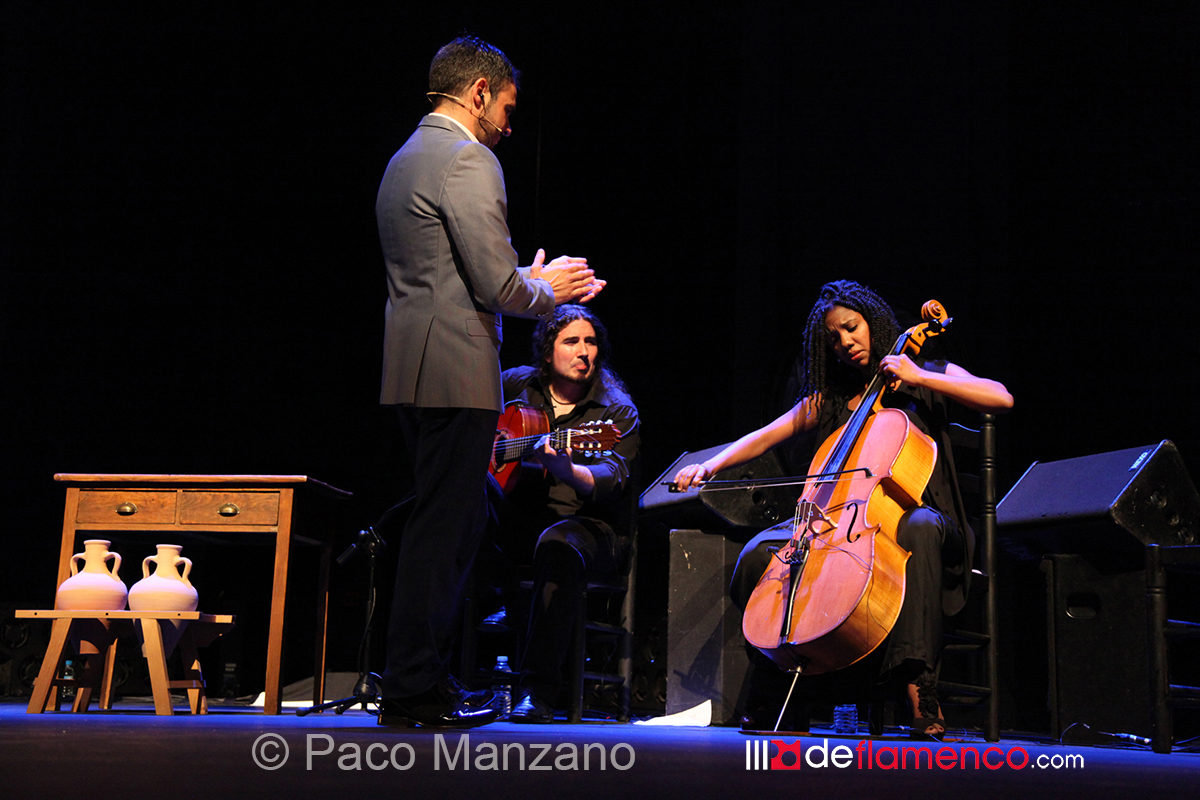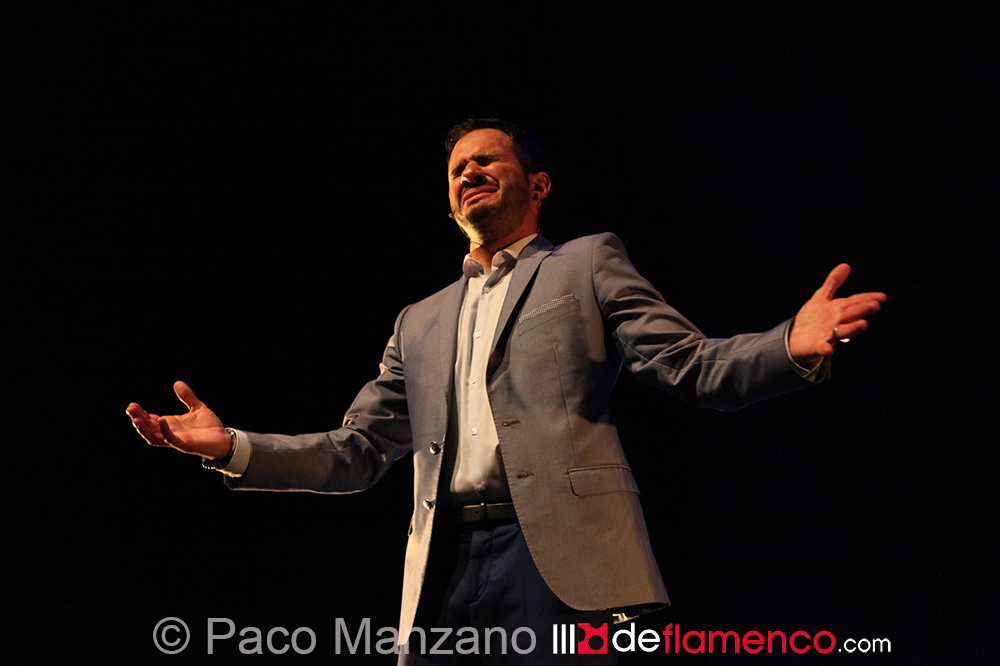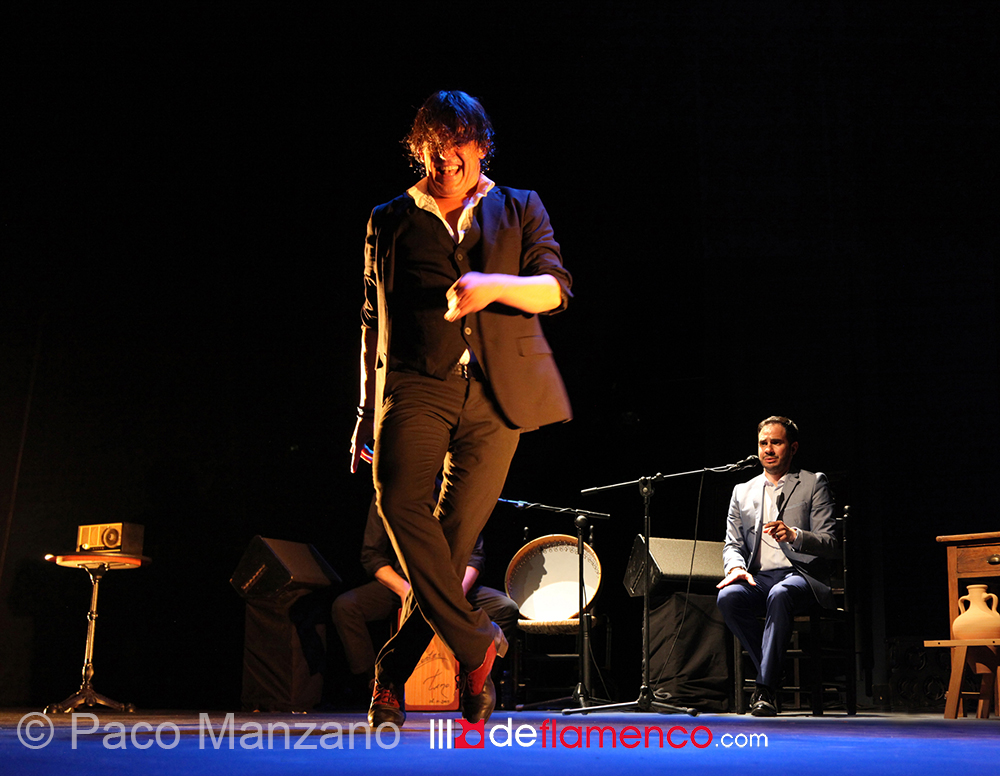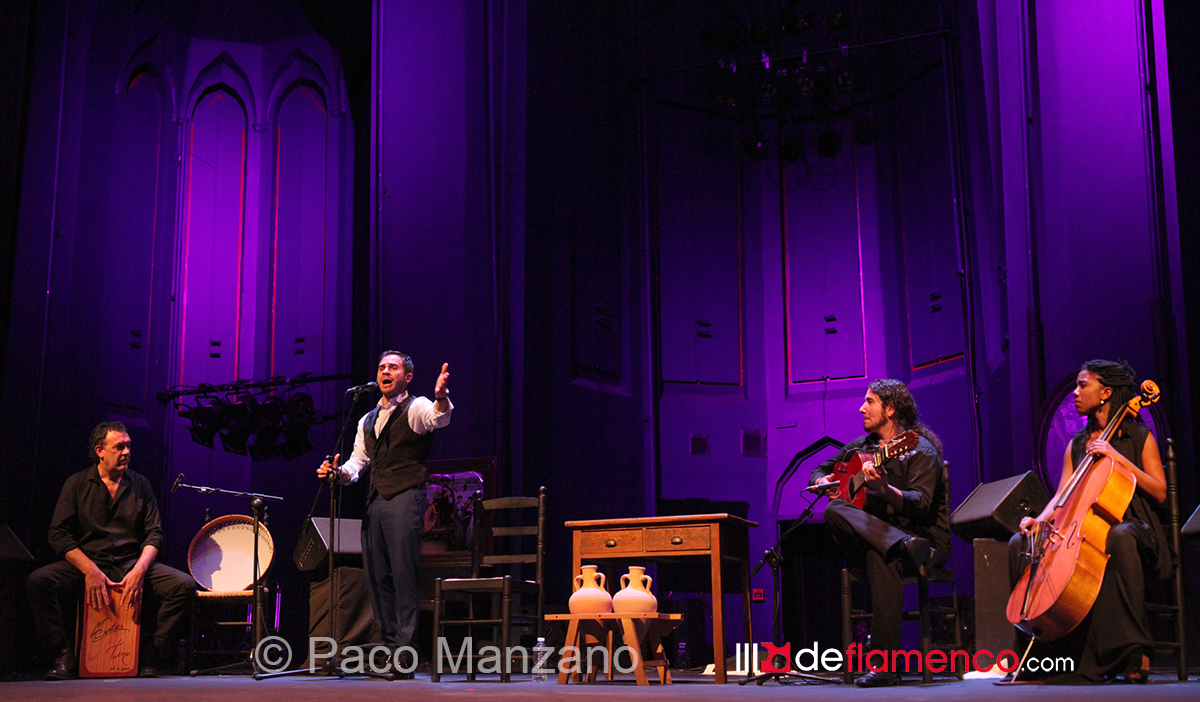 ---