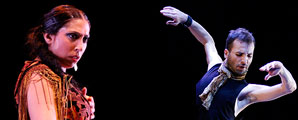 Festival Suma Flamenca
Marco Flores 'Tránsito'
Fuensanta La Moneta 'Extremo jondo'
June 13, 2012 – Teatros del Canal

Text: Isaac Rodriguez
Photos & video: Rafa Manjavacas
CIRCULAR DANCING
I don't know if it's because of the recession, or budget cuts and lowering of wages, or the urge to self-destruct which has become so popular in any art-form, but the fact is dance companies are suffering, like everything else, from the reduction of personnel.  But it's not serious, and we should even be grateful, because all too often there are too many guitarists, percussionists and virtuosos of nothing more than raising hell.
Last night only three artists accompanied each of the dancers, just as flamenco as they could be.  (With three legs, a stool never wobbles – but with more, it probably will).  Three Miguels accompanied Fuensanta: singer Miguel Lavis, guitarist Miguel Iglesias and percussionist Miguel "El Cheyenne".  And three goals for Marco Flores with singer Mercedes Cortés, guitarist Jesús Núñez and Ana Romero on palmas.  Each one pulling just the right weight.
Marco Flores' show is called "Tránsito" and is a journey through time and space, one which follows the minute hand of any given hour of any event.  A circular poem.  The show is exactly sixty minutes.  Beginning with the tick-tock, monotonous and measured, of an unrelenting clock, and ending as it began, with the stubborn tick-tock of a monotonous clock.  A circular poem, a sun-dial that bites its own tail.  That metronomic precision calls for a precise kind of dancing.  Like that of Marco Flores whose hands become those of a clock and whose arms become the blades of a giant windmill.  His is a sedate way of dancing, steeped in meaning and elegance, without effects or acrobatics, humble in its greatness and finally, subtly provocative.
Threshing songs with the off-stage voice of Valderrama, always so pleasant, lead into bulerías, and then, siguiriyas, malagueña with rondeña and jabera, cantiñas de Cádiz…these were the three fundamental pillars to which the dancer lent his unique colors without going astray.
The fine voice of Mercedes Cortés contributes a great deal to the success of the show, shining above all in the Málaga forms and in a Caracol-style zambra delivered with extreme depth.
The same sort of depth displayed afterwards by Fuensanta la Moneta with her powerful racial dancing.  A romance, with the fine singing of Miguel Lavis, leads into polo and serves as the basis for Fuensanta's first dance in which she wields a large orange shawl with tremendous command, composing beautiful images at every moment.
Her alegrías was thrilling, and with no down-time, there followed a very flamenco bolero in which we were enthralled with her lightening-fast turns, arms like propellers and the twisting of wrists.  Seeing Fuensanta at these moments is like watching a swirl of poppies.
After tonás that gave the dancer a brief rest, she returned in black, and beautiful, to work some bulerías, serranas and tientos-tangos which served as the finale to her powerful circular performance.
The audience showed its gratitude for both dancers with a standing ovation.  Two young hotshots of current flamenco dance whose names are destined to figure prominently in big letters on the best programs.
Video:
Marco Flores
Fuensanta la Moneta
Mercedes Cortés
---