Estela Zatania
Photos: Ana Palma
22º FESTIVAL DE JEREZ
Manuel Liñán "Baile de Autor"
David Carmona "Un sueño de locura"
Vicente Soto 'Sordera' "Diez lustros de cante"
Saturday, February 24th, 2018. Jerez de la Frontera
MANUEL LIÑÁN Baile de Autor
Teatro Villamarta, 9:00pm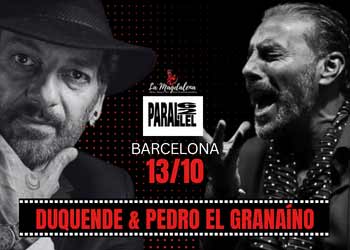 Publicidad DeFlamenco
The professional history of Granada dancer Manuel Liñán reads like a list of outstanding accomplishments, collaborations and awards, including Spain's National Dance Prize in 2017, which secured his position as one of today's most important current dancers and choreographers.  Of any genre.
After a series of works, that were as ingenious as they were complex, his artistic quest has now led him to a minimalist manifestation.  "Baile de Autor" is made up of flamenco singing, dancing and guitar: the three classic elements, administered by three extraordinary individuals.  In addition to Liñán, Manuel Valencia on guitar and David Carpio on the vocals, both doubling as actors in a constant coming and going, and moving of various objects, managing to keep a dreamlike aura which is always present in the creations of Manuel Liñán.
The dancer plays at being a magician with a magic wand that he uses to draw circles of dust with each movement.  He also makes use of his customary skirt with long train (bata de cola), amplifying the surprise effect when he momentarily disappears into the wings, returning, first with a fan, then with a shawl and finally with a cane.  Liñán demands the audience's complicity, and we're all happy to concede it.
It occurs to him to dance atop a wooden chair, moving onto another chair…and another and another, which his accomplices, the singer and the guitarist, keep placing on the path to an unknown place.  You have to have some very clear ideas in order to mount a show with so few elements.  But what elements!  Manuel Valencia, young Jerez guitarist, his modern tendencies so perfectly balanced that you never lose sight of the Jerez feel; he played a fine seguiriyas solo.
David Carpio does a spectacular job.  He ably manages many moments without guitar that depend on his voice and rhythm to maintain coherence.  He delivers the most classic sort of flamenco singing…tonás, seguiriyas, marianas (as you would expect from any good Granada dancer, Liñán finds inspiration in this binary compás), soleá de Triana and the soleá of Carapiera to introduce alegrías, just as Antonio Mairena did years ago.  David's singing is based not only on his impeccable family background, but on his intensely studious approach.
I wasn't quite able to decipher the final scene when Manuel does footwork, without singing or music, in a few inches of water, to the harsh sound of alarms.  Geniuses don't need to give explanations; they deliver their product, turn on their heels and walk away, and there you are, forever altered, and grateful for the inexplicable richness of emotions experienced.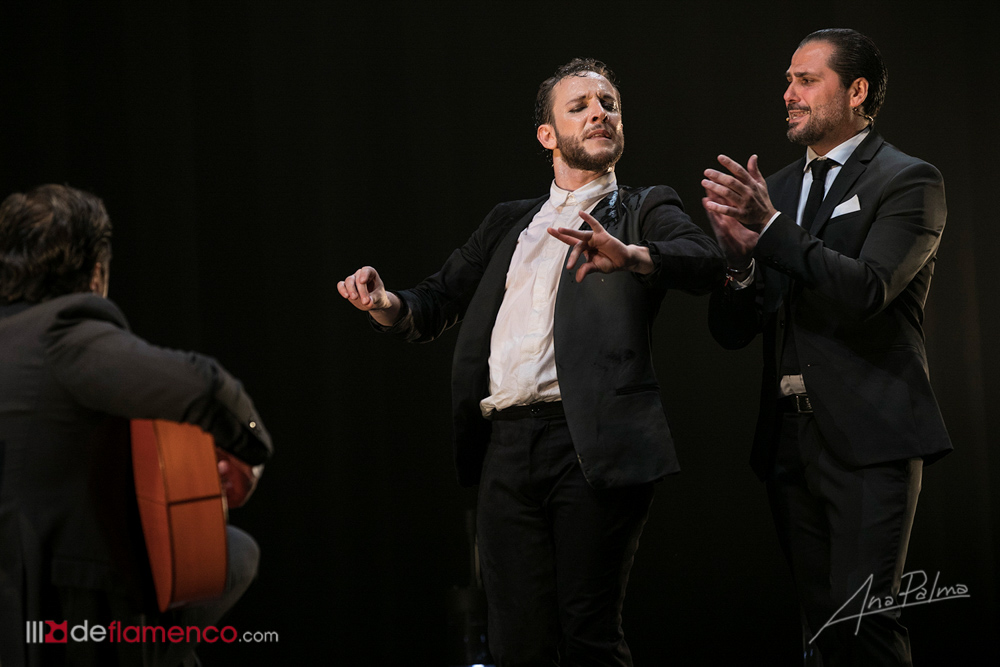 ---
DAVID CARMONA Un sueño de locura
Sala Paúl, 7:00pm
Guest artist: LUIS EL ZAMBO
Magnificent guitar recital by young David Carmona at the Sala Paúl.  From Granada, guitar territory par excellence, years ago young David went to western Andalusia to meet and study with "the maestro of maestros" as Carmona calls him, Manolo Sanlúcar.  Despite such a powerful artistic influence, the guitarist has a personality of his own; the luminosity of Cádiz is touched by the somber shadow of Granada.  Carmona has the same tendency of his maestro to explain each piece at length, although some of us still don't get that "mixolydian" thing, nor does it matter when the music is so beautiful.  It was a program of classic forms – taranta, alegrías, bulerías, soleá, with some popular songs in the voice of Carmen Molina, including a song to the rhythm of soleá.
Also accompanying were the second guitar of Óscar Zoilo, the percussion of Paquito González, in addition to Los Mellis for chorus and rhythm.  The great guest artist, Luis el Zambo, arrived at the end to put things in place with his siguiriyas and bulerías.  Suddenly it was no longer tomorrow, but today.  The Jerez singer, in excellent form, both physically and artistically, had no problem whatsoever adapting to the guitarist's contemporary harmonies which could easily have thrown off a less-prepared veteran singer.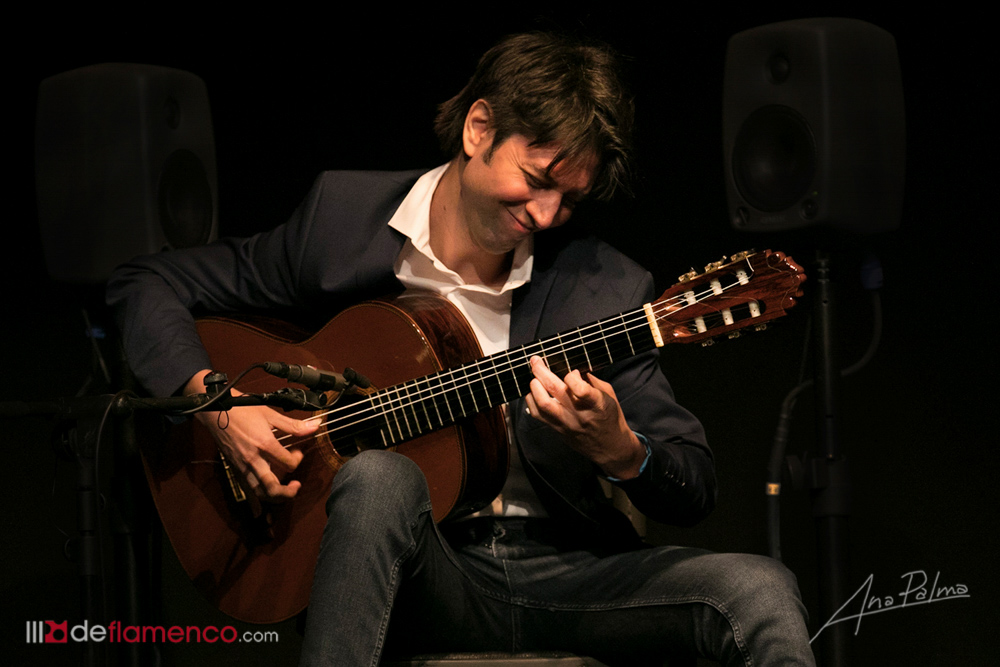 ---
VICENTE SOTO "SORDERA" DIEZ LUSTROS DE CANTE. "A la mujer, Coplas del desagravio"
Bodega González Byass, midnight
The González Byass winery was filled to the barrels for this show of singer Vicente Soto, of the Sordera family of singers.  He has always known how to work wonders adapting poetry to flamenco forms.  "Diez Lustros de Cante" is a poetic tribute to his fifty years of profession, coinciding for the occasion with a feminist motif of the defense and dignity of women, "honoring and apologizing to them", as Vicente explained in the presentation.  I admit to being a life-long admirer of the Sorderas, and of Vicente, and actually, I need no specific works or poetry to enjoy the sweetly flamenco voices that characterize this family.
Six top-notch guitarists guaranteed success, just reading their names opens your appetite: Manuel Fernández "Parrilla de Jerez", Alfredo Lagos, Diego del Morao, Manuel Valencia, Juan Diego and Nono Jero.  Two guest singers, Lela Soto, Vicente's daughter, and Melchora Ortega, rounded out the admirable group, in addition to the percussion of El Chispa, the rhythm of Juan Diego Valencia, El Bo and Manuel Cantarote and the coordination of David Lagos.
---