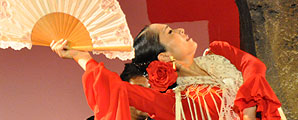 LOS VERANOS DEL CORRAL 2011.
MUESTRA DE BAILE. Granada
2nd WEEK
Manuel Liñán, Patricia Guerrero, Milagros Menjibar, Luisa Palicio, Concha Jareño, Saori
Text and photos: Antonio Conde
For more than four decades the most popular format of summer festivals has mostly remained the same: a festival named after a typical dish, the town's representative singer, or the town itself.  Little has changed in the formula to regenerate the summer festival movement, and the beat goes on.  However, each year festivals fall by the wayside, mostly due to lack of funding.  And those which survive depend on the magic formula of local artists and major stars.  In that sense, new talent is being cultivated, and this is very important.  In Granada, after thirteen editions, the lasting power of the dance program of the Corral is different.  With a solid pretext, and dealing with the recession head-on, the roster of well-known dancers participating this year sends the message that flamenco doesn't react to economics, in spite of all the grim numbers.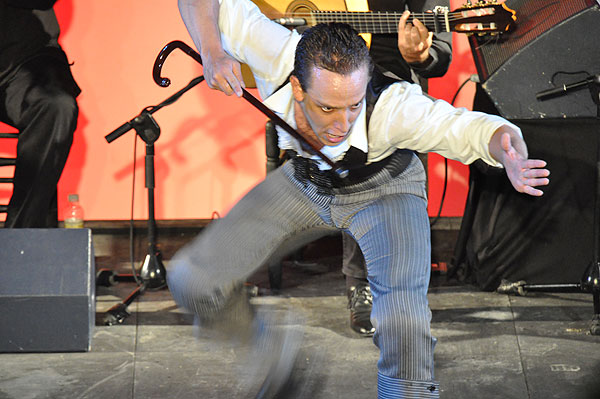 And the result is yet another bunch of artists, some already known, others on their way, but all with admirable careers.  Local talent predominated.
Monday opened with dancer Manuel Liñán, who seemed to feel like having fun on stage – his performance was full of cheeky grace, right from the opening tanguillos.  Shortly before, Ana Romero and Vanesa Coloma had recited some tanguillos as prologue.  The memory of Chano Lobato in the voice of Antonio Campos is unmistakable.  In this way, Liñán made the most of his talents and explosive footwork.  This was the predominant element of the evening; a dancer with energy and a fresh outlook, powerful in his serenity.  A guitar solo by Luis Mariano had the aroma of Tomatito, and Campos and Ismael de la Rosa paid tribute to Chaqueta.  Stronger yet, if that's even possible, was the scorchingly expressive soleá por bulería.  To wrap everything up, and after vocal tonás, Manuel danced taranto with the unmistakable mark of Mario Maya.  His gestures were but a wink to the maestro who is one of his main references.  The evening came to an end with the fiesta finale.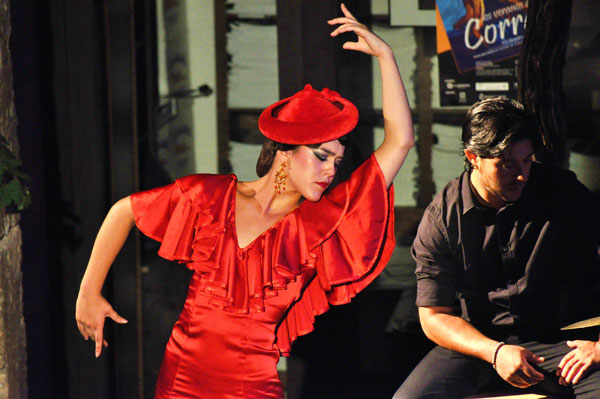 Granada was again present on Tuesday, as Patricia Guerrero shouted out.  Her show was a repeat of her tribute to Henri Matisse.  Malagueña and abandolao with a folkloric finish was the opening number.  Red dress and typical bandolero hat, and the initial nervousness disappeared to reveal the best of Patricia.  She is symbolic, conceptual, her artistic maturity is evident.  Her dancing is headed towards new concepts, and that gives her credibility.  Miguel Lavi and el Galli sang pregones reminiscent of Pepe Pinto and Lebrijano.  Granaína with shawl, and her movements were insinuating but natural.  Her arms are wonderful.  After the violin of Ester Crisol, the tangos took us back to the past with retro style dancing of the old gypsy women of Sacromonte when they would hear the tangos of el Cerro and of the Petaco.  Essence, and a declaration of principles.  Soleá with Lavi and Galli, pungent in their delivery, and an uptempo bulería por soleá to end the evening with the aroma of jasmine and sweet basil.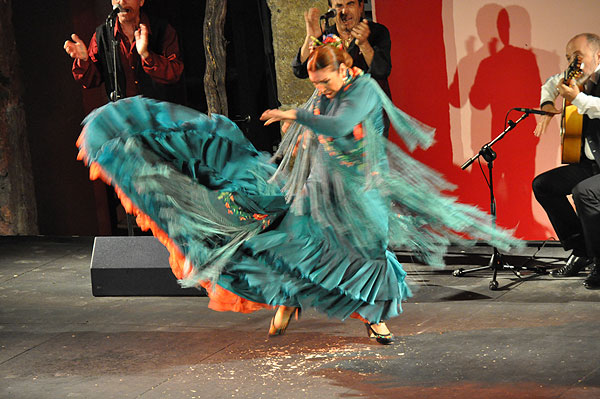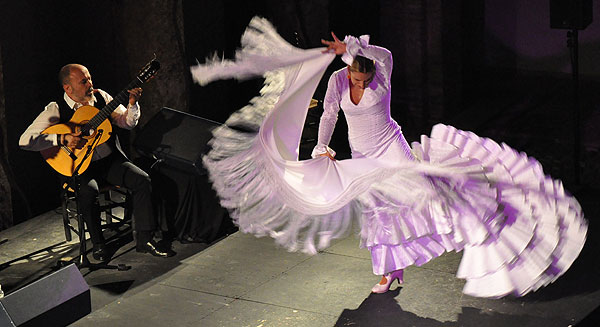 If Granada's Albaicín is famous for a style of dance, the Seville school also has its own trademark.  And Milagros Mengíbar is one of the main interpreters of this style.  Tradition and renewal, with Luisa Palicio, heir to a new generation of classical dancers.  With the guiding hand of Milagros, she is the perfect conjunction of past and a distant present.  Rafael Rodríguez on guitar, with his pizzicato that so represents his personality.  From Palicio's guajira, sweet and tranquil, sensual and playful, to the tragic petenera of Milagros.  An emotional landscape where impeccable arms and wrists made us forget everything else.  Another tandem of dances, Luisa por soleá, and the alegrías of Milagros.  Simply majestic.
Madrid dancer Concha Jareño presented the work "Hecho a Mano".  A series of dances with no accompaniment other than flamenco.  Her movements are clean, and her concept is based on dance, nothing but dance.  With the voices of Antonio Núñez El Pulga and Emilio Florido, tonás was the opening.  A brief but sharp appearance by Jareño preceded an instrumental granaína by Román Vicenti.  Malagueña and verdiales by the dancer, again making the most of her feet and correct at every moment.  El Pulga was tops throughout the night, artfully interpreting a bulerías song and paving the way for Concha's tarantos and tangos.  Taking advantage of the subtlety her body is capable of, her performance was ingenious.  This was the best of the evening, no doubt about it, the subtlety of her moves, her profound commitment and sincerity.  Emilio Florido sang siguiriyas, a singer to be taken seriously, and the Madrid dancer's alegrías to close.  Despite good intentions in the end, the dance with bata de cola didn't quite come together.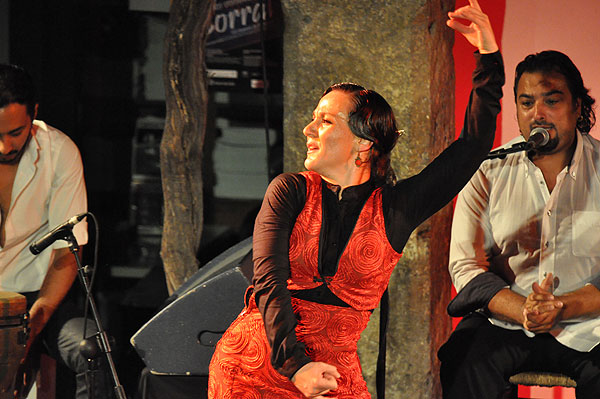 To finish the week, Japanese dancer Saori presented a defense of multiethnicity, the union of two cultures.  The nearness and farness of flamenco and Japanese culture.  The yin and the yang of flamenco.  It's surprising to see her at the beginning of the show with a Japanese sword and dressed for kendo while we hear the sounds of martinete and carcelera.  From that point on, and after some initial rites are carried out, flamenco takes her over.  The singing of Rubio de Pruna and Manuel Tañé take care of soleá por bulería as soon as all the martial arts references disappear, and it all melts into taranto.  The only permanent element is the dancer's silhouette.  It has always been said that flamenco belongs to our culture, and any kind of intrusion is rejected.  It's not that Saori destroys that premise, but she isn't far from demonstrating that outside of Spain they also know how to do things well.  There are high points and low points.  In search of bodily perfection, she at times forgets to communicate, especially in tangos, although she had some original movements in taranto.  A guitar transition of Emilio Maya, with a wink to the maestro Manuel Cano, is followed by Saori's guajira.  This is where her balanced dancing is best appreciated.  She is flamenco from head to toe.  Seeing her with the fan, I can attest to the fact that there are dancers in Spain who call themselves artists, who wish they could move like this girl.  She is pure grace on stage, playing with the tempos to end colombianas.  Bulerías gives her time to change costume, but then all credibility is lost when guitarist Ñoño grabs the spotlight playing louder than the voices of Rubio and Tañé.  In siguiriyas, Saori tried for something overly somber that didn't quite work out most of the time.  The end of her performance, with the Japanese sword, again symbolized the narrow divide that separates both cultures.
---