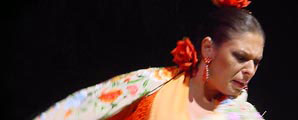 JUEVES FLAMENCOS
Miguel Poveda, Pastora Galván
Thursday, August 27th, 2009. 10:30pm
Baluarte de la Candelaria, Cádiz
Texto y fotos: Estela Zatania
Sonada clausura de los Jueves Flamencos de Cádiz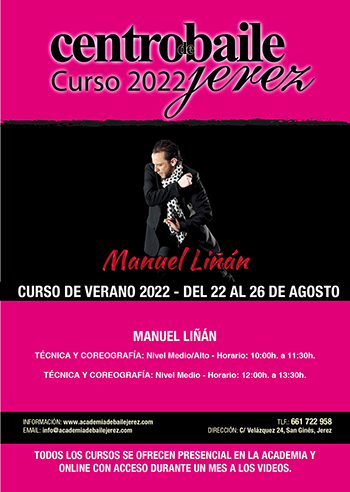 Publicidad DeFlamenco
Cante: Miguel Poveda, Kiko Peña. Guitar: Chuscales, Antonio García, hijo. Palmas: Carlos Grilo, Luis Cantarote. Dance: Pastora Galván y su grupo
People were lined up hours before, and many gathered round the box office at show-time, hoping to pick up a ticket, or at least hear the goings-on.  Views of the sea and the aroma of manzanilla wine.  I must be at the Baluarte de la Candelaria, and that new singer from Catalonia must be announced, the one who paid no heed to hardliners, and has become the most admired flamenco singer today.  Miguel Poveda (Badalona, 1973), managed to fill the spacious venue that normally seats between 800 and 1000 people, but on this occasion accommodated a varied audience of over 1,400.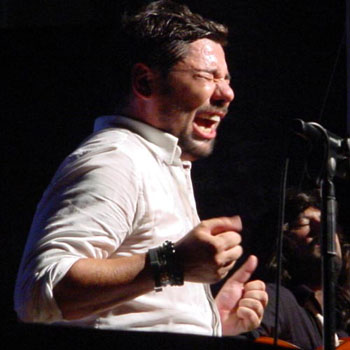 The first part of the program was Pastora Galván, currently one of the best dancers in the classic line.  Israel's sister is more conventional that him, more accessible, but without conceding one whit of her integrity.  Bata de cola, a large upright flower in her hair, and all the power flamenco can unleash when interpreted by people who know the forms.  She danced alegrías with the excellent back-up of singers José Valencia from Lebrija, and David Lagos from Jerez, as well as the guitar of Juan Campallo.  Valencia held our interest with his malagueña de Chacón, which Lagos brilliantly ended with abandolao cante.  Pastora returned dressed in white, and danced tangos with all the fragrance of the old neighborhood patios of Triana, with cante to match.  All too soon the group was bowing, and revving up the bulerías fiesta finale.  Unfortunately spectators thought it was too little bang for the bucks, and there was a great deal of booing.  Few knew it had actually been the organization that imposed a maximum length of only twenty minutes.
After intermission, the atmosphere was dense with expectation when Miguel Poveda came on to a warm ovation.  The singer ascended to the top of the heap around the end of 2006 after a highly successful performance at Seville's Bienal de Flamenco when he presented his recording Tierra de Calma.  Shortly afterwards, he would receive Spain's National Award for Music, and a variety of other honors, and from that point on, the charismatic versatile performer has been unstoppable, even in the face of global recession.  He's become a social phenomenon, and goes from place to place, filling the largest venues and winning over audiences.  Even the most reluctant flamenco "purists" have recognized the young singer's talent and validity, because apart from his popular repertoire, Miguel has done his homework, he's hung out with the best sources and his capacity for assimilation and innate musical sense are nothing less than extraordinary.
With the wonderful accompaniment of Chicuelo, Poveda's regular guitarist and long-time companion, the first cante, alegrías and cantiñas with bulerías de Cádiz, is an instant hit with this Cádiz crowd.  When he begins malagueñas, the silence of one thousand-five hundred people, and the attention of three-thousand ears give testimony to the communicative power of this Catalonian touched by the gods.  "Anyone who doesn't like Cádiz, they better go see a doctor" says Miguel, repeating declarations made to the press earlier in the day.  An exquisite sense of grace and humanity are part of his success.  Antonio Mairena's soleá apolá, a stylized petenera, siguiriyas that trigger an emotional ovation, and the singer pauses to recall his memories of being with Chano Lobato in Japan, "one of the best learning experiences I ever had", dedicating tanguillos de Cádiz to the singer who recently passed away.
He then presents his new protégé, young singer Kiko Peña from Écija.  At thirteen, the boy has knowledge and repertoire worthy of an adult, but he's got a long ways to go, and it was a mistake to offer a half-hour recital which the audience just barely put up with out of respect.
Miguel returned to finish off the evening and the season with an assortment of bulerías…"Sevilla y Jerez", "Alfileres de Colores", short-style verses, a capella or a medley of songs heard on his mother's radio years ago…makes no difference, everything is steeped in the best compás, and thus ends the summer series of shows at the Baluarte in Cádiz.
| | |
| --- | --- |
| | |
| Pastora Galván | Kiko Peña |
---