Juan Requena - Jueves Flamencos Cajasol "Arroyo de la Miel"
Guitar: Juan Requena. Guest artist: Pedro el Granaíno. Percussion: Paco Vega. Bass: Julián Heredia. Voices: Los Makarines - Jueves flamencos de Cajasol - Sala Chicarreros - 26 de noviembre, 2015
November 30, 2015
Text: Sara Arguijo
Photos: Remedios Malvarez
Twittear
A conversation of subtleties
Juan Requena probably can't recall all the times he's been on the stage of this series with artists he regularly accompanies, but we are sure this particular time will last a long time in his memory for having been the first where he has been able to express himself "freely".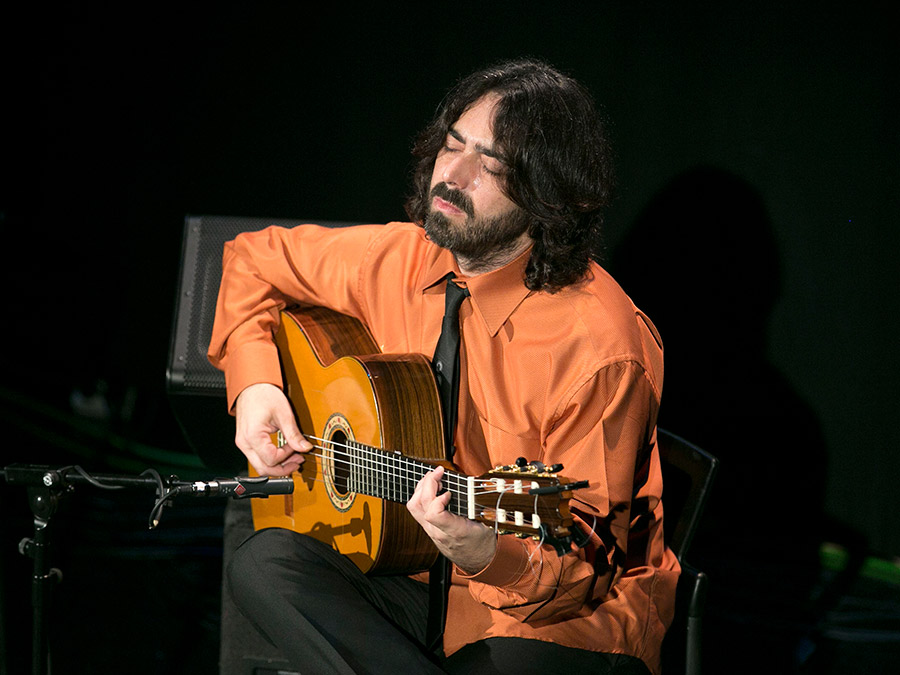 That is to say, the Málaga guitarist, who was awarded the Giraldillo for Guitar Accompaniment in Seville's 2012 Bienal, for the first time took center-stage to offer his own discourse with Arroyo de la Miel, his first solo recording which came out this year.

And as fate would have it, because it's impossible to coordinate a cultural calendar with so many events, his concert took place during a week in which the guitar has been the star of this city's flamenco program. First, with Rycardo Moreno at the Teatro Quintero, then, Rafael Riqueni at the Teatro Maestranza, and now Requena at Chicarreros. When you think of it, it's an intensity that reflects the musical possibilities of this instrument, and lays out the infinite universes flamenco has to offer.

Requena's guitar, in this case, it's a difficult guitar, eclectic, introspective. His playing comes out of rage and searching, and he makes no concessions to being affable. His varied repertoire of taranta (one of the best moments of the night), soleá, bulerías, rondeñas, tangos, seguiriya, granaína... allowed him to demonstrate his rhythmic capacity and his sense of compás, as well as his explorative melodies and novelties, searching for notes on the neck of the guitar. Let's just say that with Requena, the forms sound like what they're supposed to be, but with surprising personal touches.

Actually, at some points the recital was cold, but increased in intensity with the collaboration of musicians, of whom bass-player Julián Heredia was outstanding, creating a special atmosphere full of sparks. And certainly, you could see the inspiring effect on the Málaga guitarist of the sweetly contained precious voices of the Makarines, singing verses suggested by the guitar in Evocación a Lorca. Not to mention the ground-breaking granaína and well-rounded siguiriyas of Pedro El Granaíno, and the tangos and bulerías with all Requena's background and subtleties.