Text: Estela Zatania
Photos: Antonio Acedo
18th Bienal de Flamenco de Sevilla
Wednesday, September 24th, 2014. 830pm. Teatro Lope de Vega
A FACING-OFF BETWEEN TWO SINGERS IS A WIN-WIN
Cante: Jesús Méndez, Antonio Reyes. Guitar: Manuel Valencia, Antonio Higuero. Palmas: Manuel Salado, Diego Montoya and Tate Núñez. Piano: Sergio Monroy.
A new generation of flamenco artists is coming on strong, and not all of them are interested in "new flamenco".  On Wednesday night at the Lope de Vega, we were treated to the fine singing of two young men who are far from beginners, and who have no complexes about going straight for the most classic sort of flamenco.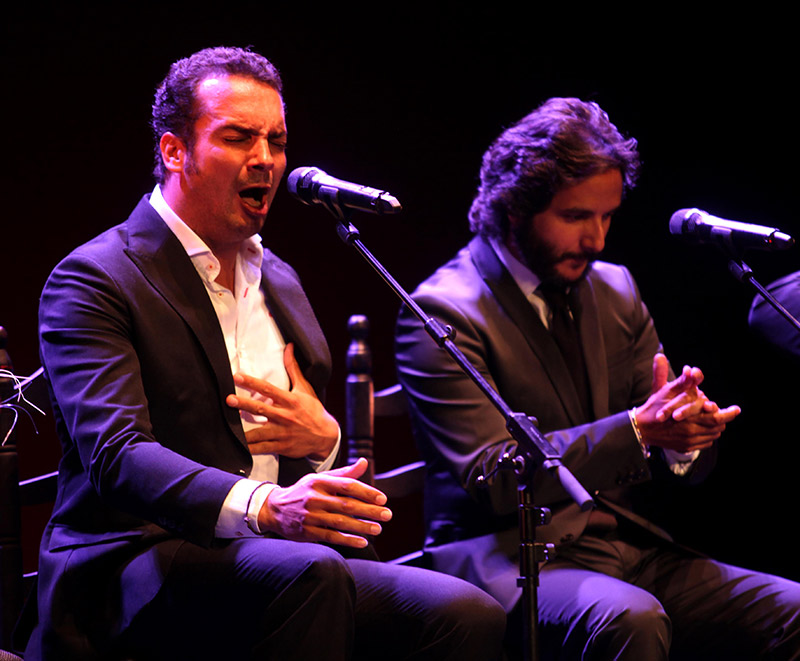 It's a pleasure to see Jesús Méndez and Antonio Reyes elegantly suited, exploring the possibilities of tonás with which they opened the recital.  Reyes then left the stage for Jesús to sing bulería por soleá and soleá de Jerez, taranto Chocolate-style and Jerez siguiriyas (dedicated to bullfighter Rafael de Paula who was in the audience), rounded off with his version of the Manuel Molina closing and all the associated lung-power.  The surprising Manuel Valencia accompanied him on guitar and received warm applause for his Jerez sound with a personal touch, and all the freshness that comes with youth.  Méndez finished his part of the recital with the piano of Sergio Monroy for a Caracol piece, Tientos de la rosa.
At this point, a gentleman sitting behind me explained to his partner "this is pure cante from 300 years ago!"  I doubt these cantes are that old, nor does the word "pure" have much meaning any more, but you got the gist.
The friendly facing-off between Jesús, from Jerez, and Antonio, from Chiclana, provided the opportunity to compare the various ways of delivering flamenco singing in one area and another.  Only about 25 miles separate the two towns, but there are obvious differences between the singers.  After the gust of Jerez angst, Antonio Reyes offered us his velvet voice, his sensitivity and his sweetness.
The singer from Chiclana started out with alegrías accompanied on guitar by Antonio Higuero with his relentless compás and a sound that shouts Jerez.  In soleá, everything was tinged with the personality of Reyes, regardless if he sang styles from Alcalá, Cádiz, Utrera or Jerez.  There was a song set to tango compás with the feeling of zambra due to the E position of the guitar, and a slow tempo, with a fandango of Vallejo slipped into the four-quarter time.  Like Méndez, Antonio took advantage of Sergio Monroy's presence to develop his most Caracol-inspired material.
The natural conclusion of the double recital had both singers taking turns with fandangos (again the figure of Caracol surfaced), each one with his own guitarist, and the inevitable bulería with dance bits courtesy of Méndez and Higuero.
A classic cante recital with a simple but effective staging, good lighting design and adequate amplification.  What more could a flamenco fan ask for…
Shortly afterwards at the Espacio Santa Clara, it was the ladies' turn with "Lo Puro Manda", with the powerful young voices of Zamara Carrasco, Anabel Valencia, Mara Rey and Amparo Lagares.
---