17th Bienal de Flamenco
Wednesday, September 26th, 2012
Text: Estela Zatania
Photos: La Bienal
Raiders of the lost art
"Arrabales". Teatro Lope de Vega, 8:30pm.
Dance: Javier Barón. Cante: Esperanza Fernández. Guitar: Salvador Gutiérrez. Percussion: José Carrasco. Palmas: Bobote. Bugle: Joaquín Eligio Brun "Kini Triana". Artistic directors: Javier Barón, David Montero. Artistic advisor: José Luis Ortiz Nuevo
It all began in the "arrabales". Or at least that's what some historians have to say, that the genesis of flamenco took place in outlying settlements that fringed the cities of southwest Andalusia, among others: Santiago and San Miguel in Jerez, Santa Maria in Cádiz and Triana in Seville.
The very word "arrabal" has a lot of romantic baggage…images of an underclass on the wrong side of the tracks who while away their days between wine, flamenco and small picturesque businesses such as the tile-makers and blacksmiths of Triana who continue to exist in the collective imagination. It's a landscape that lends itself to be populated with flamenco, with no need to resort to stories and narrations. Javier Barón chose an alternative route, more abstract, simpler and more direct. Just like him. Lilke his dancing. Clean, pristine, serene and measured, in the best sense of those words.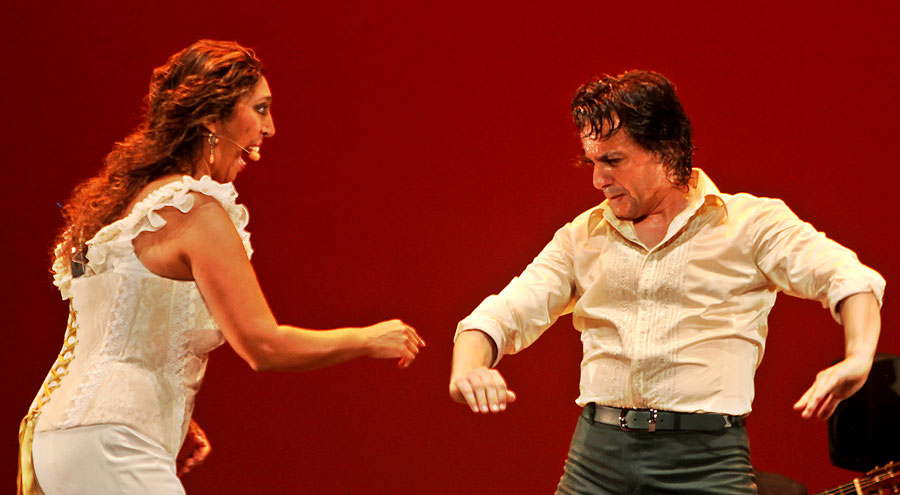 Given the dimensions of Baron's talent, you wonder what need there is to present it in works of relatively limited interest – it's like wrapping a diamond in newsprint. Baffling was the inclusion of a number of fragments and references, especially Amor Brujo of Manuel de Falla which seemed to have no justification other than the fact that Esperanza Fernández had already performed it on other occasions. The singer also interpreted the malagueña of Trini with abandolao ending, and a lackluster lyrical song that was out of place. On top of it, problems with the amplification…at this stage of the game in the Lope de Vega theater no less.
First half syndrome… After behaving like good boys and girls for three quarters of an hour, the first welcome warmth came with Bobote's brief dance. The artificial barriers came tumbling down, and Barón also danced his truth to bulerías, the user-friendly form that makes everything possible. Salvador Gutiérrez contributed his fine contemporary classic playing, and a bugler who had come on earlier and was really beginning to be a major annoyance, now played the cante line of tientos for Barón's dance.
Soleá de Triana, cantiñas and a long bulerías finale is straight-ahead Barón. All that went before was forgiven and forgotten, because this man is one of the best, winner of Spain's national dance prize in 2008, and a top exponent of the "less is more" school of dance.
---
"Sólo Flamenco". Espacio Santa Clara, 11:00pm.
Cante: José Valencia. Guitarra: Juan Requena. Special guest artist: Joaquín Grilo. Palmas: Bobote, Juan Diego, Manuel Valencia.
In the patio of the Santa Clara convent, with the threat of rain (which never materialized), we attended the recital and record presentation of José Valencia. The audience gave a warm ovation to the singer who appeared with a fresh hair-cut that made him look like a boy on graduation day. And in a certain sense, that's what it was. A great leap forward for a singer accustomed to singing for dance, to have recorded his first solo work, aptly titled "Sólo Flamenco", and be presenting it in the framework of the Bienal de Flamenco de Sevilla.
With the guarantee of Juan Requena on guitar, Valencia sang malagueña with abandolao, and a large assortment of soleá styles…Cádiz, Lebrija, Utrera, Triana…in addition to taranta, tientos tangos, siguiriyas with cabal and some cantiñas full of flavor, possibly the best cante of the evening.
His lung-power is impressive, the Pavarotti of flamenco, and although he can't quite forget the dance accompaniment delivery, he's working on it and just needs to tweak his internal configuration a bit.
The inclusion of dancer Joaquín Grilo as guest artist was right on. The dancer committed his usual bulerías pranks, and a few new ones, and the affection he shares with Valencia helped warm up the atmosphere even more.
After more bulerías with the swaying romance feeling typical of Lebrija, José Valencia made the elegant move of singing "in honor of a maestro, the person we have always looked up to, don Antonio Mairena". In this way the boy who won an important prize at the Mairena cante contest at the age of 12, ended his performance as the maestro would have, with tonás and a bulerías encore.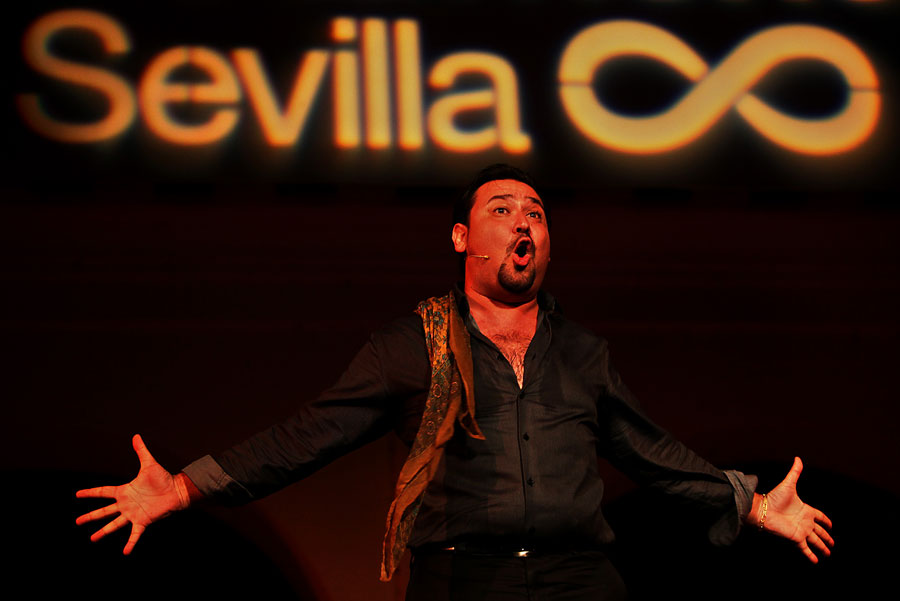 ---