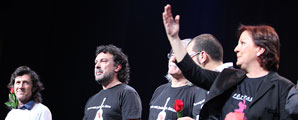 IV FESTIVAL "FLAMENCOS POR GAMBO"
Cante: Carmen Linares, Londro, Tomasito.
Drums: Tino di Geraldo. Bass: Carles Benavent. Wind: Jorge Pardo
Guitar: Salvador Gutiérrez
Chorus and palmas: Ana María González. Dance and chorus: Adolfo Lobato
November 11th, 2010 – Auditorio Marcelino Camacho (Madrid)
Madrid, Madrid…Africa is so grateful…
Text: Pablo San Nicasio Ramos
Photos: Rafael Manjavacas
Solidarity that has withstood the test of time four years running, with flamenco its banner.
It's one of these things that honors those who participate, and which, far from suffering the recession or a low season, manages to fill theaters like the Auditorio de Comisiones.  Packed to the rafters with young people, and no elitisim.  Ordinary people with no pretense.  Sincere.  Chalk one up for Carmen Linares, a singer who is a lady on and off-stage.
.
| | | |
| --- | --- | --- |
| | | |
| Carmen Linares | Jorge Pardo | Adolfo Lobato |
If just a short time ago this stage was dressed in mourning for the person whose name it took, on Thursday night it was the color green to symbolize hope.
A great master of ceremonies, Juan Luis Cano, was a thermostat for a night of many temperatures; the fourth Festival "Flamencos por Gambo" brought plenty of reasons to continue supporting flamenco when the capital is currently suffering a dearth of events. 
Jerez singer Londro opened, an artist supported by his friend Miguel Poveda who last spring helped bring about the singer's first recording.
| | | |
| --- | --- | --- |
| | | |
| El Londro | Salvador Gutierrez | Tomasito |
In fact, you could almost say it was his first solo performance.  Four similar cantes, with a rather dull register, somewhat cold.  A singer with an opaque voice, and a taste for intimacy broken only by the compás of bulerías.
Carmen Linares was received as the star she is, and as central figure of a festival where she has become a fixture.
A woman who, for this writer, is like the aunt, sister-in-law or mother-in-law we would all like to have.  Straightforward, friendly, generous and wise.  She is well past her prime, and had a hard time being the best of the night.
She began with tangos, of la Repompa, Pastora and Granada.  Cartagenera with the taranta feel of Jorge Pardo.  An experiment that came out well.  Toná and siguiriya free of pretense, with impressive cabal ending.  And cantiñas to wrap everything up, recreating material from her earlier recordings.
Although her voice isn't up to par, Carmen Linares measured herself out, it doesn't get tiresome and continues to please.  That's the wisdom part I mentioned.
Next up was Tomasito, and he was feeling good.  The man from Jerez who lives in Moratalaz, has his share of duende and managed to raise the temperature from the first moment.
Another one who knows more than you can shake a stick at.  Years ago he got out of doing military service due to a bad back.  Good thing the powers that be aren't flamenco followers, because this guy jumps around the stage like an adolescent, and it's a delight.  In fact if they saw him now, they might just give him a permanent reprieve.
| | |
| --- | --- |
| | |
| Carles Benavent | Trío – Jorge Pardo, Tino di Geraldo, Carles Benavent |
He did his "punk" solea, and "cachonda" bulería where everyone applauded in compás.  Short but sweet, and plenty hot, with a few winks and nods to his greatest hits that never go out of style.  Tomasito is a welcome and necessary breath of fresh air.
And the constant force throughout the show was Salvador Gutiérrez.  A guitarist who came out of the woodwork, the kind all hardcore flamenco fans know, but not the casual follower, and he deserves a much better place.  Last night he had powerful fresh sounds of Moron, Paco de Lucía, Tomatito…but always with his own style.  The coming into his own of a fine accompanist who knows how to smooth over the most difficult moments.  Then a threesome of stars to round out the night.  Jorge Parco, Tino di Geraldo and Carles Benavent put the virtuoso touch.  Mixted jazz for exquisite tastes.  Tremendous musicians, living legends who said what they had to say in three pieces.  It's true the audience got distracted because the flamencometer went down at the same time the quality went up.  But a critic's work is easier when you've got musicians like these to deal with.  To be recorded and studied.
The fiesta ending brought all the artists on stage, an incredible concentration of art that will make Madrid a bit more cherished thousands of kilometers to the south.
---