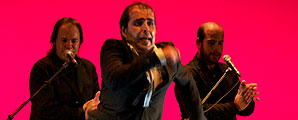 SPECIAL REPORT
I FESTIVAL FLAMENCO EN LA FRONTERA
September 7th to 10th, 2011
Text and photos: Antonio Conde
Dani de Morón, Alfredo Lagos, Jesús Méndez, Manuel Lombo, Pepe Torres, Moi de Morón, Rafael Rodríguez, David el Galli, Jairo Barrull, Juan Jose Amador, Eugenio Iglesias, Márquez el Zapatero, Antonio Ruíz el Carpintero, Amparo la Repompa, Carrete de Málaga, Luisa Chicano, Beau Bledsoe, M. Southerland, Juan Murube, Melinda Hedgecorth.
If hunger sharpens the appetite, in Morón de la Frontera they've had to feel the pinch in order to get a new festival started in the midst of economic turmoil.  For two years now we've been witnessing the inevitable loss of summer festivals as a result of the recession.  But the town known for the image of a plucked rooster, has managed to prove it doesn't take big investment or clever strategies to keep these events alive.  Just a lot of energy and the desire to present flamenco.  Against all odds, they managed to design a small format festival of quality.  Four days of cante, dance and guitar-playing were offered along with guitar courses and conferences.
The festival got underway with the dancing of Jairo Barrull, and the conference of Pedro Luis Vázquez who spoke about the golden age of flamenco in Morón.
It was a hot afternoon for Estela Zatania's conference on "the Pohren effect" on Morón and flamenco in general.  The talk shed light on a little-studied topic, and included information about the guitar-playing of Diego del Gastor and how he became a cult figure among foreigners.
| | |
| --- | --- |
| | |
| Dani de Morón & Alfredo Lagos | Antonio Ruiz el Carpintero |
On the following night, the Oriente theater was the showcase for flamenco guitar in all its glory.  From Morón to Jerez and back again.  The extremely personal and harmonic playing of Dani Méndez, and the modern face of Jerez guitar as played by Alfredo Lagos, in a reworking of both schools from an avant-garde perspective.  Rondeñas, tarantas, seguiriyas and bulerías underwent the Morón treatment, while rondeña, soleá, fandangos de Huelva and bulerías represented Jerez.  The two joined forces, and the icing on the cake was a flourish of creative genius with the twelve strings of Morón and Jerez.  The festival organization chose to offer after-hours shows in the outdoor venue atop the central market, a charming setting somewhat reminiscent of the Hotel Triana in Sevilla.  Antonio Ruíz "El Carpintero" is a fine local singer, well-seasoned and with a great fondness for flamenco.  Accompanied on guitar by Eduardo Rebollar, he began with tangos, a bit nervous, repeating verses, but winning over the audience from the first moment.  Soleá, siguiriya and bulerías interpreted by a self-made artist.  The other singer of the evening was quite different from the first.  Márquez el Zapatero is the missing link of the soleá de Triana, the quintessential cante of soleá with a fine taste of years past.  With the same guitarist, he executed an anthology of soleá styles associated with the old gypsy quarter of Triana since the nineteenth century: Sordillo de Triana, Abadía, Manolo Oliver, el Arenero, el Ollero…a monument to soleá.  Not having had enough with that, he delved into soleá apolá to end up with fandangos of Caracol and Chocolate.
Continuing with the series of conferences, the third day brought the flamenco poet, activist and self-made flamenco revolutionary José Ortiz Nuevo who re-released his "Alegato Contra la Pureza" with Barataria publishers.  The defense of free-thinking flamenco and a revision of the art-form from its outset.
| | |
| --- | --- |
| | |
| Marquez "El Zapatero" | |
Once again it was the roof of the central market for a triple show.  Resembling a typical summer festival (numerous artists, the bar at the back, folding chairs), the first appearance was that of singer Jesús Méndez with the very Jerez-sounding guitar of Manuel Valencia.  Beginning a bit late, the singer opened with romance and pregón.  He has a powerful voice, and his way of approaching cante is straight from the gut.  From the soleá of Charamusco, to taranta, to siguiriya (Frijones, with an updated version of Ramón Medrano, and Serna for the cabal ending), to fandangos and closing with bulerías.  The big surprise was Carrete.  The preamble to his appearance was also a revelation for most people.  Fran Vinuesa on guitar, Amparo la Repompilla singing (tango solo) and Luisa Chicano dancing solea.  Most of those present knew neither the dancer nor her back-up.  She made quite an impression, dancing with her hands, her hair and even her face for alegrías, bulerías and tanguillo ending.  With constant build-ups and stops, winks to the crowd and other cheeky gestures, she had the audience right in her pocket from the word go.  Some of those present, especially young people, who were waiting to hear Manuel Lombo, received the gift, almost without realizing it, of enjoying Carrete de Málaga.
Few of us are familiar with the strictly flamenco facet of Manuel Lombo, but this was the perfect opportunity to show that despite having followed other paths, flamenco is not over his head and he can claim to have a command of cante.  Although his aesthetic comes from another angle, the sounds that come from his throat are flamenco.  With Dani Méndez on guitar, he began with tientos ending with tangos of Granada and Triana.  We began to get an idea of what was in store.  He remembered Chacón in a perfectly defined malagueña, ending with abandolao.  Solea, siguiriya and bulerías, a wink to Paquera, to Joselito el Gallo, a lot of popular songs he turned into flamenco, and got the audience on his side.
| | |
| --- | --- |
| | |
| Carrete de Málaga | |
The last day of this "flamenco on the frontier" began with a conference by Carmen Pulpón on the career of promoter Jesús Antonio Pulpón.  In the main theater there was an emotional tribute to maestro Manolo Sanlúcar, with presentation and speech by Manuel Curao before turning the stage over to Morón in the person of Pepe Torres, David el Gayi and Moi de Morón, along with guitarist Rafael Rodríguez.  "Por Amor al Arte" is a show created to have a good time, far removed from any staging or technical details.  It's dance, guitar and cante.  Who needs more?  From the opening music of Rafael, alone with his guitar, up to Pepe's energetic alegrías dancing….the siguiriyas of Moi, tangos of Gayi and soleá by Pepe.  Best of all, the appearance of not having come with a prepared program, as if it were the meeting of a group of friends, naturalness was the key to everything, the quality of flamenco without constraints.  The ending tonás and Torres' bulerías bits left no doubt that with little you can actually do alot.
The final afterhours show was reserved for a group of Americans who live in Morón and brought their work "Flamenco Mío".
And so it all came to a close; with dedication and good ideas it doesn't take big business to make flamenco.
| | |
| --- | --- |
| | |
| Homenaje a Manolo Sanlúcar | Pepe Torres con David El Galli, Moi de Morón y Rafael Rodríguez |
---