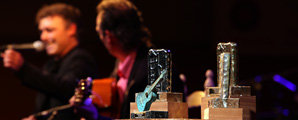 XVI Jornadas Flamencas de
La Fortuna y la Silla de Oro
December 19th and 20th 2009
Ciudad Deportiva de La Fortuna
Leganés (Madrid)
Text: DeFlamenco.com
Photos: Rafael Manjavacas
December 19th, Ciudad Deportiva La Fortuna
First part: Final Silla de Oro
 
Last Saturday a new singer from Córdoba sat in the Silla de Oro.  We were already familiar with Francisco Ocón from earlier editions, namely, last year's when he came close to winning the golden prize in the shape of a chair.  From the town of Adamuz, he combines his boundless interest in cante with being a professional forest ranger.  He is considered a complete singer, or as experts might say, an overall singer.
Needless to say, he knows and interprets the styles of Córdoba.  Happy and overwhelmed with the prize, he offered a good sampling of fandangos and guajira to thank the audience which on this occasion at least, was thoroughly in agreement with the jury.  In second and third places the winners were Pepe Alconchel, the prolific singer from Jerez de la Frontera, and the daring young woman from El Puerto, Aroa Cala.
 
Second part:
Dance: Antonio Reyes Maya y Prado Jiménez
Cante: Loreto de Diego, Noelia Heredia and Aurora Fernandez
Guitar: Luciano Galiani, Basilio Gracia and Victor Muñiz
Percussion: Rafael Casado
Accordion: Fernando Yardini
Violin: Fernando Garcia
 
The second part of the evening given over to dance featured Antonio Reyes Maya and young Prado Jimenez, who got swept up in a romantic love story.  One showy number, with fourteen artists on stage, was full of references to Argentine tango, music and wardrobe.  The original music for this show was at moments brilliant, especially the guitar of Basilio García and the accordion of Fernando Yardini.
 
December 20th, Ciudad Deportiva La Fortuna
First part
Cante: Jesús Méndez
Guitar: Manuel Valencia
Palmas: Vanesa and Alejandra
 
Jesús Méndez is one of the most promising young Jerez singers of the moment.  And he's not just a singer, but an elegant generous artist.  He sang a variety of Jerez styles, some from his own family, the Méndez, and also Pinini.  He also sang malagueñas and solea apolá of Charamusco, ending with the obligatory bulerías sounding a bit like Paquera and Caracol.  And as if all that weren't enough, he also danced.  The guitar of Manuel Valencia provided just the right accompaniment.
 
Second part: "RETALES"
Dance: Laura González "La Polaca"
Special guest artist: Marco Flores
Guest singers: Encarna Anillo y José Anillo
Guitar: Paco Cruz
Percussion: Sergio Martínez
 
"Retales" is much more than a group of fragments, it is a kind of delicate patchwork in which all the pieces fit perfectly: dance, cante, guitar and percussion strive for the same end, to captivate, surprise and move.  They achieved that goal within minutes of hitting the stage.  Marco Flores danced with incomparable grace with a long solea por bulería, while Laura, dressed in a white bata de cola did the same with alegrías…it was all so perfect, time seemed to stand still.  José and Encarna Anillo, precise, pushed the limits of their voices to heart-rending sweetness.
It all came to an end with an elaborate fiesta finale with all the artists, a closure to remember.  
---