Flamenco Viene del Sur 2011. Chicuelo & Duquende - Sevilla
April 28, 2011
Twittear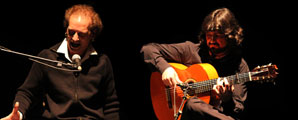 FLAMENCO VIENE DEL SUR
Chicuelo
Tuesday, April 26th, 2011
Teatro Central Sevilla
Guitar: Chicuelo; Cante: Duquende; Viola: Elizabeth Gex; Percussion: Isaac Vigueras
Text: Gonzalo Montaño Peña
Cover photo: Ana Palma
Other photos: Ángela Gentil

Guitarist Chicuelo is in a magnificent musical moment. His facet as soloist was amply proven with his first work "Cómplices" in 2000, and he would go on to reinforce new concepts seven years later with his second solo record "Diapasón". As accompanist, he has worked with major stars such as Ginesa Ortega, Duquende, or more recently we've seen him with Miguel Poveda demonstrating his great command and knowledge of this difficult discipline.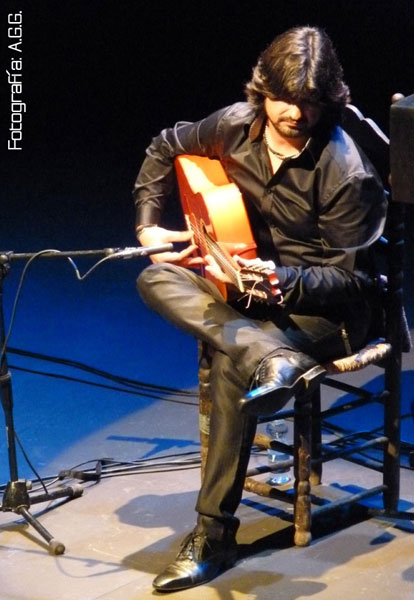 Last night's show was divided in two parts, the first, instrumental, in which he displayed the entire repertoire of his technique as well as musical concepts in a certain line from Paco de Lucía, and a second part in which he accompanied Duquende, an area in which he also showed great communicative power and logical interaction with the cante, something all too often overlooked by current guitarists.

He opened with tarantas and his magnificent right hand came squarely down on the strings giving a clean clear flamenco sound with contemporary overtones, influences that almost no current guitarist can escape. From "Diapasón" he played "A Tres", a fast bulería in which the counterpoint between the guitar and the viola of Elizabeth Gex was carried out with excellent taste. With a very personal harmonic sense, he interpreted his alegrías "Dulce Sal", and still on the Cádiz coast he moved us on to "Contigo", an original piece reconizable as tanguillo thanks only to the continuous rhythmic lilt in tanguillo compas.

Although it's clear that Chicuelo has a place among the current stars of flamenco guitar, it's Duquende people want to see and hear as became evident when he came on stage for the second part. The success of his recordings, and without a doubt, the weight of that Camarón sound he reproduces, continues to have a tremendous influence, making him the clear heir to that school of cante.

The singer began with soleá, taking the cante down paths opened by José Monge, and which Duquende knows inside and out. Styles of Alcalá, Utrera and Lebrija with his privileged voice and sense of pitch. Siguiriyas and fandangos brought shouts of "ole!", but even more imposing were his Camarón-style bulerías, and the evening was closed out with tangos that included viola and percussion. The audience gave a standing ovation, and there was no getting out of an encore which took the form of alegrías that sent us out into the street with the music of Chicuelo and Duquende ringing in our ears.