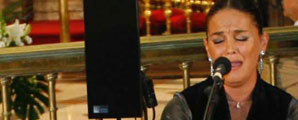 Flamenco mass in Oviedo with Sonia Miranda
Text: Fernando Romero
Photos: Mario Rojas
"With José el de la Tomasa I learned how to be free, and with Naranjito de Triana I learned discipline"
Sonia Miranda spent the last weekend sharing her passion for flamenco in Oviedo and Asturias, within the fiestas of San Mateo and the 25th anniversary of the Enrique Morente flamenco club.  On September 20th, in the Oviedo cathedral, she sang a Flamenco Mass along with José María Molero on guitar, Eduardo Costa on flute and Sebastian Fuenzalida on cello.  At midnight, at a much smaller venue, she sang at the Oviedo peña.
In the packed Oviedo church, her strong voice rang out in the spacious interior offering impeccable acoustics.  She began with fandangos de Huelva dedicated to the Virgin of Covadonga and San Mateo in the singer's own adaptation.  The Hallelujah took the form of alegrías de Córdoba.  The Santo was bamberas por soleá, and that brought us up to the most flamenco moment of all with siguiriyas, and a gripping interpretation in this exercise in musical mysticism which left no doubt about the spiritual force of flamenco singing.  The Seville singer gave a wink to the numerous audience with her flamenco adaptation of Schubert's Ave Maria with references to Oviedo and its holidays ("De Sevilla hasta Oviedo he llegado para cantar").  The grateful audience gave a standing ovation after the special mass which will be remembered by church-goers and flamenco fans alike.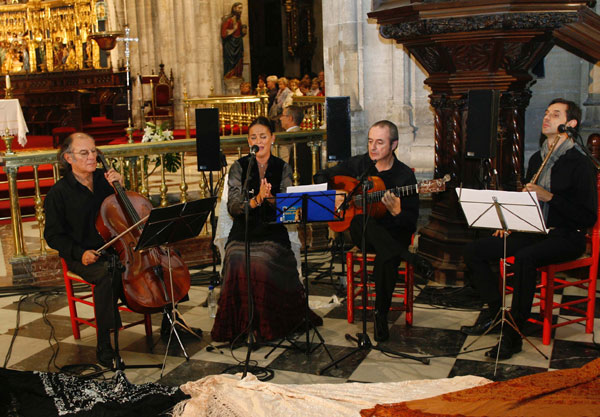 That was at 8:00 pm, on the eve of the Asturias capital's local fiesta.  At night, and with a smaller audience of about 50 people, the singer gave her best performance at the Oviedo flamenco club "Enrique Morente".  Between sound checks and rehearsals we were able to chat with Sonia who just a few hours before arriving in Asturias said she felt like "just another one of the locals".
Sonia likes flamenco masses, "although all that solemnity makes me nervous", and talks about the forms that best suit this type of ritual: "Malagueña del Mellizo, petenera, not alegrías so much, but the ones of Córdoba are softer and adapt better.  Bamberas is also suitable, and although it's from soleá, it's more musical.  Seguiriyas is a powerful form, very spiritual, and a verse like "Cordero de Dios" is just begging to be sung to seguiriyas.  The closing can be a little more lively, rumbas, alegrías, sevillanas…"
In the show at the club, Sonia showed off her knowledge of many forms, which is due, as she herself says, to having listened to a lot of flamenco and drawn on the most fundamental sources, later adapting them to her way of singing.  "José de la Tomasa and Naranjito de Traiana taught me a lot, and I brought away the best of each one.  "With José el de la Tomasa I learned how to be free, and with Naranjito de Triana I learned discipline, but I have other references: Niña de los Peines, Chacón, Caracol, Camarón, Carmen Linares as well as younger singers like Estrella Morente, Mayte Martín, Poveda…among many others".
The show in Oviedo, in which the wonderful guitarist Molero accompanied, began with granaínas, then bamberas, farruca (a wink to Asturias, believed to be the origin of this cante), followed by alegrías de Córdoba and ending with bulerías, winding up the 25th anniversary of the club which has several shows programmed: October 10th, Estrella Morente, and November 21st, her father Enrique.  Throughout the months of October and November there will be various conferences about flamenco at the Club de Prensa de la Nueva España with performances by singer Yeyé de Cádiz with José Molero, Pepe Lara Añón with Paco Lara and Gemma Caballero with Pedro Barragán.
---