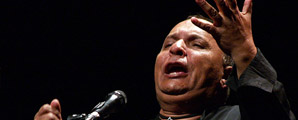 Festival 'Puerta Flamenca' de Puertollano
Saturday, April 4th, 2009. 9pm. Teatro Almodóvar, Puertollano
Text and photos: Estela Zatania
Cante: José de la Tomasa, El Pele, Paco del Pozo, Rubio de Pruna
Guitar: Antonio Carrión, Antonio Moya, Patrocinio Hijo, Niño Seve
Sometimes it seems we flamenco fans spend our lives waiting for the perfect moment, the perfect cante or the extraordinary performance that we will later tell our friends about, using the kind of extravagant phrases reserved for such occasions: "incredible", "astonishing", "completely over the top".
The miracle of the dedication, sacrifice and love for flamenco of the "Fosforito" flamenco club of Puertollano, along with the municipal government of the same city, has once again produced the festival "Puerta Flamenca" that each year competes with Holy Week to offer high-quality cante right in the heart of Castilla-La Mancha.  Despite being so far from the regular places you'd expect for this type of event, the people of Puertollano are no strangers to flamenco.  Decades of emigration from the regions of Andalusia and Extremadura have left a taste for the best flamenco singing.
The compact program, composed of two seasoned veterans and two young singers, four serious professionals, no dancer, didn't promise anything out of the ordinary, but by chance, the four gave their finestperformances, and we were treated to a couple of hours of high emotion, courtesy of an absolutely pared-down kind of flamenco made up of voice, guitar and the artists' ability to deliver the goods.
| | |
| --- | --- |
| | |
| Paco del Pozo | Rubio de Pruna & Antonio Moya |
The show opened with Antonio Flores "Rubio de Pruna", the most recent winner of the last contest of Puertollano, an event which puts the most prize money on the table of any cante contest, and consequently attracts some of the best talent.  Accompanied by the excellent guitar of Antonio Moya, and dressed in a gleaming white suit, he surprised the audience with his rich flamenco voice and an admirable capacity to open the tap of duende at will.  First, Torre's taranto and a levantica, always personalizing, surprising in someone only 25.  Important things took place in siguiriyas, with the singer and guitarist on the same wave-length.  That was when I began to have that feeling of "this time they won't have to tell me about it".  More of the same with soleá, evoking Alcalá, Utrera and Cádiz, with knowledge and command, before closing with fandangos.
Pele's communicative power…
Up next was the miracle know as "Pele".  Manuel Moreno Maya, from Córdoba, charismatic cult figure still on the rise at 55, thanks in part to a recording that for many was the best of flamenco from 2008.  Like the emcee said, "the perfect example of how you can bring your own personality to flamenco, while still respecting traditional forms".  With Niño Seve and Patrocinio hijo accompanying, two young guitarists for a timeless veteran, Pele started out with a Caracol creation in free compás, never imitating, always taking inspiration and creating.  A good round of soleá is begun with apolá styles that used to be used as a closing, but now are more frequently heard as a prelude.  The alternate tuning of the guitars adds mystery and depth to siguiriyas, already possessing depth and mystery thanks to the communicative power of Pele, able to lose himself, in the best flamenco sense, on the paths of classic cante.  In bulerías, a brilliant mix of short styles, bits of cuplé and original creations, ended with an equally surprising dance bit, and the man from Córdoba was made to serve up two encores, including saeta and martinate, finally leaving with the admonition: "be happy and make lots of babies so flamenco will continue forever!".
The second part began with Paco del Pozo, a young Madrid singer worth taking note of, with the solid accompaniment of Antonio Carrión.  Martinete, debla and tonás, in the most traditional vein, wrapped up with guitar, a good arrangement.  Del Pozo dusts off caracoles "from my hometown of Madrid", which come alive and are updated with his interpretation.  Malagueña with fandango ending, triggers shouts of approval that cause the singer to congratulate the audience on their level of knowledge.  With soleá, Paco del Pozo adds his contribution to what is turning out to be an anthological night for this form, and a collection of retro bulerías is wrapped up with "El Poeta Lloró" of Bambino, a singer being honored this month on the tenth anniversary of his passing.
| | |
| --- | --- |
| | |
| Manuel Moreno El Pele | José de la Tomasa |
Cante's royalty…
José de la Tomasa, "the authentic royalty of cante" says the emcee, and the singer's silver mane and portly appearance seem to confirm that description even before he opens his mouth to sing.  Open and dynamic, he jokes with the audience: "my student Paquito already did all my cantes, so I'm going to do some tientos".  Once again, it's Antonio Carrión who provides the accompaniment, and de la Tomasa ends with tangos including the distinctive styles of Triana.  More soleá cante rounds out the superb tour of this cante we've been treated to, and this singer, normally too understated for many fans, reaches the heights with his alegrías, fandangos and an encore which isn't saeta, because "you either sing flamenco, or you sing saeta", but rather bulerías.
Eight men in all, four guitarists, four great voices from four places, Pruna, Córdoba, Madrid and Seville, was the recipe that took us on a journey to the heart of cante, without shortcuts or detours or distractions of any kind: incredible, astonishing, completely over the top…
---