Interview: Estela Zatania
"I'm a modern guitarist who never forgets the classics"
Alfredo Lagos was born in Jerez de la Frontera in 1971, a time when Paco de Lucía had only begun to revolutionize flamenco guitar.  A few years later, the new concepts developed by the guitarist from Algeciras had inspired hundreds of young potential maestros, and contributed to triggering an unprecedented interest in the genre.  Lagos belongs to that generation, no question about it, but he has managed to stand out from the crowd.  Long years playing for the best dancers and singers, from Sara Baras, Manuela Carrasco, Manolete, José Mercé, Capullo and Estrella Morente among others, to Israel Galván and Fernando Terremoto, have given him knowledge, dimension and an open-minded approach.  His is a contemporary perspective based on the most classic Jerez-style flamenco.  In January, at the Nimes festival in France, Alfredo Lagos pulled off a difficult triple act, playing one night for the cante of Fernando Terremoto, another for the dancing of José, Israel and Pastora Galván, and another, offering a guitar recital on his own.  In addition to being versatile, he is a serious hard worker, highly competent, creative, and a really nice guy too, qualities that have made him one of the most sought-after guitarists of his generation.
Alfredo, how old were you when you began playing guitar, and how did you get into flamenco?  Who guided you?
I began to play when I was about 10.  It started out as a game, if only because I was a child.  There was a guitar kicking around the house, like in most Andalusian houses, someone must have won it at a fair or something, and every night before going to sleep, I would ask my mother to please let me play it a little.  She would bring it to me, and I'd fool around with it, making it sound, without knowing what I was doing of course, but I loved the sound, and I would try make music until I fell asleep.  Around that time an uncle of mine, uncle Álvaro, my mother's brother, was living with us…now he's a flamenco singer and is working in Japan.  He convinced my mother to sign me up for classes with Carbonero and José Luís Balao where nearly all the guitarists in Jerez of my generation learned, and that's where I started.  At first, a little tientos, soleá, a little bulerías…little by little until it started to sound like something.  That's how it was for a couple of years, at the same time I was in school.  I will always be grateful to my father and mother, economically we were in no position to spend money on frivolous things, and you'd think that at 18 or 20 a guy ought to be looking for a "real" job.  I still hadn't considered playing professionally…it sort of happened by itself.  People start calling you to play for dance classes, then they want you to play for little shows or accompany some local singer at a peña, and without even realizing it, you're getting more and more into that world.  Then you start doing summer festivals, and you start working abroad… That's how it was, and I jumped in head-first.  I have to admit, I was a serious kid, very responsible, really.  I don't know, I think I was lucky I never got bored, because believe me, there were plenty of guys my age who started out at the same time, and they dropped out when maybe they could have become good guitarists.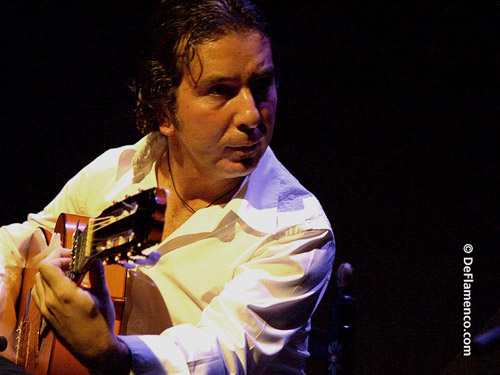 photo: Rafael Manjavacas
I remember Jerez in the seventies and eighties, the flamenco environment was impenetrably closed.  When you were young were you able to partake of what was happening?  What memories have you, what Jerez artists did you know or accompany?
Well, I knew a few of them.  From the era of Borrico and Terremoto, no, I only wish!  I was too small, but the later ones, yes.  Some are no longer with us unfortunately.  The one I remember most of all is Luis de la Pica, he was a genius.  I had the opportunity to play several times for him, and those are very cherished memories.  I remember once after we'd had some drinks at various places, we got to one place where there was a guitar, and he was singing for hours.  When it was time to go, he grabbed me by the arm and said "you know boy, on Friday I've got this gig and I want you to play for me".  Just imagine!  I'd never met him before, and I was only a kid, about 17 or so.  The man trusted me, and was very at ease singing that day.  Afterwards, yes, I went on to play for almost everyone…Capullo, Torta, Fernando de la Morena…all of them.  Because the roster of names is endless here.

with Israel Galván and Fernando Terremoto; photo: Estela Zatania
You accompany the most classic cante, but also the most contemporary.  Which do you prefer?
It's a funny thing, I like the traditional or classic style, but I also like the new stuff, as long as it's good.  In actual fact, as far as traditional cante, almost everything there is recorded is very good.  The modern things are lower quality, but when something is good, it's usually very good.  So I like to learn from everyone, and when I play for a singer, I want to get the best out of them, so I try to apply a style that suits that particular singer.  You can't play for Duquende the way you play for Carmen Linares or Enrique Morente or Fernando Terremoto for example.  Each one needs a certain approach, but of course, always without losing your own identity as a guitarist.  In any case, generally speaking, I'd say I'm a modern guitarist who never forgets the classics.
"Guitar no longer takes the back seat it used to occupy"
Do you consider yourself from the Jerez school of guitar-playing?  If so, how do you define that school?
As I said, every singer needs a specific accompaniment.  So when I play for someone from Jerez, I'm often thinking of Parrilla or Manuel Morao, especially for siguiriya or soleá.  If that's belonging the Jerez school, I guess so.  What's absolutely clear is that they laid out a style and a school.  It's a specific way of feeling the guitar, very flamenco and authentic.
Do you think flamenco guitar is more popular than cante now, as far as audiences are concerned?  How do Spanish and foreign audiences differ?  It used to be guitarists always followed the singer, but nowadays it often seems to work the other way around.
I don't think it's true that the general public is more interested in guitar.  Well, it depends on the audience of course.  In general, foreign audiences who may not know much about flamenco, are attracted to the sound of the instrument.  But I've also seen audiences in Germany or Japan react much more to the singer than the guitarist, even if it was someone very good.  Without a doubt, the guitar no longer takes the back seat it used to occupy in the last century, now it's much more in the spotlight.  But every audience is different.  There are also people who are only interested in dance, just look at the Festival de Jerez.
Some flamenco followers seem to believe that accompanying singing or dance somehow spoils a guitarist for playing alone.  There are even people who say that about cante, that after singing for dance, you can't be a proper solo singer.  What do you think about these theories?
Totally untrue.  A solo guitarist can only grow from accompanying singing or dance.  When it comes time to play along, he'll have his rightful place.  With a good group, everything will sound better.  I don't believe that about singers either.  Singing for dance is very good preparation, it gives you self-confidence and command when the time comes to sing alone, you can be sure of that.
Do you think contemporary flamenco or fusion is taking the place of classic flamenco, or can both exist simultaneously?  Have you ever felt pressured to play a certain way to please audiences?
No, like I said, I manage both styles, and I don't think they're incompatible.  I've never felt any pressure in that respect.  The important thing is to be sure of what you're doing and to feel it.  The most classic flamenco must never disappear.  We've got a good stock of people in Jerez.
"The most classic flamenco must never disappear"
What does the name "Paco de Lucía" mean to you?
A lot.  He's been the guiding light for all of us.  No one of my generation can deny it.  Thanks to him, this whole interview makes sense, it's because of him nearly all of us started playing, and it's also thanks to him that flamenco guitar has a privileged place today.  I was fortunate enough to know him personally many years ago, in the nineties, when I was starting out.l  I was in Japan with Grilo and Sara Baras, and he would come almost every night to see us work.  He never gave me any advice directly, but believe me, I learned more than if he'd taught me directly.  In those years, I was a sponge, and a lot things stuck with me.
What do you think about the alternative tunings they use now, like for soleá and siguiriya?  Do you use them?
Yes, sometimes.  In Israel Galván's latest work for example, I do a siguiriya with several strings tuned down.  It's a good thing, you have to look for new tonality.
What do you think about women playing the guitar, is it antiesthetic like some people say?
I think it's great, nothing antiesthetic about it.  Women are beautiful to begin with, and if they play guitar, even better!  I know some women who play very well, and I have guitarist friend, Antonia Jiménez.  In Cuba I met a girl who played classical guitar and was learning flamenco, she was wonderful.  Later on I heard Leo Brower invited her to play with the Córdoba symphony orchestra, I think she still plays flamenco, and let me tell you, she's a real virtuoso.  This year at the Festival de Jerez there were some very good women guitarists.
I've seen you dance bulerías with Israel, do you like to dance?  Would you have liked to be a flamenco singer like so many guitarists say?
Dance? [He laughs].  I'm not much of a dancer, really, but we have a good time, that's the important thing.  Sometimes I go out in the fiesta ending, but I don't know how to dance, I just do whatever comes out, and we have a good laugh, just imagine, with Israel singing for me.  As far as being a singer…I don't know, maybe.  But not professionally.  I wouldn't mind knowing how to sing at a fiesta, but there's no way you could call me a "frustrated singer".
What's it like to work with a genius like Israel Galván?  Is he very demanding?
Well, I really feel comfortable with him.  I don't think this is going to be forever, because I'll eventually have to move on and do other things.  But for now, we both feel good working together.  Above all, he's a good person, which is the most important thing when you work together for such a long time.  Aside from that, well he's a phenomenon, a genius.  He has ideas no one else thinks of, and good ones.  And that's very hard.  I've learned a lot from him too.
"When I play for a singer, I want to get the best out of them"
Not long ago you performed at the Nimes flamenco festival in France where you not only played for Fernando Terremoto's singing, and the dancing of the Galván family, but you also gave a magnificent solo recital.  Which of these facets do you enjoy most?
It all came out well, it's true.  I'm pleased with what I did.  Of course I'd like to play more on my own, but I think it's complicated, because solo guitar in general is very difficult to book, unless you're well-known.  But I'll keep plugging away…
Have you ever considered moving to Seville or Madrid like so many others from Jerez?
There was a time a few years back when many people were in Madrid, Juan Diego, Bolita, Grilo…and I considered moving there.  Those were good times, lots of guitarists there.  But I never did it, never quite felt right about it.  Maybe I'm just too close to my people and my life here in Jerez.  Fortunately, in the end, it wasn't necessary after all, and now, less than ever, because with the infrastructure there is, you can go to Madrid and return the same day, and with internet and everything, you don't have to be physically at places, and you can still be in touch with the rest of the world.  Now, people are starting to come down here.  Madrid isn't as saturated with artists as it used to be.  But in any case, I don't rule out anything, you never know what's going to happen or where life is going to take you.
Have you ever taught guitar?  What advice would you give to a young person nowadays who wants to play flamenco guitar?
I've given a few classes, but I'm not much of a teacher.  I don't have enough patience to teach, and that's the most important thing.  A little advice… Listen to the old guitarists and the young maestros.  The guitar is a wonderful beautiful instrument, and above all, don't ever think you've finished learning, because that's when you'll need to begin doing so.
---