Text: Estela Zatania
Photos: Jean Louis Duzert
Wednesday, January 22nd, 2015. Nimes (France)
JOAQUÍN GRILO PAYS TRIBUTE TO PACO DE LUCÍA IN NIMES
Dance: Joaquín Grilo. Piano: David Peña "Dorantes" guest artist. Cante: Remedios Amaya, guest artist and 2 Makarines. Guitar: Juan Requena. Percussion: Ané Carrasco. Palmas: Carlos Grilo, Diego Montoya. Violin: Faiçal Kourrich.
"…and now you're gone forever"
The long slow motion farewell of Paco de Lucía continues along its natural course.  The man who would come to define our understanding of flamenco over the last forty years, and will continue to do so for a long time to come, is the focus of this twenty-fifth edition of the Festival de Nimes.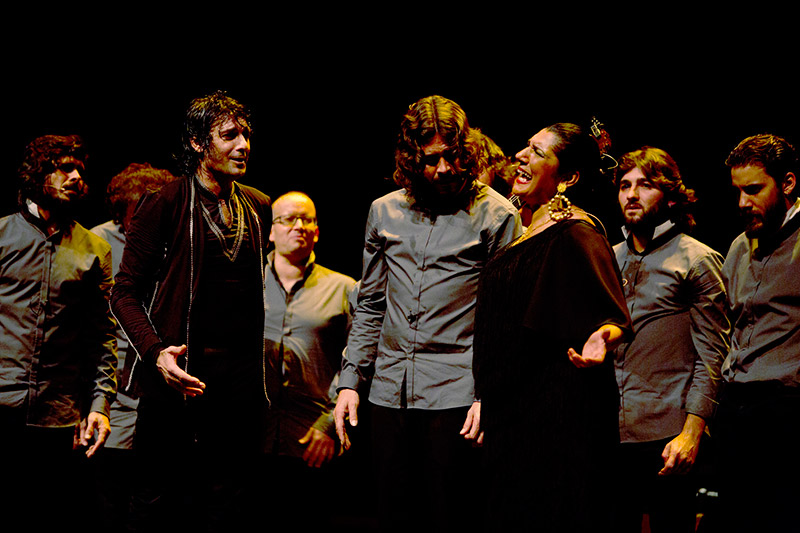 Within this goal of remembering Paco, last night Joaquín Grilo offered his show "Cositas Mías", a title that, intentionally or not, reflects that of Paco de Lucía's recording, "Cositas Buenas" (2004).  When the premiere of the work was programmed to close out last year's Festival de Jerez in February, no one could possibly have imagined that flamenco was about to lose its most admired and noteworthy interpreter.  The fact that Joaquín Grilo had been a component of Paco's group for several years, added yet more dimension to the performance that took place just a few days after the guitarist's passing.
Last night, we saw the same work with the same artists, but with the pain more internalized.  With dark sober staging Grilo went through all his quirky bulerías moves, in addition to flamenco-tinged modern dance that made us wish for some less fanciful dancing.  Remedios Amaya did Remedios Amaya, always creative and natural with her version of mining cante, and bulerías with Grilo among other things; she comes and goes, a high-priestess of flamenco, always authentic.
The Makarines add a surreal touch with their voices so perfectly synchronized, they sound as one, seated face to face doing rhythm, or singing to Grilo.  Invited guest artist David Peña "Dorantes" played his own compositions, both free-form and bulerías.  Between one thing and another, bulerías is the common denominator and point of encounter for all the artists, while Remedios does some tangos that are so personal, she appears to enter into a state of grace where all her improvisations come out just right.
Fandangos de Huelva lead into a sort of bullfight fantasy, and more bulerías on the piano morph into soleá with the voice of Remedios who sings to Grilo for one of the high points of the show.
The final bow is the preparation for the image that last year came to symbolize the loss we all had to deal with: the performers form a tight circle and raise a gutar heavenward while nearly whispering "Con lo mucho que yo te quería, con lo mucho que yo te quería, te has ido para siempre de la vera mía" ['I loved you so much, and now you're gone forever']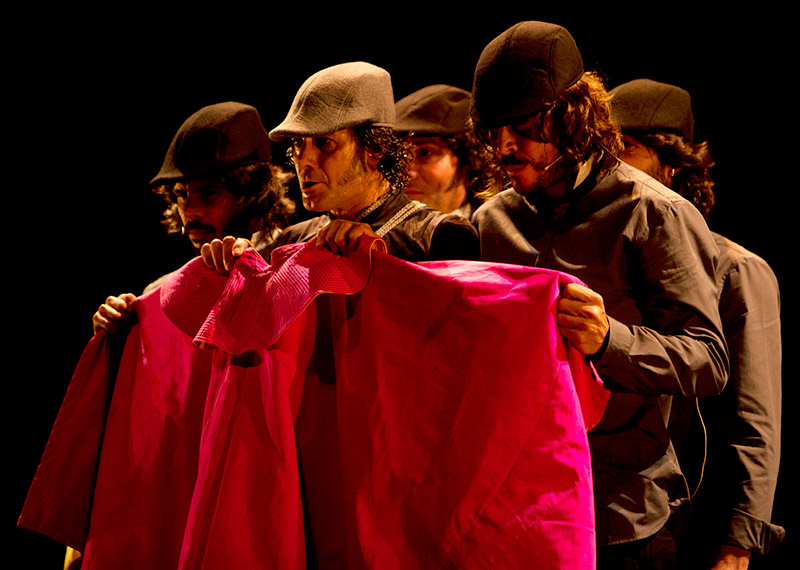 ---