Text: Estela Zatania
Photos: Ana Palma
Sunday, March 3rd, 2013. Jerez de la Frontera
Special 17th  Festival de Jerez – All the information

CLOSE ENCOUNTERS OF THE SIXTH KIND
JAVIER BARÓN "EN CLAVE DE 6"
Teatro Villamarta, 9.00pm
Dance and choreography: Javier Barón. Cante: Esperanza Fernández. Guitar: Manolo Franco. Upright bass and melodica: Manuel Calleja. Percussion: José Carrasco. Palmas and jaleo: David Pérez. Off-stage voice, script and artistic director: José Luis Ortiz Nuevo.  
What can you say about Javier Barón, one of today's most important flamenco dancers, winner of Spain's National Dance Prize?  Hard-working, intelligent, great artistic sensitivity, mind-boggling technique and a style of dance that appears deceptively simple.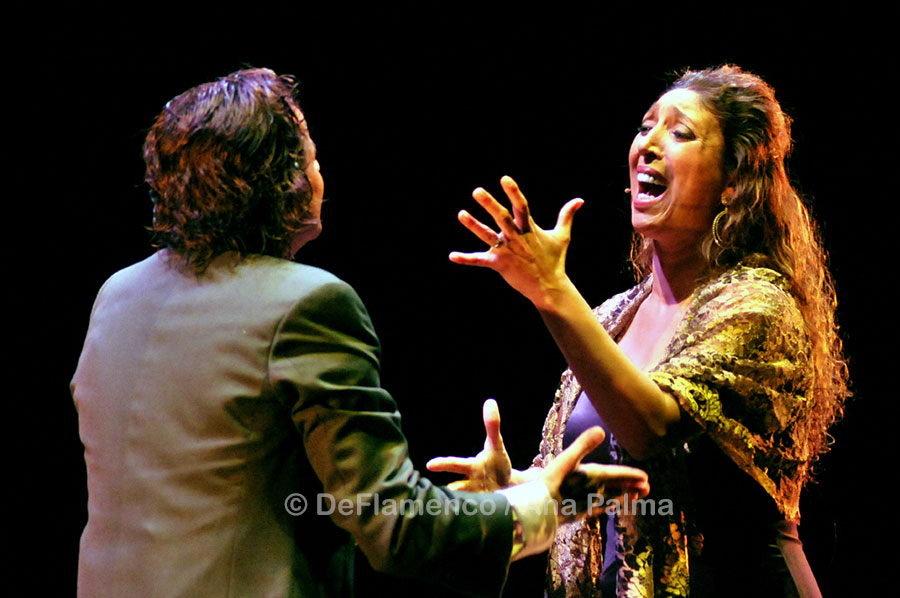 "En Clave de 6" is the title of this new work, and the creative mind of the versatile José Luis Ortiz Nuevo can be felt throughout.  If in the festival Málaga en Flamenco he was obsessed with the number 7 (who could forget that extravagant show this man produced on the seventh day of the seventh month in the year 2007 to inaugurate Málaga en Flamenco?), now it's the mystical number 6 that has him fascinated, as becomes clear in his brief off-stage monologue when he mentions the number over and over in relation to matters of death and life, poet that he is.
On this occasion it would have been more apt to speak of "3", since the three main performers are top stars of flamenco: in addition to Javier Barón, there is singer Esperanza Fernández and guitarist Manolo Barón, a real treat.  However, the work just doesn't come together despite the top-quality ingredients.  The six scenes listed on the program as "six human states of mind and emotion", are anything but coherent.  In fact, there is a tendency towards fragmentation which even becomes especially annoying at the end of the show when each piece is reprised in brief extracts.  It may work as theater, but makes it impossible to appreciate the artists' efforts – a bit like sitting down to have a paella, but they serve you all the ingredients separately.  And the oppressive darkness that plagues so many current flamenco shows, and is constantly ridiculed by critics in other countries, is also present in this work.
All flamenco artists are currently in a state of self-reinvention to keep ahead of the dwindling economy and lack of funding.  It's like an end-of-term project, each one must find a way to maintain their position and keep afloat professionally without the funding that barely trickles down through the bureaucratic streams and rivulets that help keep flamenco going.  It's a huge challenge that each individual is resolving as best they can, and which Javier Barón is more than capable of facing.
---
COMPAÑÍA JOSÉ GALÁN "EN MIS CABALES"
Ciclo:  De la Frontera
Sala Paúl, 7.00pm
Dance: José Galán, Vanesa Albar, Reyes Vergara, Helliot Baeza. Guest artist: Manuel Molina. Cante: Inma la Carbonera, Paco El Trini. Guitar: Javier Gómez. Percussion: Luati. Violin: Leslie Ann Jordan.
The concept behind this work, and most of what dancer José Galán does, is that being a handicapped person is not incompatible with feeling and projecting the flow of art and emotion.
And  surely this is true.  The challenge then, is to put that vision together on stage in such a way that a show with handicapped interpreters may effectively compete with any other.  It's a project that asks and demands to be accepted on those terms.  The affection José Galán feels for these young people can be seen at every moment, the pride and the love, his desire that they be capable of believing in themselves.  The project reaches the heights of expressiveness when the natural tenderness we all feel towards the special youngsters comes head-on with the authenticity and innocence of what they do…at those moments the force of their art is multiplied to unexpected extremes, and we are obliged to see things as if it were for the first time.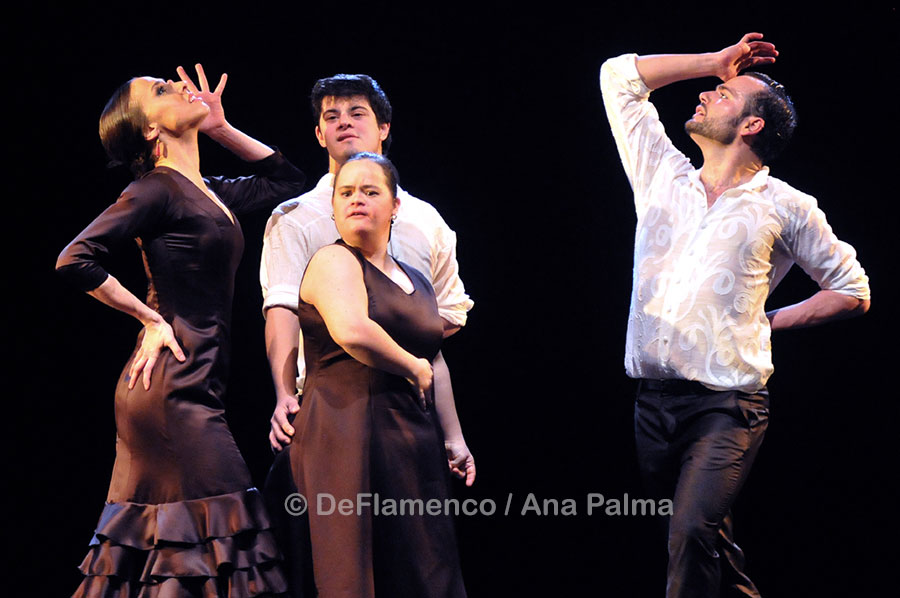 Aside from the huge task of mounting a show of this nature, Juan Carlos Lérida's choreography is novel and creative, Galán's imagination seems not to have limits and the final result is as moving as it is entertaining, and not even guest artist Manuel Molina could steal the show away from the rest of the group.
---
JOSÉ GALVÁN, JAVIERA "LA MORENO" 
Ciclo: Maestros y jóvenes
Sala Compañía, 12 midnight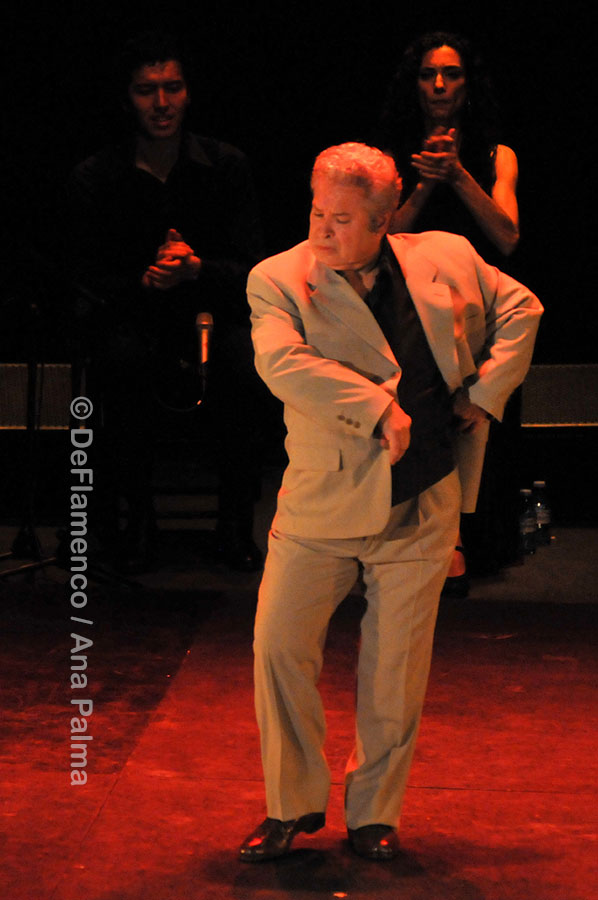 As we found out during the last Bienal de Flamenco de Sevilla, the concept of putting veteran artists alongside hopeful newcomers on the same stage and in the same show, can yield interesting, if unpredictable results.  The experiment has the capacity to put the natural evolution of flamenco forms in high relief, showing the close relationship between what used to be and what is now mainstream.  Or it can also highlight the weaknesses of both elements.
This show is flawed by excessive length.  For a start, the long guitar solo that begins the show is unnecessary no matter how you look at it, some vocal solos were also ill-advised and each of the dances went on long enough to try the audience's patience; those 15-minute choreographies that were fashionable in the tablao era are no longer viable.
The maestro José Galván, father of the two dance wonders we all know, is a poem of wisdom, relevant and enriching at the right time and in the right place.  But it was not here, alongside a beautiful young woman, full of flamenco energy, and the three long dances he interpreted diluted the impact of what he had to offer.  But the young woman Javiera "La Moreno" didn't benefit from the comparison either, because alongside the wise ways of the older dancer, her lack of experience became painfully obvious.  Her most interesting contribution to the presentation was classic alegrías with all its elements, including the "silencio" and the "castellana", as done decades ago.
Soleá, bulería por soleá, farruca, alegrías and siguiriyas among other bits and pieces, with the voices of Juan Toro and María Luna and the guitars of José Manuel Tudela and Kentaro Tokunaga.

---