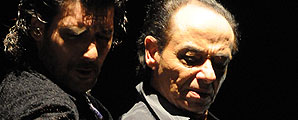 14th Festival de Jerez 2010
Fernando Belmonte "Reencuentro"
Fernando de la Morena, El Torta
Saturday, 13 de marzo, 2010. Jerez de la Frontera
THE FESTIVAL DE JEREZ CLOSES WITH A TRIBUTE
"REENCUENTRO". Dance: Joaquín Grilo (special collaboration), Fernando Belmonte, Ángel Muñoz, Fernando Galán, Christián Lozano, Alicia Márquez, Úrsula López, Charo Espino. Cante: Carmen Grilo, José Antonio Núñez, José Carmona. Guitar: Juan Requena, Jesús Guerrero. Percussion: Israel Mera. Gypsy girl: Luisa Ruiz Peña.
After sixteen days since the inaugural show, after nearly the same number of shows as announced this year for the Bienal de Sevilla, and after a very wide range of presentations, from the avant-garde to the traditional, young artists and veterans, large formats and intimate groups, last night the fourteenth edition of the Festival de Jerez came to a close.  This year the organization placed its bets a bit more firmly on classic flamenco, there were very few low points and the high ones were many.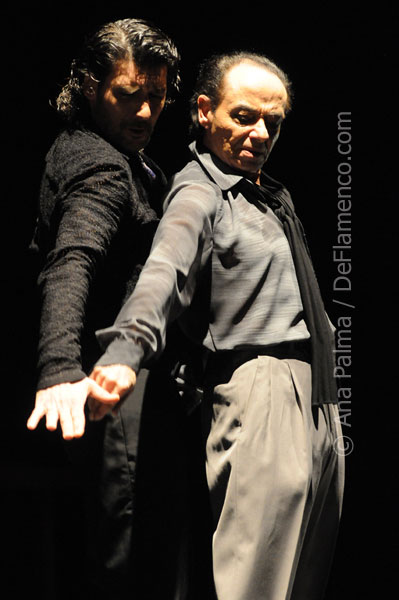 The long goodbye got underway at seven in the evening at the Sala Compañía with the closing of Javier Latorre's Taller de Coreografía.  Two hours later, at the Teatro Villamarta, Joaquín Grilo presented "Reencuentro" to pay tribute to his teacher and maestro, Fernando Belmonte, a work created, directed and choreographed by the former.  In 2009, the closing show was another tribute, on that occasion to maestro Mario Maya who had recently passed away, and in 2004 Jerez dancer María del Mar Moreno put together a nice show to honor her teacher Angelilta Gómez.  This type of recognition of maestros is in the process of turning into a welcome tradition to close out the Festival de Jerez.  Many of us would have liked to see a tribute to Fernando Terremoto, but he left us only days before the beginning of the festival.
Jerez has no real "school" of dance, nor is it dance territory, and with notable exceptions that confirm the rule, there are few dance stars.  Nor does the name Fernando Belmonte mean much to people from outside Jerez, despite a long professional career.  If the surname sounds familiar, it's because Fernando is son, brother and nephew of bullfighters.  Precisely because his name is not widely known in the world of dance, this generous gesture sets the cultural record straight; last night some of his best students offered samples of what they do.  In addition to Joaquín Grilo, dancers who took part were Ángel Muñoz, Fernando Galán, Christián Lozano, Úrsula López, Charo Espino and Alicia Márquez, being particularly noteworthy the latter, a dancer who deserves greater attention.
Via the music of Albéniz, Falla and others, as well as guitar, and a series of semi-narrative scenes with stage-sets "a lo Grilo" (the naked lightbulb hanging from above, the dusty room full of memorabilia, the mirror surrounded by lightbulbs…), various stages of Belmonte's life were depicted: his arrival in Madrid, the creation of certain choreographies, military service, the dance academy with children included, the Ballet Albarizuela that was Belmonte's company for years…
A splendid interpretation on guitar of the Vida Breve was offered by Juan Requena and Jesús Guerrero, and it was a very moving moment when the student Grilo danced with the maestro Belmonte in a lovely pas de deux por soleá in which the illustrious student found the artistic serenity that often escapes him when he performs on his own.  The show would have come off better with stronger singers, but the local audience had no complaints with this Jerez celebration of things Jerez.
At midnight the last show of the festival took place at the Bodega de los Apóstoles with a recital of traditional cante by two home-grown classics.  Fernando de la Morena opened with the last dedication of so many there have been, for Fernando Terremoto, and started in customary fashion with the cantes of trilla he put into circulation.  With Fernando Moreno on guitar (no relation), the singer continued with soleá, and the characteristic nearly tongue-twisting phrasing he is known for.  The famous interjections of "ay", another detail that has become part of the Jerez school, and Fernando declares "Long live our town and everything that comes out of it!" before launching into his well-known fandangos of "la una, las dos y las tres de la noche".  He struck an emotional note por siguiriyas with the line "ya está en el cielo mi hermanito Curro", but lightened things up with bulerías, "con qué gusto y qué placer"…the standard repertoire of the singer from Santiago who is always a pleasure to hear.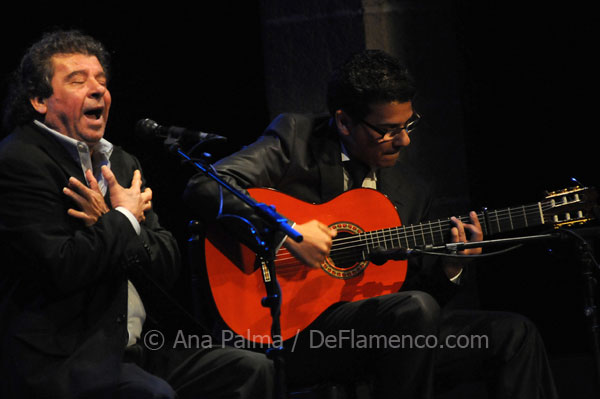 Juan Moneo "El Torta" had the last word and put the icing on the cake of this lengthy festival, with his nephew Juan Manuel Moeno on guitar.  Beginning with alegrías, a cante he dominates well even though many Jerez singers don't quite pull it off, he continued with soleá mixed with bulería por soleá, siguiriyas and his tango song "Santiago y la Plazuela".  By the time he gets to bulerías, we have the impression of having recuperated the Torta of years ago, more serene and focused, the singer that is always lurking inside him and which many of us wish he could find more often.
The icing on the icing was afterhours at the Peña la Buena Gente…it finally stopped raining in Jerez, and the city, tireless, braces for Holy week which begins just two weeks from now…
---