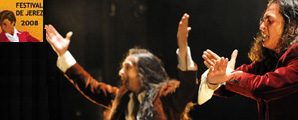 Farru, José Maya, Barullo "Al natural"
Daniel Casares, Morenito de Íllora
El Mistela "Del corazón al tacón"
Tuesday, March 4th, 2008. Jerez de la Frontera
photos: Ana Palma
Text: Estela Zatania
Daniel Casares, Morenito de Íllora
Palacio de Villavicencio 7:00pm
Despite his tender age of 28, Daniel Casares is quite a veteran.  The boy who at 17 won the Bordón Minero, highest guitar prize of the prestigious contest of La Unión, has made three solo recordings and given numerous recitals abroad.  At the Palacio de Villavicencio he interpreted a first part with compositions of great musicality, if somewhat similar to each other, including guajira, alegrías and bulerías with a post-Paco but pre-Vicente approach.  In the second part, he demonstrated his capacity for cante accompaniment with singer Morenito de Íllora, originally from Granada, but emigrated to Barcelona.  The singer began with martinete followed by soleá, fandangos and bulerías, with a delivery that was a mix of classic and Camarón.  His adolescent son took part in the mini fiesta finale por bulerías.
Farru, José Maya, Barullo

"Al natural"
Teatro Villamarta
9:00pm
Dance: Farru, José Maya, Barullo. Cante: Simón de Málaga, Pedro el Granaíno, María Vizárraga, Rubio de Pruna. Guitar: Antonio Rey, Paco Iglesias. Percussion: Rafael Serrano, Antonio Moreno "El Polito". Coreography: Farru, José Maya, Barullo.
The Farrucos cause a stir whenever they perform.  Tuesday night in Jerez the Villamarta Theater filled with people and emotions for the show "Al Natural" starring Farruquito's younger brother Farru, along with Barullo, cousin of both and José Maya, the "old man" of the group at 25.
The title "Al Natural" refers to the lack of a story line, something we can be grateful for in this day and age; dramatized flamenco can have an impact, but requires specialists to avoid falling into the absurd or corny as so oftern happens.  "Al Natural" has the goal of displaying the family's famous style which in a very short time has generated an important evolutionary branch of flamenco dance; few dancers today, male or female, have failed to adopt the family's way with bulerías.
The company, all men with the exception of María Vizárraga, the longest-running member of the group, go through a series of dances which one way or another always come down to bulerías, even the taranto, normally in 4/4 time but danced to bulerías compás between cantes; the Farruquito style doesn't cook on high heat in the binary rhythms.
José Maya convincingly reproduces the family line of which Farru occasionally seems he is doing an impersonation, but Barullo, the youngest of the three at 17, has the dark intensity of Farruquito that justifies the display of energy.  In fact, you miss the element of contrast; the recipe is non-stop smash-bang "amalgam" compás (twos mixed with threes) that doesn't let up, with few quiet zones to be able to appreciate the power of the three dancers.  Interesting voices, most noteworthy Rubio de Pruna and Simón de Málaga in spite of the silky choruses used in some cantes and which give a "pop" sound that doesn't mix well with the drama we expect from this family.  Antonio Rey on guitar adds a great deal, althugh he spends half the show knocking out compás on his guitar top.
I do believe this was the most poorly-illuminated show I have ever seen.  Black clothing and darkness are the fashion these days, but when you can't see the dancers facial expression, an important dimension is lost.  At some point in the future these barely visible shows will be remembered with the same wistful smile that covers our faces when we recall the ruffled shirts singers and guitarists used to wear.
Just a few years ago the dynasty of old Farruco broke the mold and set a standard that was much higher than the existing one.  Now his heirs struggle admirably to maintain that level without deforming the aesthetic.  With "Al Natural", the goal is only partially met, leaving the audience less worked up than on other occasions.
El Mistela
"Del corazón al tacón"
Sala La Compañía, 12 midnight
Dance: El Mistela, David Pérez. Cante: Miguel Ortega, José Ángel Carmona. Guitar: Salvador Gutiérrez. Violin: Bernardo Parrilla. Cajón: Mario Carmona. Hang: El Fenicio. Palmas and chorus: Fina Sánchez.
Juan Manuel Rodríguez "Mistela" took for his artistic name the sweet wine so well-known in his hometown of Los Palacios, right next to Utrera.  At the Sala la Compañía he gave a discreet recital of solo dances and duets with David Pérez.
Born in 1965, he belongs, not to the old school, but the one that preceded the current one, that of Marío Maya, Güito and Manolete, characterized by sobriety, elegance and economy of movement.  His earthbound dancing is a dense oasis of flamenco, with no leaps or whistles and bells, and the duets with Pérez remind you of Maya/Güito's finest moments.  Mistela's farruca follows the fine dry model of the Pelao family, por soleá he chooses the ultra-slow compás that was popular in the nineteen-seventies and the siguiriyas duet ending elegantly with cabales are the most noteworthy moments of this dancer, relatively little known, in part due to the years he spent in the company of Salvador Távora when he appeared little on flamenco's usual stages.
---