Text: Estela Zatania
Photos: Ana Palma
Friday, March 8th, 2013. Jerez de la Frontera
Special 17th Festival de Jerez – All the information
ANTONIO MÁRQUEZ DID IT AGAIN
COMPAÑÍA ANTONIO MÁRQUEZ "SIEMPRE ANTONIO"
Teatro Villamarta, 9:00pm
Dance: Antonio Márquez with the special collaboration of Francisco Franco "Currillo". First dancer: Daniel Fernández. Soloists: Elena Miño, Nazareth Martínez, Sara Chamorro. Corps de ballet: Rocío Mansilla, Claudia Martinelli, Sara Gatell, Alba Aranzana, Lucía Maldonado, Víctor Donoso, Axel Galán, Ciro Ortín, Raúl Oliva, Roberto Parisotto. Solo guitar: Diego Franco. Guitar: David Durán. Cante: Sonia Cortés, Curro Cueto. Percussion: Amador Losada. Flute: Pedro Esparza.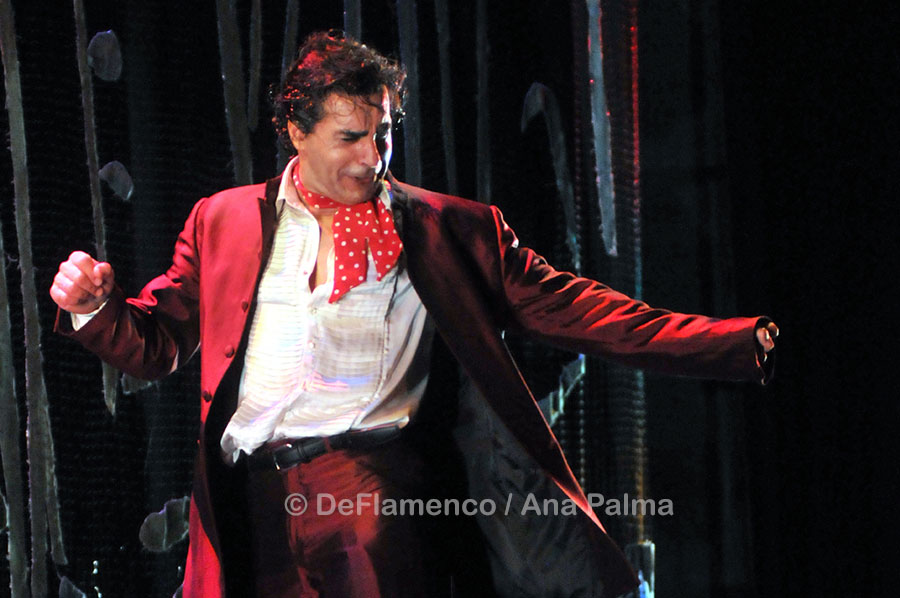 The Festival de Jerez, centered on flamenco and Spanish dance, always makes room for the latter, and it's quite a few times now that the company of Antonio Márquez has filled that spot.  Even if there were many companies devoted to Spanish dance, which is most certainly not the case, Márquez would still be a major figure in this field.
This is why you don't really know if the title of the work, "Siempre Antonio", refers to the legendary "Antonio" (1921-1996), or to Márquez himself.  It turns out to be a tribute to dancer Antonio Ruiz Soler, also known as "The Great Antonio", "Antonio el Bailarín" and "El Chavalillo", so admired by Márquez that he chose to dedicate this work that reflects their shared vision to him.
Nowadays, when flamenco shows are more complex, austere or even futuristic than ever, the work of Márquez is like a dance version of the "españoladas" of the sixties and seventies, those films full of good-natured Andalusian folklore that many now consider old hat, although nearly everyone still enjoys them, even if they don't admit it.
As you watch Antonio Márquez, or any of his works, the thing that impresses you the most is the profound love this man has for his profession.  The respect, and the desire to make people see and understand the greatness of what could be called "danza flamenca".  Because there's guitar and cante, there's alegrías, farruca, soleá, siguiriyas…there are the dresses with long trains, there are shawls and footwork…but it's all secondary.  Even Márquez himself, with his communicative power and expansive personality, his bare chest and wall-to-wall smile that can be seen all the way from the cheap seats, everything has relevance only according to theatrical and choreographic considerations.  A master-plan that can only be attributed to Antonio Márquez who is credited with the artistic direction.
When the curtain goes up, the numerous corps de ballet  seated in semi-circle, the fanciful backdrop and a strong electric red light that floods the whole scene trigger the first enthusiastic ovation of the night before anyone has taken a single step.  This first part of the two that make up the show is the "Boda Flamenca", and the setting is the caves of Sacromonte, with tango compás, singing and dancing.  Translucent curtains are raised and lowered for quick and efficient changes of scene.  The transitions are smooth…the seduction, the fiesta, the bride and groom raised up on shoulders…there's hardly time to take these notes you're reading.
And the bows.  It's only the half-way mark, but the choreographed bows in various segments are as entertaining, or more so, than the dancing…in fact, they're small bits of choreography, with their own lighting effects and perfectly coordinated entrances and exits.  Theater at its best.  
Ravel's Bolero, pride and joy of the company's repertoire, brings more of the same, an epic choreography with costume changes, designer lighting, formations reminiscent of Busby Berkely's geometric choreographies from the thirties, discipline, everyone pulling together, a visual lushness that doesn't quit.
Between dancers and musicians, more than twenty individuals, an hour and forty minutes of innocent fun full of vitality, and no irony intended, only the greatest admiration
---
JAVIER PATINO
Ciclo:  Toca toque Jerez
Sala Paúl, 7.00pm
At seven in the evening the long night began with the recital of Jerez guitarist Javier Patino.  He has a lengthy curriculum vitae, many years playing for the best dancers and singers, in addition to an instrumental recording that came out in 2009.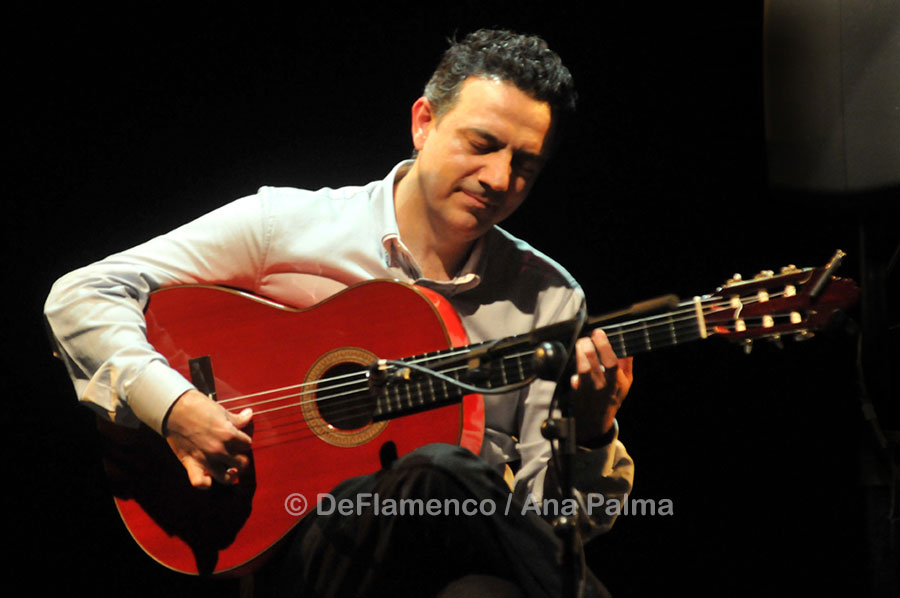 Despite amplification that muddied his clean sound, Patino managed to present an interesting recital with the great professionalism for which he is known.  Granaína with the sixth string lowered was noteworthy, in addition to an original guajira, the zapateado danced by guest artist Ángel Muñoz who also did the cajón work, and a rumba the guitarist dedicated to his wife and children.
The recital included the collaboration of Alexis Lefèvre on violin and José Manuel Posada "Popo" on bass.
---
JOSÉ VALENCIA "SÓLO FLAMENCO"
Ciclo: De la raíz
Sala Compañía, 12 midnight
The title of José Valencia's first solo recording, "Sólo Flamenco", presented last night at the Sala Compañía within the program of the Festival de Jerez, seems to be a clear double entendre.  With the accent on the first "ó", we have the Spanish word for "only", and are meant to understand that the singer has no intention of singing pop songs, but keeps strictly to flamenco singing as he understands it.  But without the accent, we get the word that means "alone", and it becomes a reiteration of his desire to cultivate a solo career after many years at the service of dance, an objective that was also reflected in his 2004 recital in Seville titled "Por Fin P'alante" [alone at last].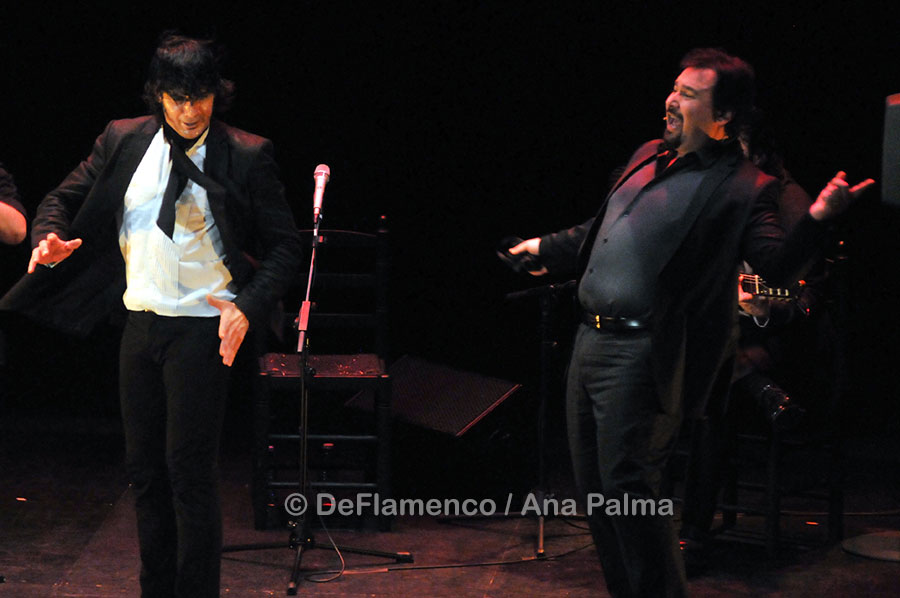 Unlike what some people think, singing for dance is not incompatible with singing "alante" or solo…in fact, quite the contrary.  This show made quite an impression at the recent Bienal de Flamenco de Sevilla, and did so again last night.  Valencia as well as Requena, the guitarist who accompanied him, were each awarded Giraldillos, highest honor given by the organization of that event.
With his tremendous lung power, he interpreted malagueña with abandolao, soleá with the flavor of the interior, cantiñas, taranta and tientos.  The admired Jerez dancer Joaquín Grilo did a cameo, and Valencia thanked "this city that understands cante and where I also have relatives", before interpreting siguiriyas, long and intense, bulerías to the compás of Lebrija and tonás.  An hour and forty minutes of flamenco…and only flamenco.
---