Text: Estela Zatania
Photos: Ana Palma
Thursday, February 28th, 2013. Jerez de la Frontera
Special 17th  Festival de Jerez – All the information

PIPA'S RETURN IS THE NEWS OF THE DAY AT THE FESTIVAL DE JEREZ
ANTONIO EL PIPA "VIVENCIAS – XV AÑOS"
Teatro Villamarta, 9:00pm
Dance and artistic director: Antonio el Pipa. Solo dancer: Claudia Cruz. Special collaboration: Concha Vargas, Carmen Ledesma. Dancers: Macarena Ramírez, Marta Mancera, Cintia López. Guest artists: (cante) Juana la del Pipa, Ángel Vargas "El Mono". Cante: Morenito de Íllora, Maloco Sordera, Joaquín Flores, José Cortés. Guitar: Juan José Alba, Javier Ibáñez. Children of the Escuela Danzalucía: Alba Díaz, Juan Antonio Fernández, Rafael Pantoja, Ángel T. Vargas with Lucía Soler). Choreography: Antonio el Pipa. Music: José Luis Montón, Juan José Alba. Stage director: Paco Tous.
Antonio el Pipa was born, in the artistic sense, in 1997 when his work "Vivencias" was a big hit at the first Festival de Jerez, and flamenco fans the world over took note.  Jerez needed a star dancer, and the followers of the artform wanted a show that would present flamenco in a straightforward fashion, inspired in traditional or classic forms.  It was the right time and place, and Pipa became an international star.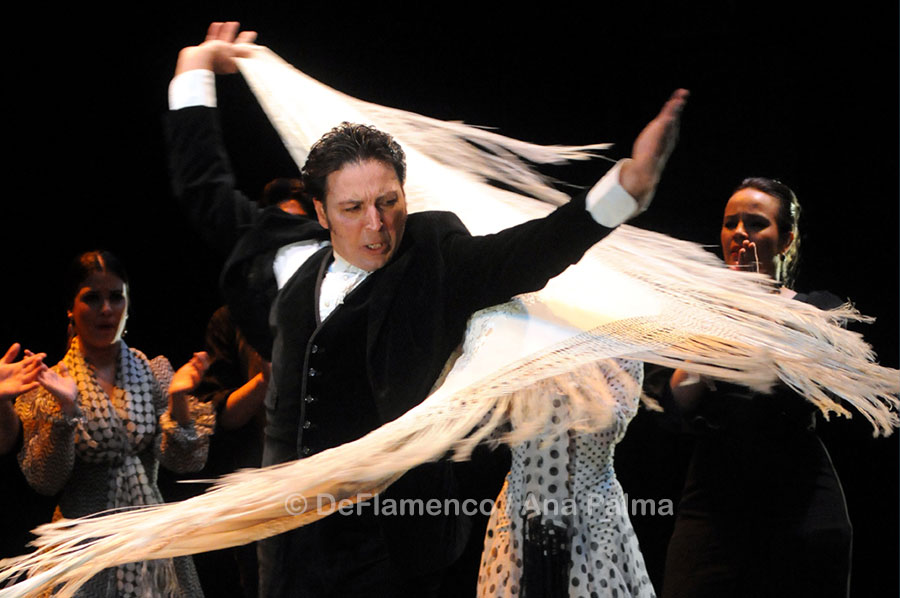 Since that time, this dancer has fought to maintain his high professional profile offering a series of works, some more successful than others, nearly always with a similar format: a series of real-life scenes, a numerous and generationally diverse cast and the sincere desire to show flamenco as he understands it.  He's not old enough to have know the tablao era, much less the era of the field-workers of Jerez, but the profound respect he feels for his elders leads him to produce these pictorial biographical works that reflect those times.
"Vivencias – XV Años" is the remake and continuation of that same line after a long period of activity in the Caribbean where Pipa tinged Cuba's national ballet with his flamenco knowledge.  There are no surprises, nor do there need to be.  Wooden chairs and tables, baskets and cooking pots, cute kids, flirty young girls, older ladies with aprons and the matriarch Juana la del Pipa in the middle of it all to keep order and give coherence is the setting for a series of songs and dances such as the trilla that opens the show, the tientos tangos, Pipa's alegrías cantinas and his legendary soleá duet with the voice and personality of Juana.  There is also alboreá with an implied wedding, short dance bits by Carmen Ledesma and Concha Vargas, siguiriyas and of course bulerías and more bulerías.  Was it intentional when the famous image of Antonio Mairena dancing with old Tía Juana and Rosalía de Triana was recreated?
For an hour and forty-five minutes Pipa struggled to win over the Jerez audience as in earlier years.  It wasn't easy, but in the end he pulled it off by pressing all the right buttons, because he only knows how to show himself as he is, his surroundings and experiences.  If only others could be so "limited".
---
ROSARIO TOLEDO "ALELUYA ERÓTICA"
Ciclo:  De la frontera
Sala Paúl, 7:00pm
The work "Aleluya Erótica" based on Federico García Lorca's "Amor de don Perlimplín con Belisa en su jardín", debuted at the last Bienal de Flamenco de Sevilla.  On that occasion, possibly due to the overdose of seeing nearly 70 shows in just 28 days, this presentation didn't seem to impact as much as it did last night at the Sala Paúl in Jerez.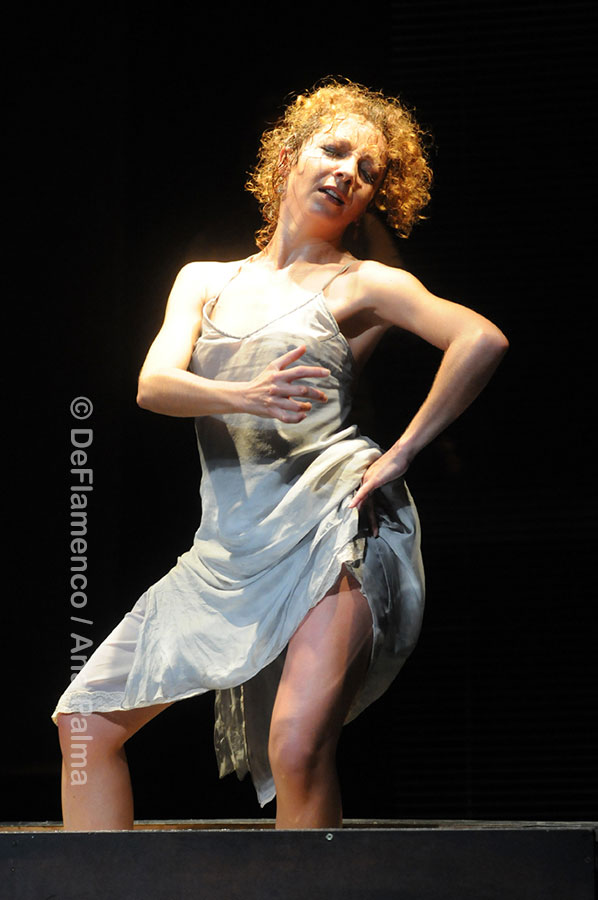 Or maybe it's just more broken in, or the artists have a greater rapport.  Whatever the reason, in the simple venue of the Paúl, it came off better than in the lovely Teatro Central a few months ago.  In keeping with these times of austerity, there are only three people on stage: singer José Valencia, guitarist Dani de Morón and dancer Rosario Toledo.  But precisely because of being so few, talented individuals were required, and these three were quite up to the task.
The singing of José Valencia is always impressive, but on this occasion he was also wonderful playing the part of the pathetic don Perlimplín.  Guitarist Dani de Morón wrote the music, and the work was awarded three Giraldillos, for Best Show, Singing (Valencia also gave a solo recital) and Guitar, an impressive triple crown.  However, the star of the work without a doubt is Rosario Toledo.  Aside from her impeccable training…because anyone who sets their mind to it can get it…she is creative, intrepid, mischievous or dramatic as required, surprising, expressive, fascinating, subtle and expansive.  "Crazy" in the best artistic sense.
Then you wonder… Is Aleluya Erótica theatrical flamenco or a play enhanced by flamenco?  Labels mean little or nothing, but it's clear the work falls into the latter category.  You enjoy the three artists in their respective specialties, you enjoy a thought-provoking play as only Lorca is able to provoke thoughts at that painfully human level, and the music is certainly beautiful.  The work must be taken at face value as a very positive theater experience, but don't be looking for the duendes.
---
VICENTE SOTO SORDERA "COLORES DISTINTOS"
Ciclo: De la raíz
Sala Compañía, 12 midnight
The most die-hard flamenco fans criticize (unjustly in my opinion) singers who sell themselves to the highest bidder with pop songs unrelated to flamenco.  I've always believed flamenco singers have the right to spend their free time as they see fit, whether it's singing the Happy Birthday song or anything else that brings them happiness and wealth, just so long as they don't abandon the repertoire of cante they were able to acquire through family or recordings – one thing does not preclude the other.
The market probably can't absorb another José Mercé, the prototype singer with one foot in each world, that of the soleá, siguiriya, tonás, bulería, and that of pop music.  But we are in desperate need of a singer of the generation of Vicente Soto, with his knowledge, his rich natural voice and instinctive compás.
Very few people showed up the Sala Compañía for this Jerez singer who spent many years living in Madrid.  He belongs to the unlucky generation that came of age in the shadow of Camarón, having the best sort of traditional cante right at home in the person of his own father, Manuel Soto "Sordera de Jerez".  Like others his age, he must strike a balance between the flamenco singing he's been hearing since he was a child, and the kind the public at large demands, or the in-between audience of people who like flamenco-tinged music but have no interest in traditional singing.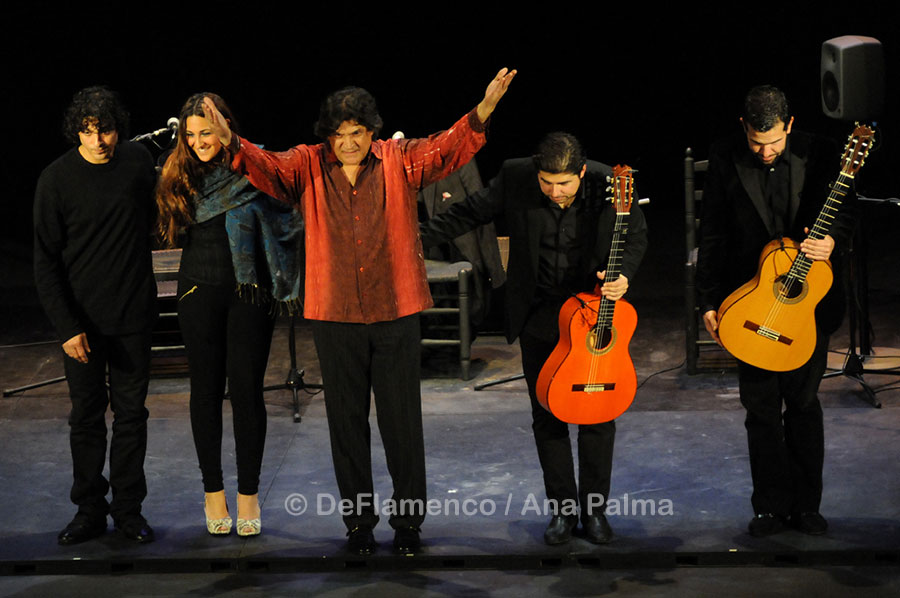 Vicente takes on this difficult challenge doing a little bit of everything.  With Manuel Valencia and Miguel Salado on guitar, he opened with tonás and martinete, a varied assortment of alegrías and cantiñas, soleá with the poetry of Luis de Góngona and tangos del Titi de Triana, before moving into his pop repertoire with various pieces including one song by the much-missed Fernando Terremoto and another by his brother Sorderita, in addition to a tribute to lyrical Spanish song supported by his daughter Lely and the cajón of Manu Soto.
---