Text: Estela Zatania
Photos: Ana Palma
Friday, March 1st, 2013. Jerez de la Frontera
Special 17th Festival de Jerez – All the information
POLITICS, POP MUSIC AND A LITTLE FLAMENCO DANCING

ESTÉVEZ/PAÑOS "LA CONSAGRACIÓN"
Teatro Villamarta, 9:00pm
Original idea, director, choreographer: Rafael Estévez, Valeriano Paños. Special collaboration (dance): Antonio Ruz. Guest artist: Antonio Canales. First dancer: Rosana Romero. Dancers: Sara Jiménez, Macarena López, Carmen Manzanera, Verónica Llavero, Ana Latorre, Andoitz Ruibal, Daniel Morillo, Jesús Perona, Manuel Ramírez. Cante: Rafael Jiménez "Falo", Sandra Carrasco, David "El Galli", Israel Fernández.
A hundred years ago, in 1913, Igor Stravinsky's ground-breaking work, "The Rite of Spring", was interpreted for the first time.  Ninety-nine years later, that musical landmark of the twentieth century was passed through the prism of choreographic imagination of Rafael Esteve and Valeriano Paños, and presented at Seville's Bienal de Flamenco, receiving that festival's highest award for best choreography.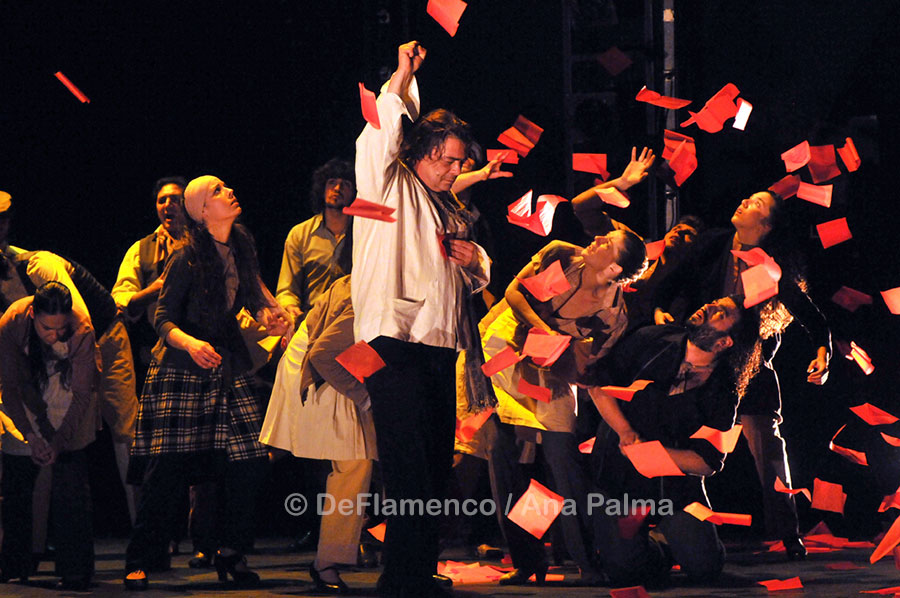 The first part of the work includes almost no instrumental accompaniment, depending primarily on voices, rhythm and movement.  Stravinsky's music is heard in the second part, but is meant to be an integral and coherent continuation of the first part.  "Consagración" is based on the everyday life and alleged oppression of field-workers – first, of Andalusia around the early 1900s, and afterwards, "of anywhere in Spain or the world", and ends up projecting an insistent political message in defense of the proletariat.  Since the days of Mario Maya's "Camelamos Naquerar" and "¡Ay Jondo!", there has not been a Spanish dance project with such strong political overtones.  The sociopolitical baggage becomes oppressive, and the Russian revolution begins to feel like yesterday.  Perhaps these are concepts that are in keeping with current political discontent, but it's unpleasant to attend a dance presentation and feel like you're at a political demonstration.  In Jerez, the topic of the field-workers has special historical relevance for this city's flamenco; it would have been possible to limit the scope of this work to local events and come out with something closer to flamenco…but that was not the objective.
It's also difficult at times to reconcile the extreme abstraction of some segments with other more graphic moments, such as when hundreds of red papers descend at the end of the first part; during intermission, after an informal survey among friends, we came to the conclusion that the papers represented left-wing fliers dropped from an airplane (?).  Such mixing of explicit politics with art is always risky – one of the two usually comes out the loser.
The work itself is visually attractive, and the choreography of Estévez and Paños with Antonio Ruz, is creative and original.  The obsessively repeated gesture of field workers bent over at their various tasks becomes an effective, almost hypnotic motif.  The scene of three singers taking turns with siguiriyas, each one accompanying himself on guitar, is wonderful (although the absence of guitar is always mentioned by survivors of the era).  The little skirt worn by the women over their work trousers is a poem of authenticity that defines and situates the scene better than any ideological manifestation.  Estévez has just the right touch of madness that gives so much dimension to an artist.  There are work-songs and traditional folk tunes with verses that allude to the field work, in addition to styles of soleá attributed to the area of Jerez and Lebrija.  Antonio Canales is very strong, and provides the most human, intense and enjoyable moments, both alone and in his brief bit with Esteve.
---
EZEQUIEL BENÍTEZ "SOBRELLEVÉ"
Ciclo:  De la frontera
Sala Paúl, 7:00pm
Faithful to its role as the chosen venue for alternative or experimental projects, the Sala Paúl received singer Ezequiel Benítez with songs from his recording "Sobrellevé".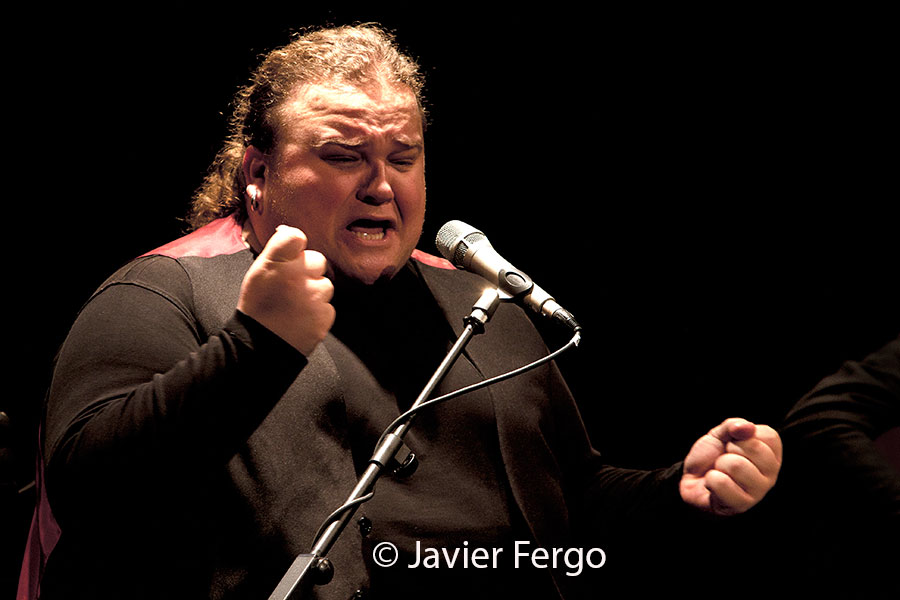 Trained in the classic singing forms of his hometown of Jerez, he began with an assortment of cantes a capella, followed by malagueña, soleá and free-form fandangos, but diehard fans in the audience were waiting for his pop repertoire.  With the sweet delivery and perfect pitch that characterize him and make his voice ideal for lyrical song, he interpreted pieces from the aforementioned record, ending, inevitably, with bulerías.
He was backed up by the guitars of Javier Ibáñez and Paquito Castro, the percussion of Carlos Merino, the palmas of Manuel de la Momi and Manolete de la Mini and the bulerías dancing of Tata Ana.
---
ANABEL MORENO y RAQUELA ORTEGA
Series: Muy flamencos
Sala Compañía, 12 midnight
Looking at the program, there was no way to tell that Anabel Moreno and Raquela Ortega were going to present a joint piece of work; the typical system at the Sala Compañía is that one artist performs in the first part, and another in the second.  Pairs of men dancing flamenco together is fairly common…Mario Maya with Güito, Ximénez-Vargas or Ángel Rojas and Carlos Rodríguez among others…but I can't recall any female duo.  Anabel Moreno and Raquela Ortega, from Granada and Madrid respectively, are interesting and competent dancers who came to the Festival de Jerez with this format.  Two different but compatible styles, one shared vision of traditional flamenco.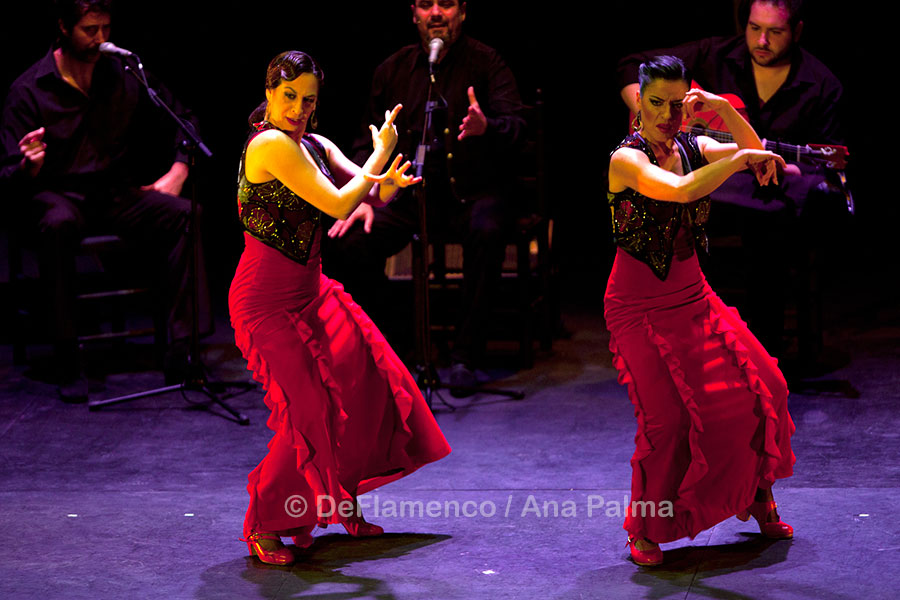 There was a taranto introduction with tangos of the two women, guitar solos by Felipe Maya and Pino Losada, soleá with a long bulerías ending, a mini round of tonás by the singers Juañares and David Vázquez and alegrías with bata de cola that was full of graceful moves.  With a big show going on in town featuring some top flamenco stars, not to mention a great many shows at smaller venues, it wasn't easy getting people in, but the show was worth it.
---