Text: Estela Zatania
Photos: Jean Louis Duzert
Sunday, January 18th, 2015. 7:00pm. Teatro Bernadette Lafont, Nimes (France)
The silver "anniversary" of a grand festival
This week we're in the city of Nimes in southern France to attend the twenty-fifth edition of one of the most important flamenco festivals outside Spain.
Although "outside Spain" only defines the geographic location, because this city has a powerfully Spanish identity, not only due to the numerous population of descendants from Spanish families but because of a long tradition that unites the city with Spain.  The historic amphitheater that dates from 27 A.D. is used as a bull-ring and flamenco is experienced here as having its own identity, with artists as competent and well-known at guitarist Antonio Moya among others.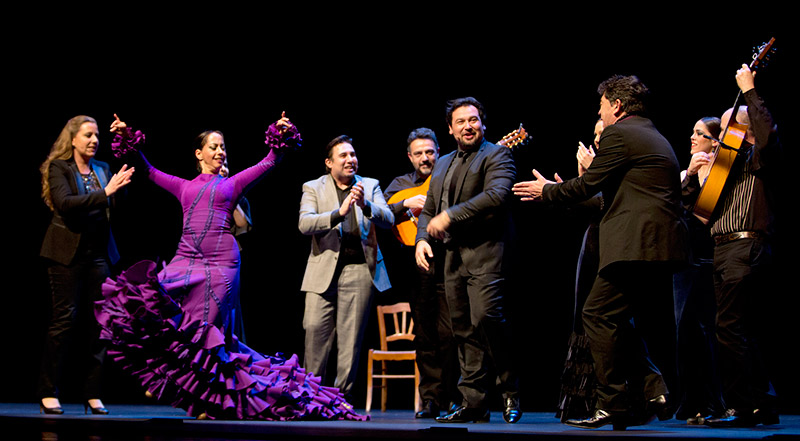 This important edition of the festival is dedicated to the individual all flamenco followers have so much in mind that it's still hard to believe he's no longer with us.  The image and memory of Paco de Lucía, who left us less than a year ago, in February of 2014, is everywhere, in addition to being honored in a program of exhibitions, conferences, the screening of the documentary "Paco de Lucía: la búsqueda" and shows either dedicated to the guitarist or created specifically, such as "Lo Aprendí en la Calle" by writer José María Velázquez-Gaztelu, "guardian of the audiovisual memory of flamenco" as the program reads.  Along with Niño Josele, one of Paco most prominent heirs, they offered an original and affectionate tribute to the much-missed guitarist.
Throughout the first week we have also seen "Flacomen", Israel Galván's most recent work, "Espiral" by David Coria and Ana Morales, "Franito" by Patrice Thibaud and Fran Espinosa, a cante recital of Segundo Falcón with the guitar accompaniment of Manolo Franco, an acoustic recital by the latter shared with Rafael Rodríguez and a cante recital of Pele who is living the best moments of his career since about two years ago, accompanied by the underestimated Manuel Silveria…not to mention all the shows that await in this second week, and about which we'll be informing on a daily basis.
Last night, Belén Maya delighted the audience of Nimes that packed the Teatro Bernadette Lafont, with her work which debuted at the last Festival de Jerez where it was chosen by critics to be the best show of the festival.  How clever is that, to mount a show called "Los Invitados" (the guests), in which the dancer cedes the spotlight to admired singers, dancers and guitarists, communicating with them through her own interpretations.  In dance, Patricia Guerrero was surprising and original, singer José Valencia was brilliant in siguiriyas and soleá apolá, and Tomás de Perrate offered his amusing interpretation of "Cheek to Cheek" (yes, that song), in addition to this Utrera-flavored bulerías reminiscent of his father Perrate and his cousin Gaspar de Utrera, Gema Caballero with her retro-modern sound and José Anillo, with the superb guitars of Javier Patino and Rafael Rodríguez...this was Belén's dream-team chosen for the occasion, in addition to the support of Felisa de la Cruz and Maija Emilia Lepisto on palmas, and the surreal intervention of actor Javier Centeno.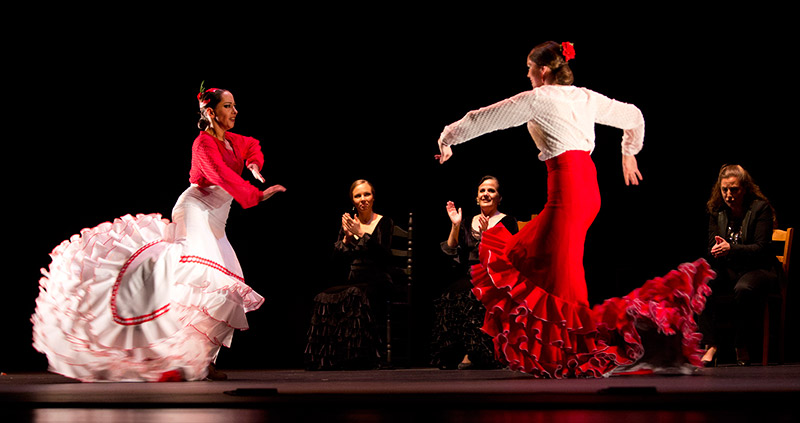 Belén was sublime even beyond her usual level, observer of everything that happens around her, visibly moved by her chosen people, never ceasing to be gently but firmly in charge.  Soleá, romance, soleá apolá, a variety of cantiñas, repeated fragments of martinete to set a mood, siguiriyas….in other words: flamenco.  But always, the quest.  Instincts that she herself seems incapable of channeling, preferring instead to let herself be carried away by them to wherever they take her.  The bata de cola is a part of her body…and to think that just a few years ago young dancers were rejecting this lovely accessory because they considered it "corny".
And as happens from time to time in these things, everything came together just right.  The performers themselves commented after the show that they had felt this was the most cohesive and effective performance of the work to date.  And at the end, the projected image of Carmen Mora, the great dancer we lost in 1981, Belén's mother, left us deeply moved.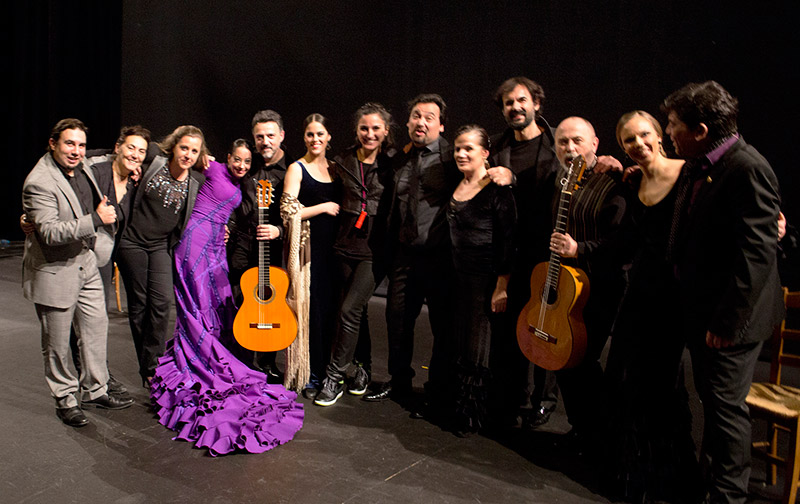 ---