Eva Yerbabuena "Apariencias" 19th Bienal de Flamenco
Monday, September 12th, 2016. 8:30pm. Teatro de la Maestranza, Seville
September 14, 2016
Text: Estela Zatania
Photos: Oscar Romero / La Bienal
Twittear
YOU JUST HAVE TO WAIT FOR IT...YERBABUENA'S FLAMENCO THAT IS
Artistic director, original idea, choreography, dance: Eva Yerbabuena. Music direction, composition, guitar: Paco Jarana. Dance: Christián Lozano, David Coria, Fernando Jiménez, Ángel Farina, Lorena Franco. Cante: José Valencia (guest artist), Alfredo Tejada. Palmas: Torombo. Special collaboration: Alana Sinkëy. Percussion: Antonio Coronel. Off-stage voices: Paco Moyano, Manuel Pérez, Manuel Pedraz.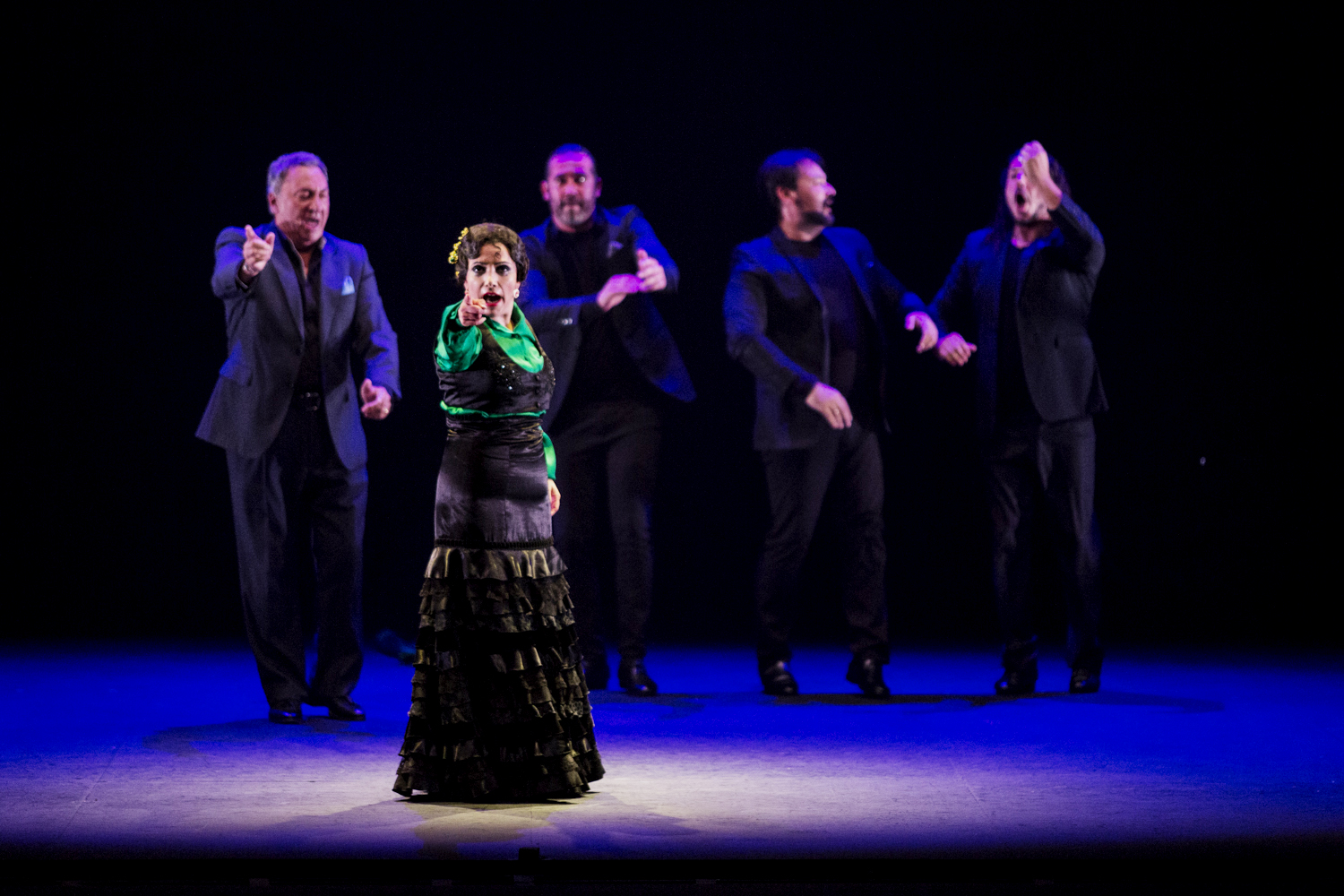 Nowadays, dancers can no longer afford to just dance and choreograph. In order to occupy a place at the top of the professional flamenco dance heap, they need to have knowledge of theater and stage arts in order to offer polished shows, worthy of the world's best venues. Eva Yerbabuena is one of the those who has best adapted to these requirements with obsessively meticulous dedication.

So it's no surprise she continues to offer an admirable product. We've more or less learned to sit through the first part of any show of hers. Conceptual contemporary dance, and oneiric slow-motion, with darkness having a presence all its own, in order to deploy her tragic Lorca vision of life, all of which is received by the audience with educated though subdued applause.

But Eva is incapable of containing her own flamenco energy, which, once it starts to flow, becomes a tsunami. With more and more intensity, the communicative power of Yerbabuena finds its outlet, and the powerful singing of José Valencia and Alfredo Tejada provide vocal escort. The dancer awakens from her contemporary lethargy, and after some tasty tangos that announce we are finally entering flamencoland, she dresses in soleá, her second skin, a solo dance which for years has been sufficient pretext for thousands of people to go to the theaters of the world to behold this nearly spiritual act. Or without the "nearly".

And without skipping a beat, just when we were still licking our wounds from the flamenco onslaught, veteran singer Enrique el Extremeño, not announced on the program, came on to add the dimension of his personality and experience. Bulerías with a romance feel, and the audience is unable to contain their collective enthusiasm when a line of singers comes marching on stage, all "alumni" of Yerbabuena's company: David Lagos, Jeromo Segura, Moi de Morón, Segundo Falcón...who can take that much art all at a go!

And let no one ever underestimate the valuable contribution of Paco Jarana with his creative music and exquisite taste.