Text: Estela Zatania
Photos: Rafael Manjavacas
Esperanza Fernández "De lo jondo y verdadero"
"El baile de la Frontera"
18th Bienal de Flamenco de Sevilla
Saturday, September 20, 2014
DEEP, TRUE AND ON THE EDGE
Flamenco fans, tourists, musicians, investigators…  When it comes to flamenco, everyone is anxiously seeking his or her particular concept of "purity", although that word has been so over-used and abused, it has nearly lost all meaning.  Nevertheless, there is a kind of flamenco from a specific era that we all relate to "purity"…"deep and true" as suggested by "De lo Jondo a lo Verdadero" which is the title of Esperanza Fernández' new show.
On Friday night, in the large patio of the Hotel Triana, we had experienced the Lebrija take on "purity" with an exceptional group from that town, under the direction of the irrepressible Tere Peña, and on Saturday, it was the turn of Morón de la Frontera with their unmistakable sound.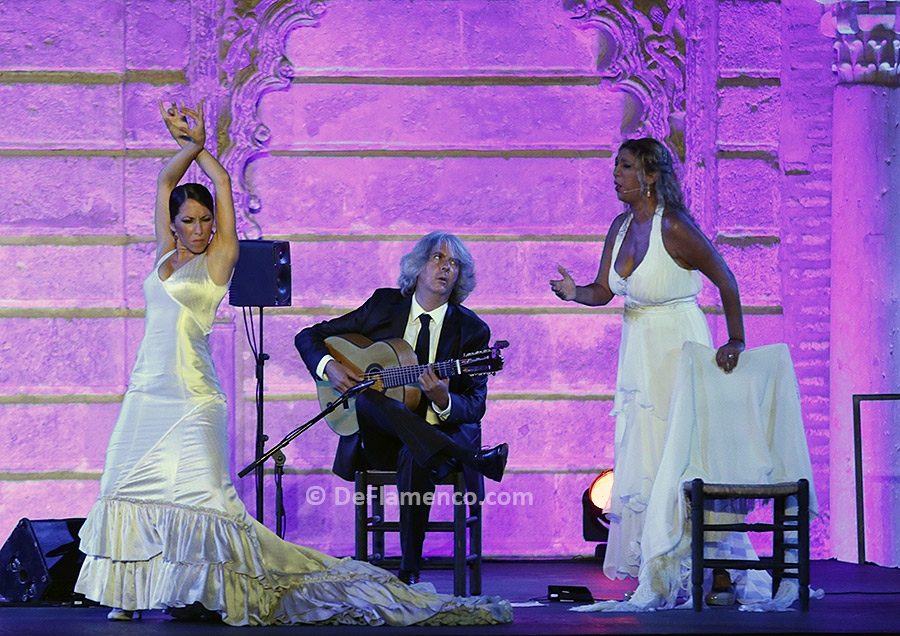 Earlier in the evening, at half past nine, in the historic Patio de la Montería of the Real Alcázar, singer Esperanza Fernández presented this new show which was billed as a "world premiere".  With the fine guitar of Miguel Ángel Cortés, the percussion and palmas of Jorge Pérez "El Cubano", José Fernández (brother of Esperanza) and the Mellis, as well as guest artists singer Rocío Márquez, and dancer Ana Morales, Esperanza delved into some nearly extinct song forms, and defended the repertoire of several great historic singers.
Petenera, soleá de Triana and caña, mining songs, and the singer pauses to give thanks to God for having arranged for a night free from rain.  Classic alegrías with a retro flavor, ended with bulerías de Cádiz.  Miguel Ángel Cortés then interpreted a guitar solo that earned him the warmest applause of the night, and following this, Rocío Márquez and Esperanza, dressed respectively in black and white, seated face to face, sang old guajiras.  Esperanza offered her interpretation of marianas, ending with Granada tangos.  She thanked her father,  Curro Fernández, "for having taught me so much", and continued with the cabal of Silverio and the classic siguiriyas "Reniego" and "Santiago y Santana".
Liviana and serrana were taken at a clip for the dancing of Ana Morales, and even more speed was applied for the closing with the fandango of Frasquito Yerbabuena, leading to the final number which was, inevitably, bulerías.
Shortly afterwards, in the spacious patio of the Hotel Triana, artists from Morón de la Frontera, with a little help from friends from outside, showed that flamenco is alive and well in that town.  For many people attending this event, the shows offered at this venue are a welcome relief from the avant-garde tendency that dominates the Bienal's regular program.  On this night in particular, we had the good fortune to enjoy the Farruco-school dancing of Pepe Torres and Jairo Barrull, the temperament of Carmen Lozano, the singing of David "El Galli", Moi de Morón, Juan José Amador and Guillermo Manzano, the guitars of Dani de Morón and the Iglesias brothers, Eugenio and Paco, in addition to the delightful singing of Antonio "El Carpintero" who evoked the artistic personality of Joselero de Morón.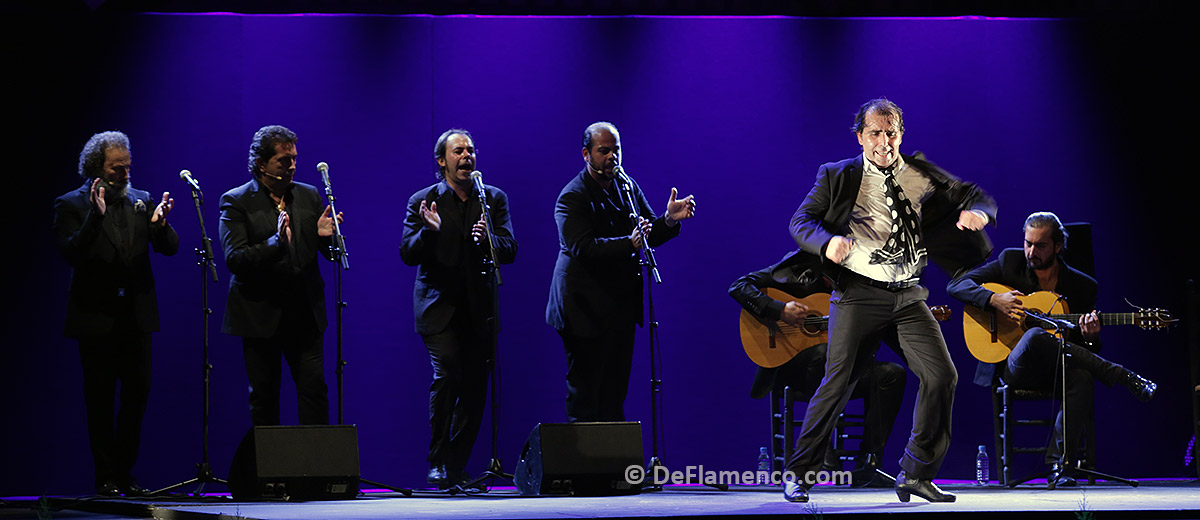 But perhaps the single element that most caught the audience's attention, was guitar soloist Diego de Morón.  More than nostalgia for his uncle, much more than a mere anachronism, the nephew of Diego del Gastor delivered a massive dose of the Morón feeling, compás and phrasing, linking notes and relentlessly beating the face of his instrument to pull out that unmistakable Morón feeling, from a time when Paco wasn't yet in circulation, and "fusion" was for nuclear scientists.
---