Cancanilla de Málaga, con Antonio Moya y Juan Antonio Muñoz en Galileo
February 1, 2012
Twittear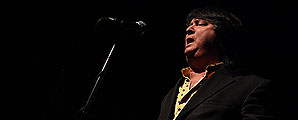 CANCANILLA DE MÁLAGA
January 30th, 2012 - Sala Galileo Galilei

Text: Pablo San Nicasio Ramos
Photos : Rafael Manjavacas
Cante: Cancanilla de Málaga. Guitar: Antonio Moya and Juan Antonio Muñoz. Palmas: Sole and Chanete
De Marbella a Madrid pasando por Málaga
See video
This singer is somewhat of a cult figure among diehard flamenco fans. People who know just who "Canca" is, and flock to see him, while peers secretly check out his pedigree. Sebastián Heredia Santiago, that loveable original singer who at one time, for a long time in fact, was "de Marbella" and more recently, since his "Viejos Zarzales", has preferred the artistic name "de Málaga" for reasons known only to himself.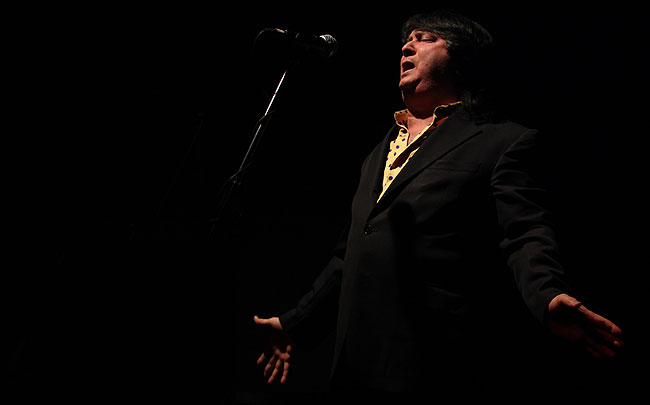 If it's a geographical question, frankly, we'd prefer "de Madrid". He lives here in the capital, he's completely integrated in the flamenco nightlife (and daylife), and his performances in Madrid tend to be memorable.

And he's well-loved, because to fill up the Galileo room on a Monday night in winter the way he did on the 30th, is no easy task. Since Cancanilla is so appreciated in Madrid, we always go to see him and are grateful for whatever he wants to offer.

With his family, both actual relatives and flamenco "family", Cancancilla frolicked with his faithful guitarists Antonio Moya, superb in the accompaniment and the official guitarist for many festivals, and Juan Antonio Muñoz, a studious musician steeped in the old Mairena aesthetic of cante and guitar.

An interesting martinete was accompanied by the compás knocked out with a cane by Antonio Moya, and opened a flamenco dialogue in which Sebastián was in charge and carried the rhythm, laying down the law.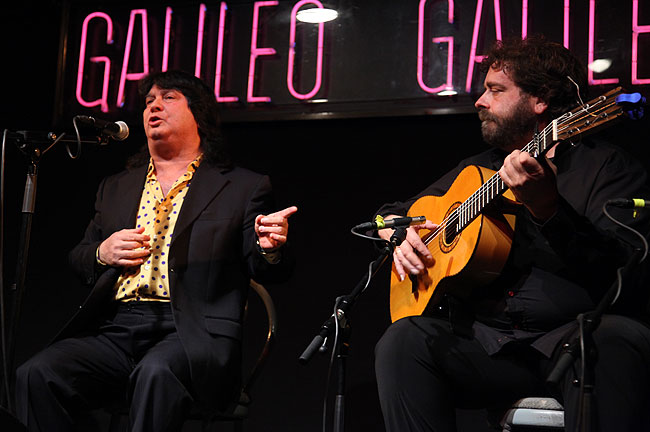 Although occasionally the falsetas of Melchor, Ricardo and Montoya interpreted by Muñoz were cheered, Cancanilla's way with the audience always captured the most attention.

The tangos were reminiscent of the Cruz brother and sister, soleá and siguiriyas, and then intermission.

Though not an easy program, it was not tiring at all. Four cantes in each half, with ease and honesty from a born artist who accepts the trade-off of his art and sincerity in exchange for the support of his people, and he expects nothing more. Perhaps this is what the future has in store, and not only for Santiago, but for many who are closer to the top. They'll have to get used to the idea.

The second part was much better, with the soleá por bulería nicely rocked in the arms of Antonio Moya, and malagueñas of Chacón and Mellizo in which Sebastián made good on his newly-acquired Málaga origins.

The fiesta ending was bulerías, a quarter of an hour without amplification, where once again he did his dance (but have you seen how Sebastián dances?). Cancanilla's showman act, well-known and a vital part of his fame, came down with the force of a freight train and took no prisoners.

His heart and soul were on display in everything he did, "although you also have to listen to your head, or the heart messes up". With life lessons like that, and verses demanding the return of Gibraltar, the show came to an end.