January 9-21, 2012
Once again the month of December brings the presentation of the venerable Festival Flamenco de Nimes, France. Although the number is no longer included in the name, we know that next month the twenty-second edition is scheduled to be held. The festival is dedicated in its entirety to the much-missed Moraíto, who several years ago was awarded the honorary Medal of the City of Nimes, and whose last solo recital took place in January in this very event.
This sort of medium-sized festival, with noteworthy performances at several venues and parallel activities that include master classes, exhibits, films and conferences, adapts well to current economic realities as far as resources are concerned. In fact, the organization has put together an excellent program with contemporary flamenco dance by two holders of Spain's National Dance Price, Israel Galván and Rocío Molina, who will present their respective works "La Curva" and "Vinática".
The savvy French audience also has a taste for, and demands a more classic kind of flamenco. In this vein, the recitals of Inés Bacán and José de la Tomasa, both accompanied by guitarist Antonio Moya, are guaranteed to be well-received. There is also an audience for fusion, flamenkito and new flamenco as practiced in Jerez by Diego Carrasco and Tomasito, masters in the art of doing what no one else has done, and doing it well. Their show "Gypsy Rappers" includes the participation of Junior Miguez.
It's a great year for guitar in Nimes, with the recitals of Tomatito and his "Luz de Guía", Juan Ramón Caro with "Rosa de los Vientos" and Niño Josele in recital.
Other shows, no less interesting, include those of Granada dancer Fuensanta la Moneta with her work "Extremo Jondo", popular singer María Toledo and the charismatic unpredictable Capullo de Jerez, another favorite of the Nimes audience. An evening of flamenco from Extremadura titled "De Tangos y Jaleos", with artists like La Kaita, Alejandro Vega and El Madalena among others, will be a surprising change of pace that will defend the strength of non-Andalusian flamenco.
There will be highly accomplished local artists, as well as something for schoolchildren by singer Laura Vital. The various parallel activities include the projection of the documentary about Moraíto and Jerez, "El Cante Bueno, Duele", a Dutch production, and a photographic exposition projected onto the face of the historic Maison Carrée, conferences by José María Velázquez-Gaztelu, Claude Worms will talk about the life and work of Moraíto, Francisco Zambrano whose topic is Extremaduran flamenco and José Manuel Gamboa with his entertaining talk about the history of flamenco guitar.
Complete Program
January 9-21, 2012
Music – + 6 years
Flamenco Land
Wednesday 11st January 2012 6h30pm – Theater
Dance
MamZelle Flamenka – Chely "La Torito"
From 9 to 17th January 2012 Nîmes's schools
Music
Tomatito – Luz de guía
Friday 13th January 2012 8.00pm – Theater


Acustic concert
Laura Vital – José María Velázquez Gaztelu – Eduardo Rebollar –
La Music de los Espejos
Saturday 14th January 2012 5.00pm-


Music
1st part- José de la Tomasa
2nd part- El Capullo de Jerez
Saturday 14th January 2012 8.00pm – Theater


1st part – Music
Laura Vital – Manolo Franco – Rocío Márquez – Niño de Elche – Convivencias
2nd part- Dance
Fuensanta La Moneta – Extremo Jondo
Sunday 15th January 2012 6.30pm – Theater


Music
Juan Ramón Caro – Rosa de los vientos
Tuesday 17th January 2012 8.00pm- Theater


Music
1st part- María Toledo
2nd part- Niño Josele
Wednesday 18th January 2012 8.00pm – Theater
Dance
Israel Galván – La Curva
Jueves 19th January 2012 – 8.00pm – Theater

Review & photos
Music
De Tangos y Jaleos
Friday 20th January 2012 – 8.00pm – Theater
Review & photos
Dance
Eva Luisa – Acuérdate
Friday 20th January 2012 – 10.30pm – Odéon
Acustic concert
Inés Bacán – Antonio Moya
Saturday 21th January 2012 – 5.00pm –
Dance
Rocío Molina – Vinática
Saturday 21th January 2012 – 8.00pm – Theater
Music
Raperos Canasteros
Tomasito – Junior – Diego Carrasco
Saturday 21th January 2012 10h30pm – Odéon
Festival de Nîmes 2010 – All the información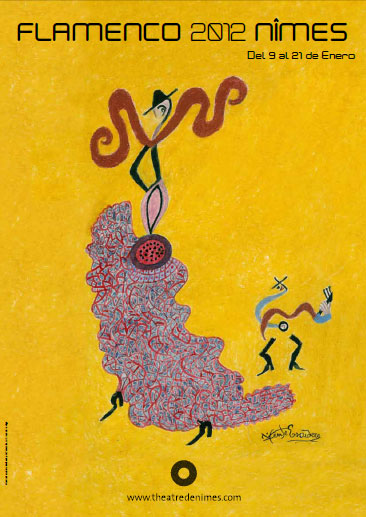 ---