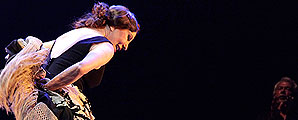 Festival Suma Flamenca
Blanca del Rey
'El último vuelo del mantón'
June 7th 2012 – Teatros del Canal
Text: Isaac Rodriguez
Photos: Rafa Manjavacas
Photos Blanca del Rey: Paco Manzano

JUST LIKE A BRIDE
The Red Room of the Teatros del Canal was filled to capacity to say goodbye to the great dancer on a night full of "duende", affection and appreciation.
Blanca, radiant as a bride, gave us her last twirl of a shawl to soleá.  It's said that the fringed shawl  weighs more than 45 pounds, but in her hands it's a feather.  A divine prolongation of her body that becomes an exotic bird.
Blanca del Rey is a reluctant queen, and her young disciples – more like godchildren – are adoringly in constant awe of her.
I don't exactly know why this grande dame of flamenco dance has decided to retire, since she still looks like a teenager on stage, so beautiful and elegant, clearly enjoying herself and winning over audiences.  She could easily continue to delight with her majestic dance for many years, even if only sporadically.
Blanca's soleá put the cap on the evening's show.  Previously, a string of young dancers had performed, people who are already making a name for themselves: Adrián Sánchez, powerful in his alegrías; Belén Maya with her racial intensity in bulerías por soleá; Jesús Fernández, taming a caña with his Cádiz style; Manuel Liñán, wonderful in tangos; Olga Pericet and Marco Flores teamed up for an extraordinarily beautiful dance of caracoles, in perfect mutual communication.  Each one with his or her own special style, but all of them giving everything, and without wandering from strictly orthodox flamenco, where good taste and subtlety reigned.
| | |
| --- | --- |
| | |
| Silvia Durán | Adrían Sánchez |
| | |
| Manuel Liñán | Jesús Fernández |
| | |
| Belén López | Marco Flores & Olga Pericet |
And mention must be made of the components of the backup group, people who night after night give their all at Corral de la Morería, and who were particularly attentive this night: Perrate, Yeyé de Cádiz and Cuquito de Barbate singing, and Felipe Maya, Antonio "El Muñeco" and Pino Losada on guitar.
With a fiesta ending, in which the camaraderie and sincere mutual admiration shared by all was more than obvious, and with a shower of carnations, the show ended in the most moving way.  A wealth of great art, and a tear or two to wrap it all up.
But the tribute to Blanca del Rey did not begin or end in the Teatro del Canal.  The previous day, after a dinner for friends and acquaintances in her beloved Corral de la Morería, the lady from Córdoba earned a long warm applause after a brief speech of thanks, moving, humble and sincere, and from which the following single phrase caught my attention:  "I have always lived with utmost discretion".  Yes, the discretion and modesty of those who are true maestros.
And later in her tablao, a short time after the success of the above-mentioned show which served as the beginning of the seventh Festival Suma Flamenca of the Comunidad de Madrid, the party continued and good feelings kept flowing with more top-notch dance: the group of the house, with a very young intense dancer from Murcia, Cintia Cano, and of many who had just arrived from working hard in the theater, now relaxed and happy like kids out of school, with Blanca del Rey just one of the kids, enjoying the night to fullest, her night.  But also as the tireless teacher who knew how to teach the art of knowing how to be to pupils who enrich flamenco in the warmth of the flight of the famous shawl, and a wealth of goodwill.
Radiant…just like a bride.
---