Text: Sara Arguijo
Photos: Remedios Málvarez
Ana Morales presents "Callejón del Agua" at the Jueves Flamencos de Cajasol in Sevilla. 6/11/2014
'Callejón del agua' Place: Sala Joaquín Turina. Seville Series Jueves Flamencos de Cajasol. Dance, choreography and director: Ana Morales Cante: Juan José Amador, Miguel Ortega. Guitar: Jesús Guerrero Percussion: Jorge Pérez 'El cubano'
Ana Morales, a dance of consciousness
The Callejón del Agua in Seville is just off Vida street and runs along part of the historic wall that in times past marked the city limits, but which now becomes lost in the broad horizons offered by the sprawling city. 
Certainly, dancer Ana Morales could not have chosen a better title for this show she presented within the series of the Jueves Flamencos de Cajasol, where she not only walks with her own life experience, but circulates within the corners of the flamenco universe from the inner city to the outskirts, and vice versa.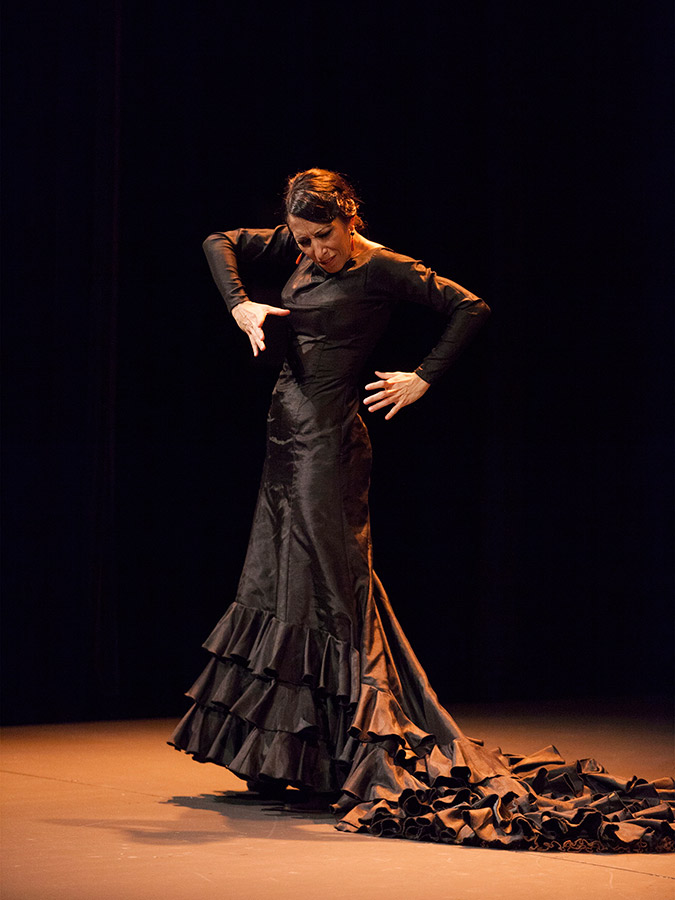 The greatness of this dancer from Catalonia, who recently triumphed at the Bienal with her performance as guest artist with Esperanza Fernández and with her participation as first dancer of the Ballet Flamenco de Andalucía, is precisely in finding the labyrinths in which to lose herself.  In being aware of herself and having lost the fear of feeling vulnerable.
Ana Morales has learned to defend her splendid, strong, disciplined, sober and technically perfect dancing because she knows that is where her truth is, and because it is where she finds herself.  And from this vantage point she approaches the viewers and makes them a part of her own quest.
In this sense, "Callejón del Agua" was a medley of some of the moments that have marked the dancer throughout her career.  The zapateado of her first show "Sandalia y Tacón", the taranto with which she won the Desplante of La Unión, the cantiñas with which she came into her own at Los Gallos and the soleá of her show "Reciclarte".  But actually, it was the perfect context to reconcile her artistic personality.
Dark, impenetrable demanding dance that keeps her constantly alert.  An attitude that seeks tension.  A spatial play of movements that ignore no part of the body.  Precise turns, diverse poses, impossible feet, well-calculated stops.  Concept and teaching behind each choreography.  And a superb back-up with the voices of Juan José Amador and Miguel Ortega who sings better all the time, the guitar of Jesús Guerrero and the percussion of Jorge Pérez "El Cubano".
To be sure, anyone who only sees beauty in control and subtlety will think Morales still has a long ways to go, because for now, she doesn't seem willing to hold back.
---