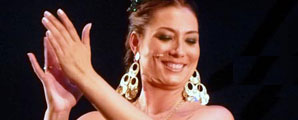 44th Fiesta de la Bulería
DEDICATED TO THE MEMORY OF MORAÍTO
Saturday, September 17th, 2011. 9:30pm.
Plaza de toros, Jerez de la Frontera
Cante: Antonio Peña Carpio "El Tolo", Pansequito, Juana la del Pipa, Marina Heredia. Baile: Joaquín Grilo y su grupo.
Text and photos: Estela Zatania
A HEARTFELT JEREZ-STYLE TRIBUTE
September again, and once more it's time for the Jerez Fiestas de la Vendimia (grape harvest festival) with the associated Fiesta de la Bulería.  This 44th edition was dedicated in its entirety to Moraíto just one month after his time on this planet came to an end, and when the dull bitter pain of his absence is still hanging in the air.  Last night all those present responded warmly to each reference to the beloved guitarist, and to the formal tribute that opened the evening accompanied by a brief video projection.
But there was a lot of flamenco business to get down to, and a group of local artists, with representatives of Jerez' most relevant flamenco families, quickly helped internalize the bad spirits and invoke the good ones, with the son of Fernando de la Morena making the biggest splash thanks to a canny ability to clone his father.
Next, el Tolo, a young singer from Jerez who this year made his first solo recording.  With Miguel Salado on guitar, Antonio Peña Carpio fulfilled his obligation to San Miguel and family, generously producing all the flavor one would expect with soleá, fandangos and bulerías.
The first heavy-weight of the evening was Vicente Soto "Sordera" with the guitar of Manuel Valencia.  With the guarantee of his lineage, and more energy and commitment than on other occasions, he began with tonás.  The singer is in splendid form and made good use of the fine flamenco voice that remains intact even after a lifetime in Madrid where his famous father Manuel settled as a young man.  Vicente dedicated the bulería por soleá to his father, a singer who went a long way to enrich these cantes, leaving his personal mark on them.  In fandangos, he sang a verse about Moraíto that triggered an ovation, and his performance ended with bulerías dedicated to the latter in which Soto mixed traditional short styles and classic cuplé.
| | |
| --- | --- |
| | |
| Pansequito | Vicente Soto "Sordera" |
Pansequito, whom we saw two months ago at the Potaje Gitano de Utrera where he gave a brilliant performance, again managed to work his magic with Manuel Parrilla on guitar.  This is another veteran singer who doesn't get older, just better, with the potent flow of his mysteriously rich voice that envelops you and carries you away.  In soleá, this singer stylizes and creates as freely as others only do with bulerías, interpreting cante that is as original as it is classic, renewing and evolving right before our eyes and ears.  Bulerías rounded out this mini-recital that was well-received by an audience which normally has a low tolerance for singers not from Jerez.  In fact, there were relatively few people in attendance compared with years past when seven or eight thousand souls would pack the bull-ring.  The typical noisy parties up in the stands, and the overall atmosphere of beer party were absent…it was a respectful audience this time, at least the recession has had some positive effects.
Joaquín Grilo is a star of flamenco dance in a city better-known for singing and guitar.  This dancer is a miracle.  He always comes with new moves and details, without ever straying from his line.  This reveals a serious dedicated artist, with a passion for what he does, backed up by many hours of hard work in the studio.  Once again he delivered his mix of good humor and profound dancing, and the audience responded jumping to their feet as a single block.  The back-up was comprised of Juan Requena on guitar, Paquito González on percussion and the voices of Londro, Carmen Grilo and Miguel Lavi, the latter being noteworthy.
| | |
| --- | --- |
| | |
| Juana la del Pipa | Joaquín Grilo |
Juana la del Pipa with the guitar of Manuel Valencia, on her own and knowing exactly how to handle herself.  She began with bulería por soleá with such a powerful aroma of "Jerez tavern" that the guitar was superfluous to accompany cantes that came into being to the rapping of knuckles.  The singer then offered fandangos with her fascinating scathing voice, and ended with bulerías.  And the thought came to me, what tremendous breadth of perspective when one festival is able to accommodate both Juana and Marina Heredia who was up next.  Flamenco is evolving so rapidly that past and present shake hands on the same stage, and this audience warmly accepted both.
Marina radiated youthful glamour.  From the "exotic" city of Granada, with el Bola on guitar, the singer is quite the artiste and quite the star, physically beautiful and with a great command of her chosen genre.  She opened with contemporary alegrías and malagueña that ended with typical Granada abandolao.  Between cantes, and with her voice sounding rough around the edges, she spoke to the audience, explaining that her family always had close ties to Jerez, and then dedicated siguiriyas to Moraíto and Paquera.  To come to Jerez to sing siguiriyas at the Fiesta de la Bulería…and a woman on top of it…that takes guts, and fortunately it came out well with some excellent moments the audience was quick to appreciate.  The singer ended with bulerías that melted into a pop song, and spectator enthusiasm continued to grow.  All that was left was the authentic Granada fiesta finale which is tangos, in which Marina sang much Camarón material, updated and personalized.  Pity the electronic echo effect was extremely overdone marring the results.
The fiesta ending with all the artists offered unforgettable moments such as Vicente Soto singing for the dance of his brother Bo, or Pansequito who sang for Juana la del Pipa…and high up on the giant screen Moraíto, on everyone's mind, seemed to form part of the festivities.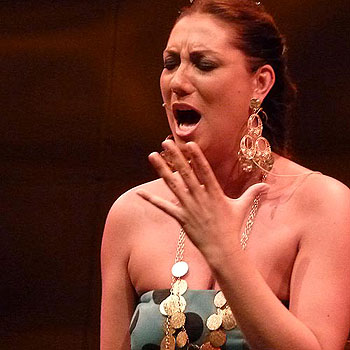 Marina Heredia
---