23rd International Flamenco Guitar Contest
June 10, 2009
Twittear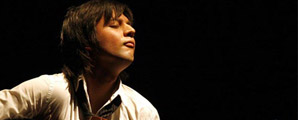 23rd International Flamenco Guitar Contest
Saturday, June 13th, 2009. 10:00pm. Teatro Villamarta, Jerez de la Frontera

Text and photos: Estela Zatania
Photo coverage: Carlos Díaz Martín (Málaga en Flamenco)
With this edition of the International Flamenco Guitar Contest, it's 23 years the peña Los Cernícalos, one of the oldest in existence, has organized this unique event.
It's only about a half-century since flamenco concert guitar has been considered a genre in its own right, and not a parallel element of accompaniment, but its evolution became swift beginning with the era of Paco de Lucía. The boy from Algeciras put harmony to the existing structures of flamenco, broadened the rhythmic possibilities and the whole thing took off. Manolo Sanlúcar, president of the panel of judges, commented on the extremely high level of the contestants, something which made it terribly difficult to choose the winners, and he even alluded to tense moments in the deliberation. The panel also included Manolo Franco, José Luís Balao and José María Molero, as well as last year's winner, Antonio Rey.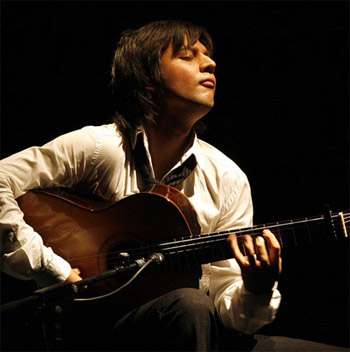 David Carmona, ganador
foto: Carlos Díaz Martín (Málage en Flamenco)
Thirteen semifinalists from various parts of Andalusia were on hand for the next to last hurdle Saturday morning at the peña, to be whittled down to the six finalists who played at the Villamarta: from Huelva, Manuel de la Luz Vázquez, 28; from Puerto de Sta. María, Francisco León,18; from Almería, David Caro; from Córdoba, Javier Muñoz, 21; from Jerez, Alfredo Lagos, 38; and from Granada, David Carmona, 24. In the end, it was the boy from Granada, Carmona, who carried off the first prize of six thousand euros, having impressed audience and jury alike with his soleá, bulerías and taranta, his extraordinary sensitivity and astonishing technique, particularly a powerful tremolo. Eleven years ago, at the tender age of 13, he made a solo guitar record titled "Tratante", and went on to play second guitar to Manolo Sanlúcar in last year's Bienal de Flamenco de Sevilla.
Second prize with 3000 euros was for Francisco León, whose main virtues were fresh material and contemplative phrasing. Jerez guitarist Alfredo Lagos was awarded the third prize of a thousand euros for his malagueña, alegrías in E and bulerías, playing with all the confidence and power of the fine professional he is. The other three finalists each received honorable mention and 300 euros.
| | |
| --- | --- |
| | |
| David Lagos - tercer premio | Francisco León - segundo premio |
After each contestant had played three pieces, Niño Jero and his group performed, with guest artist, pianist Reina Gitana. The local audience was delighted although the theater was little over half full due to a sporting event that was being celebrated at the same time.
The contest was dedicated to the memory of Manuel Parrilla, the legendary guitarist from San Miguel who died just a few days ago, and the evening began with a brief video of Parrilla speaking, and then playing guitar: a very nice way of paying tribute to the man. The Cajasol prize was given to Manolo Sanlúcar with "the most sincere admiration for his contributions as composer and recital guitarist".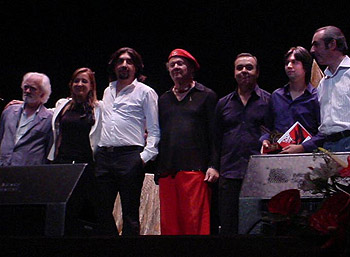 Manolo Sanlúcar, Pilar Sáncez (alcaldesa de Jerez), Antonio Rey, José M. Balao, Manolo Franco, David Carmona, Jose Mª Molero