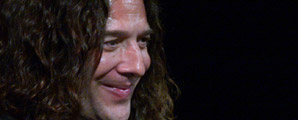 20th FESTIVAL "ALMERÍA POR TARANTOS"
CMU SAN JUAN EVANGELISTA (MADRID)
24th and 25th of April, 2009

Text: Rubén Gutiérrez
Photos: Rafael Manjavacas
LONG LIVE THE TARANTO!
Last weekend, the twentieth Festival Almería por Tarantos was celebrated.  Perhaps it's neither here nor there, but this anniversary makes the event the longest-running of its kind in Spain's capital.  Two decades defending the body of Levante-style cante, particularly taranto, while at the same time, the best showcase possible for Almería's flamenco artists.
| | |
| --- | --- |
| | |
As is customary at this venue, minutes before the doors were opened, a good many Madrid flamenco fans were already crowded around the entrance to the mythical Colegio Mayor.  A pretty picture where faces of older people mixed with those of students, many of them new to flamenco, but proud that their space is one of the meccas of flamenco. Young singer Tamara Escudero opened this edition the night of April 24th.  As you would expect from a beginner, she just managed to control the butterflies and offer a delicate recital.  This year's program featured a well-deserved tribute to Manolo Caracol on the centennial of his birth, and Tamara claims to have drawn inspiration from the legendary singer.  Accompanied by third generation members of the Habichuela family, this girl's way of singing flowed sweetly with the guitar of Carlos Carmona and percussion of Juan Carmona.  She knew what she was doing, was perfectly on pitch, and had a good sense of rhythm, although she seemed to be copying famous singers now and again.  We hope she will soon find her own personality and make a place for herself in the complex world of cante. 
A last-minute change in the line-up meant Pansequito was up next, with the guitar of Diego Amaya.  Excusing himself alleging professional commitments, his presence was barely felt on the stage of the Johnny, much too short a performance in light of expectations.  As always, he was quite on top of things, showing his great knowledge and repertoire, particularly in soleá, but as I said, had it not been for the coldness, we might now be able to report something different.  Very different was Manuel Moreno accompanied on the guitar by Antonio de Patrocinio Hijo.  Needless to say, El Pele is having some of the best moments of his artistic career.  Proof of this is the emotional quality that impregnates all his work, and his excellent good taste.  He's got everything, he knows how to artfully string cantes together with just the right amount of filigree, and he also knows how to lay down the law when the time comes.  It's worth seeing him just to watch how he twists and turns in his seat when he sings siguiriyas.  And from Almería, young Agustín Fernández, "El Niño de la Chata".  He showed he's on the right path to becoming a fine singer, but when one of his guitarist's strings broke in the middle of solea, he got a little ruffled.  Nevertheless, it all came together again with martinete while the guitarist, Niño de la Manola, replaced the string.
| | |
| --- | --- |
| | |
The evening of April 25th went down in the annals of Almería's flamenco history.  It's not every day a festival in Spain's capital puts together a program with only performers from Almería.  Mari Ángeles Fernández once again demonstrated her personality.  Paquete's guitar might not be the most suitable for her, but they made it through the alegrías without a hitch.  Another young singer came to present her new recording.  Montse Pérez brought "Mirada Flamenca", with the accompaniment of Antonio Carrión.  She is a traditional singer, and came with all her homework up to date, doing a fine job on this stage.  And the icing on the cake for this twentieth anniversary was none other than Tomatito.  The guitarist from Almería played with his group, with the exception of singer Morenito de Íllora.  It's always a delight to listen to this man, although we're also anxious to hear what he's putting together with Diego el Cigala with whom he will soon be touring.  As you can imagine, the audience was with him every step of the way, through the vibrant tangos and bulerías, and they didn't stop cheering in the endings of dancer José Maya's racial soleá por bulerías.  Let's hope this festival continues for many years to come, and flamenco fans continue to support it.
| | |
| --- | --- |
| | |
---