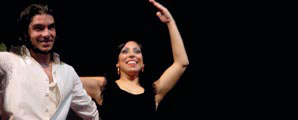 10th FESTIVAL DE OTOÑO DE GRANADA
Encuentros Flamencos 2009
Text and photos: Estela Zatania
In the nineteen-sixties a famous publicity campaign proclaimed "Spain is different" in all the major languages of the world.  Now, fifty years later, within the context of flamenco, it could be said "Granada is different".  In Western Andalucía, the almighty geographical triangle formed by Seville, Jerez and Cádiz represents a kind of flamenco which for many fans, is the only real and true kind.  But in the east, there is a world of mining cante and abandolao, a vast variety of tangos, energetic intense dancing and a school of guitar-playing that never turns its back on the rich heritage of the Habichuelas and the Marotes.  Granada is the neuralgic center of this "exotic" alternative flamenco that continues to unjustly suffer bad press and the indifference of the public sector that depends on the Alhambra to guarantee the abundance and permanence of tourism.
One of the few flamenco events in Granada that each year receives public support is the Festival de Otoño, scheduled to coincide with the long holiday weekend that begins the month of December.  For this tenth edition, a varied program that included book presentations, a photography exhibit, afterhours shows at the Platería flamenco club, a splashy presentation with the music of José el Francés, a choreography contest for young people and five nights of gala shows took place between the end of November and early December.
"SALVAJES" December 4th
Juana la del Revuelo, Repompa de Málaga
Dance: Raquel Heredia "Repompilla", Alba Heredia, Verónica "La India", Rocío Vargas. Cante: Simón Román, Maite Maya, Amparo Heredia, Rafaela Heredia. Guitar: Emilio Maya, Pepe Maya "Marote", Martín Revuelo junior.  Percussion: Eli Maya, Miguel "El Cheyén".
The first main show revolved around two women famous for traditional fiesta flamenco.  Well-seasoned ladies who offer their down-home flamenco style with no holds barred: Juana del Revuelo and Repompa de Málaga, the east and west of Andalusia, two ways of expressing the underestimated festive branch of flamenco.
A long first part with Indian and Arabic music and dance and accordion music in an attempt to give some background and historic roots, the gypsy anthem Gelem Gelem and a gypsy wedding complete with feuding were unnecessary extraneous references that added little to the authenticity of Repompa and Juana.  The shows of Juan Andrés Maya, the festival's artistic director, are sincere innocent celebrations of racial pride and heritage presented with relentless exuberance.
Siguiriyas, alegrías, fandangos, solea por bulería.  The sheer energy of Granada contrasts with the appearance, more than an hour after the start of the show, of Juana la del Revuelo.  The Seville approach, backed up by Juana's son, the excellent guitarist Martín Revuelo junior and the father of same, contrasts with the upfront Málaga style.  It's the same repertoire as always that Juana has managed to establish as a permanent evocation of the ambience of old Triana patios.  Repompa interpreted the classic bulerías and tangos of her ill-fated sister Enriqueta.
After midnight, flamenco fans gathered at the venerable flamenco club La Platería for the cante recital of Mercedes Hidalgo with the guitar of Ramón del Paso and the dance group of Estela Rubio.
| | |
| --- | --- |
| | |
| Juana la del Revuelo | La Repompa de Málaga |
"DE CASTA" December 5th
Dance: Iván Vargas. Guest artist: Fuensanta la Moneta. Guitar: Miguel Iglesias, Emilio Maya, Pepe Maya "Marote". Cante: Simón Román, Miguel Lavis, El Galli. Percussion: Miguel El Cheyén.
Iván Vargas, only four years ago the young hopeful who won an important prize in La Unión, presented an elegant show in this, his hometown.  With the support of three excellent voices, three equally admirable guitarists, in addition to the collaboration of one of the most interesting young dancers of the current scene, Vargas came to reclaim a well-deserved place among the stars of flamenco dance at a time when female dancers dominate international stages.
This nearly perfect work managed the difficult balance between spontaneity and control, between contemporary and classic.  The trio of voices had a lot to do with it.  David el Galli from Morón de la Frontera, Simón Román from Marbella and Miguel Lavis from Jerez back up the dance with the responsibility of solo recital singers.  Iván is dark and intense in tonás and siguiriyas, and his alegrías is among the best I've seen in a long time.  Guest artist Fuensanta la Moneta is an excellent addition.  This is another young Granada artist who received recognition some years ago in La Unión.  Ever since then we've been waiting for her impetuous style to come down to earth, as we knew it would.  Now, she is mature and intense with a creative and original soleá.
The three singers and the magnificent violin of David Moreira set a fine example of how a dance show can include a cante and instrumental piece without feeling like a fill-in.  Iván Vargas wrapped things up dancing a vidalita with all the personality you would expect from a star of his level.
When the show was over, once again at the Platería there was an extraordinary recital by two young representatives of two important flamenco families.  Singer Kike Morente, with the accompaniment of Juan Habichuela's grandson of the same name, defended the vitality and continuity of Granada flamenco.  Young Morente began timidly, with a varied repertoire, the father's gestures and the sister's delivery, becoming gradually more secure as he sang, largely thanks to the audience's unconditional support and the brilliant guitar of Juan Habichuela.
| | |
| --- | --- |
| | |
| Fuensanta La Moneta | Iván Vargas |
"TRES VOCES Y UN BAILAOR" December 6th and 7th
Baile: Juan Andrés Maya. Cante: Montse Cortés, Chonchi Heredia, La Nitra. Guitarra: Emilio Maya, Pepe Maya "Marote". Violín: David Moreira. Saxo: Toto Fabris. Actor.  Actor: Jorge Lucas con textos de Juan de Loxa. Palmas y coros: Rafi Heredia, Eli Maya, Raquel Heredia "Repompilla".
An off-stage voice, a foppish 19th century presenter, a flamenco cuadro dressed in the fashion of Goya, a "miner" who dances taranto, a sentimental number sung by the main dancer dressed as a woman in bata de cola and a variety of other elements give testimony to the fertile imagination of Juan Andrés Maya.  It is perhaps an overload of references with no clear direction having the effect of smothering the considerable talent of one of the best dancers to come out of Granada, which is saying a lot.
"Three Voices and a Dancer" is the descriptive title of this work.  Three powerful personalities, Montse Cortés, Chonchi Heredia and La Nitra, support, decorate and heat up the show giving continuity to the temperamental dancing of Juan Andrés.  The three of them gathered on stage for bulerías, taking turns with the classic song "Tres Puñales", is a lovely tsunami of flamenconess that triggers a heartfelt ovation.
Juan Andrés dances siguiriyas in a black bata de cola wearing women's makeup, with the accompaniment of percussion and a tenor sax that mimics the voice.  An experiment in the avant-garde that leads to a pseudo conceptual pseudo biographical scene in which the dancer ends up singing to a long-lost mother later played by Raquel Heredia "Repompilla".
The show's stongest number is without a doubt Juan Andrés Maya's soleá with the sweetly aching voice of Montse Cortés.  In the end, good dance, good singing and good music, that's what it's all about in this varied work that ended the series of concerts upon cancellation of Belén Maya's show originally scheduled for December 8th.
| | |
| --- | --- |
| | |
| Juan Andrés Maya | Juan Andrés Maya |
| | |
| Montse Cortés | Kike Morente / Juan Habichuela nieto |
---