10th MUESTRA ANDALUZA DE FLAMENCO CORRAL DEL CARBON GRANADA

For this summer season 2008, when the program is celebrating its tenth anniversary, a double program is being offered with a selection of performances of dance, cante and guitar.  In this way the program continues to be a valid venue which brings emerging talent to light.  This year the line-up of artists is characterized by the goal of contrasting the different lines of work of Granada's people with those from other Andalusian provinces.  Another objective is to show the creativity of flamenco in Granada, while at the same time avoiding the sort of localist message that is so harmful to the artists of any given city.
In this tenth edition the program intends to be a reflection of the diversity of flamenco in Granada, and to serve as a platform to reflect upon the way flamenco is unfolding in Granada with regards to the near future.
PROGRAM
1st Week
22 july. Juan José Amador, cante. (Sevilla) Patricia
Guerrero, dance. (Granada)
23 july. David Pérez, dance (Sevilla)
24 july. Melchora
Ortega (Jerez) Maria José León, dance. (Sevilla)

Patricia Guerrero
2nd Week
29 july. Juana
Amaya, dance. (Sevilla)
30 july. Jaime Heredia. (Granada) Vero «La India», dance. (Granada)

31 july. Hermanos Iglesias, guitar. (Sevilla) Amador
Rojas, dance. (Sevilla)

Juana Amaya
3 Week
5 august. Niño Seve, guitar. (Córdoba)
Rafael Campallo, dance. (Sevilla)
6 august. La Tremendita,
cante. (Sevilla) Leonor
Leal, dance. (Cádiz)
7 august Juan Ángel Tirado, cante. (Granada) Pepe
Torres, dance. (Sevilla)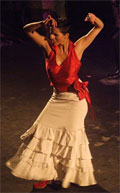 Leonor Leal
4th Week
12 august. Belén
Maya, dance. (Granada)
13 august. Juan Carmona «Habichuela Nieto», guitar. (Granada) Luís
de Luís, dance (Granada)
14 august. Edu Lozano, dance (Córdoba)
15 august La
Moneta, dance (Granada)

Fuensanta La Moneta
---