The digital radio platform Radio4G.com opens a themed channel devoted to flamenco and run by our web, DeFlamenco.com
Hear it on-line at the website Radio4G DeFlamenco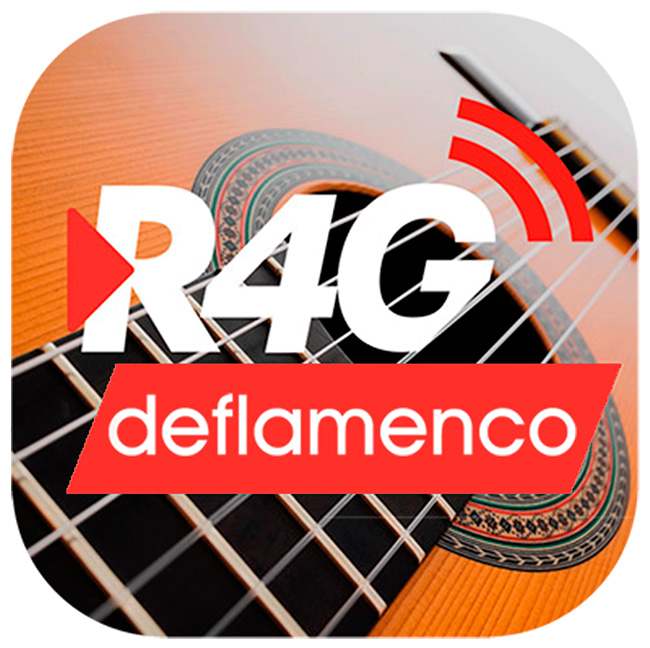 Radio4G has 14 channels of its own on digital radio, and its central station Radio4G that broadcasts via FM. It also has a tool for adding international radio stations that allow you to listen to 1500 stations throughout the world in high quality.
After being commissioned by José A. Abellán, creator of Radio 4G to create a station entirely devoted to flamenco, we selected more than 2000 flamenco recordings that can already be heard on Radio4G DeFlamenco as of last July 17th, 2015, classified in various musical styles within flamenco.
Or easier yet, on your mobile phone via the APP Radio4G for IOS or Android.
---
Programming
The current program grid, in Spanish time (GMT +1 hour) is as follows: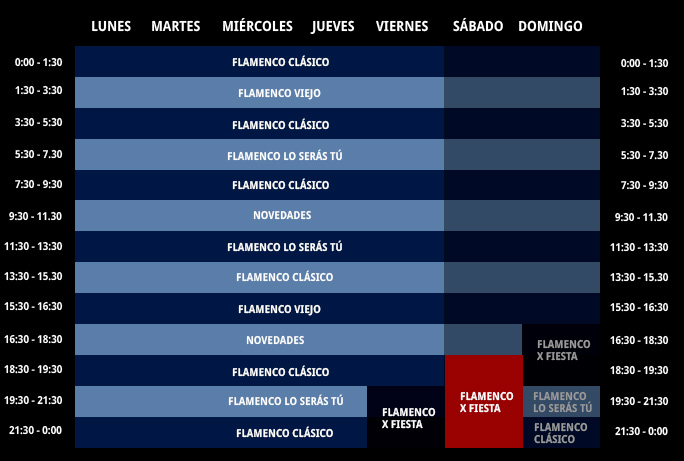 *The schedule is flexible and will be modified as we deem necessary, trying always to reach a balance between the various styles classified in the selected time slots.
Flamenco clásico. This is the broadest category, 12 hours daily with the best flamenco of all time, the best cantes of Camarón, Agujetas, Chocolate, Arcángel, Carmen Linares, Chano Lobato, Diego Clavel, Cigala, Duquende, Cabrero, Lebrijano, Morente, Poveda, etc. Also the best of flamenco guitar: Sanlúcar, Paco de Lucía, Tomatito, Riqueni, Vicente Amigo.
Flamenco lo serás tú. For 6 hours each day, this slot is devoted to the various musical genres that have fused with flamenco, the best Flamenco-Jazz, Flamenco-Rock, Flamenco with Blues, Flamenco-Pop as well, whether performed by flamenco artists, or other musicians who have borrowed from flamenco. People like Jorge Pardo, Chano Dominguez, Camerata, Tomasito, Barbería del Sur, Ketama, Pata Negra, Pitingo, … as well as the work of flamenco musicians with other types of music, people like Paco de Lucía, Lebrijano, Tomás de Perrate, Diego Carrasco. For open-minded flamencos.
Flamenco viejo. In this slot, 4 hours a day, we've selected historic music by the most classic interpreters, Angelillo, Chacón, Mairena, Marchena, Ramón Montoya, Niño Ricardo, Canalejas de Puerto Real, Mochuelo, el Sevillano, Talega, la Niña de los Peines, Toronjo, Terremoto, Tomás Pavón… the essence, the basis for everything.
Flamenco x fiesta. We've selected those songs that can be identified as festive, tangos, bulerías, alegrías… always present in all the flamenco fiestas, weddings, get-togethers,fairs. Remedios Amaya, Aurora Vargas, Niña Pastori, José Mercé… what you might hear in any flamenco hangout, inviting you to get in the groove, dance, make friends. Friday, Saturday and Sunday, at specified times. From your flamenco hangout, your bar, your club, at home, connect to Radio4G Deflamenco and the flamenco fiesta is guaranteed.
Novedades. We want Radio4G to be a window where you can enjoy the best flamenco, both classic and contemporary, in this time slot (4 hours a day) we'll be selecting the best songs and guitars from the latest record releases as they appear on the market, updated every week, knowing how hard it is to promote new work that has no place on standard radio, on a 24-hours-a-day flamenco station where it will have a featured place.
Flamenco de Autor. Starting in a few days, we'll have a new daily slot which will progressively include various original programs devoted to flamenco, current trends, interviews, specific topics, record of the week, festivals, some live broadcasts.  All the programas will be accessible through the channel at the corresponding time, or via podcast.
Updated content
DeFlamenco.com is in charge of the programming and selection of musical content of Radio4G DeFlamenco.  This will be updated monthly in a percentage of approximately 20%.  The News section will be updated more frequently, depending on circumstances, new recordings that come to us and our own criteria of selection.
The music is the most important thing on a music radio station, in our case, flamenco, but we want to make it something more, a new window on flamenco promotion is our objective.
---